When it comes to active trading programs, not all forex brokers' offerings are created equal. The requirements, and the resulting commission/spread discounts a forex trader is entitled to, can vary considerably across forex brokers. In addition, the available trading tools active traders need, such as advanced order types, for example, may vary from one firm to another.
Bottom line: this year was a very close race.
Active Forex Trading Best FX Brokers
Based on over 100 different variables, here is are the top five forex brokerages for active trading.
Active traders are those investors who actively engage the markets throughout the week. For active equities trading in the US, for example, this means placing at least ten trades per month. For active forex trading, this could be even higher, as low margin rates allow trades to be conducted with much less capital.
For example, an active equities trader using up to 4:1 margin (2:1 is standard in most cases), may trade volumes worth over $1 million each month. However, an active forex trader using 50:1, 100:1, or even higher margin can rack up volumes of tens of millions or more each month.
Looking at our top picks for active trading, IG topped the podium with an all-in cost equating to 0.96 pips (0.36 pips + 0.6 pips commission), a highly competitive offering. The entry-level tier requires a balance of just £1,000, and round-turn commissions start at $60 per million, dropping to $30 per million when trades exceed $100 million. Customers have all the tools they need, including a variety of advanced order types, through IG's L2 dealer platform and algorithmic trading support on MetaTrader4 (MT4). For a complete breakdown of IG's commissions, see our detailed IG commission notes.
Dukascopy Bank followed closely in second place on its commission-based pricing, with an all-in cost of 0.92 pips (0.22 pips + 0.70 commission) using average EUR/USD spread data gathered during the review. Dukascopy's entry-level tier of $70 per million ($35 per side with 0.22 pip average spreads), can be obtained with a deposit of at least $5,000. Dukascopy Bank only fell short of IG in the middle to higher activity tiers, yet overall was a close contender for first place. Its JForex 3 desktop platform helped the broker stand out with advanced order types and support for algorithmic trading. For a complete breakdown of Dukascopy's commissions, see our detailed Dukascopy Bank commission notes.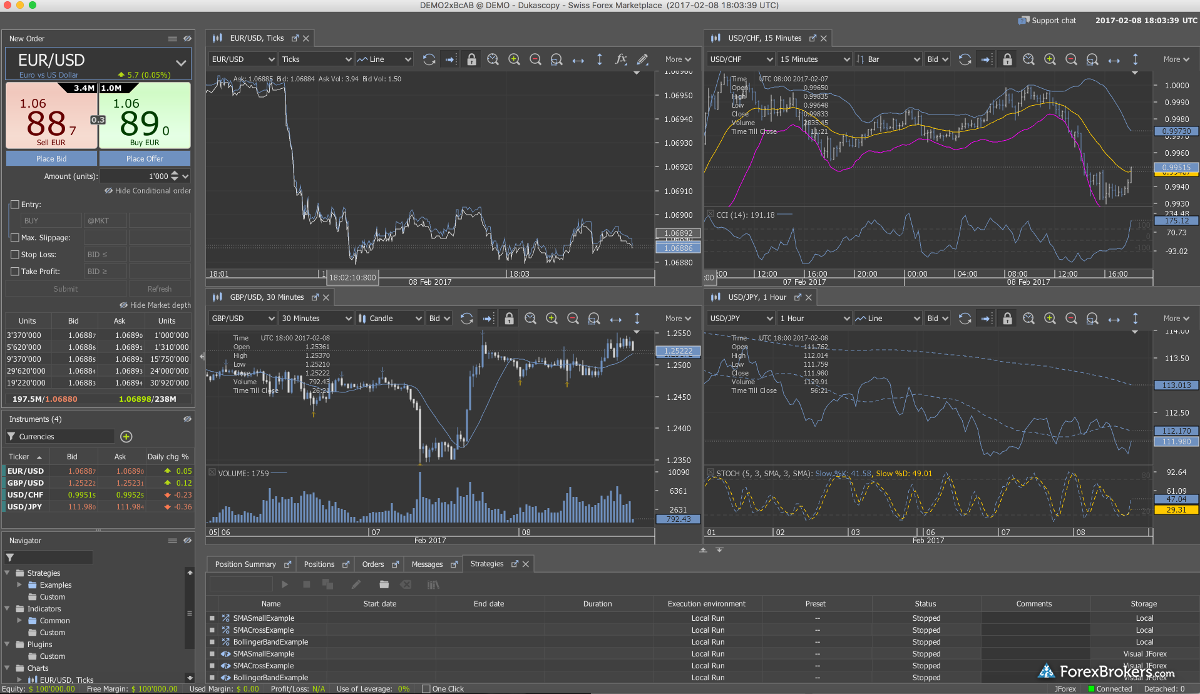 Behind Dukascopy, Saxo Bank's entry-level tier on its commission-based offering uses a $60 per million commission, which, when added to low average spreads near 0.4 pips on the EUR/USD, results in an all-in cost of 1 pip (or $100 per million).
Saxo Bank's pricing is similar to that of Dukascopy and IG; however, there is a minimum monthly spend fee on two of the broker's commissions plans (FX Active 30 and FX Active 20 plan), which is something to watch if you are a casual trader.  For a complete breakdown of Saxo Bank's commissions, see our detailed Saxo Bank commission notes.
Minimum spend fee aside, together with its advanced order types and new order-driven execution method, Saxo Bank's versatile active trader program helped it take an edge over CMC Markets, which followed closely in fourth place. CMC Markets' liquidity rebate program has a higher barrier to entry in terms of trading volume requirements (200 million). In fifth place, Pepperstone impressed with its rebate program that kicks in for traders who surpass $20 million in volume per month, helping to lower its default commission tier.
Overall, the best broker for active trading will depend on your specific situation when it comes to commission and fees. All the forex brokers in this category offer competitive pricing for active and hyperactive traders who trade frequently.
Helpful questions for traders considering an active trader program include: How much do I plan to trade over the next 30 days or calendar month? How will the available margin rates at my broker affect my trade sizes and overall volumes? How sensitive is my trading strategy to spread/commission rates? Lastly, factors including the available execution method, order types, trading platforms, and other such preferences can play a crucial role in your overall experience.
Related Articles
Explore our other online trading guides: