Advertiser Disclosure
×
ForexBrokers.com helps investors like you across the globe by spending hundreds of hours each year testing and researching forex brokers. You support us through our independently chosen links, which may earn us a commission. This does not impact our completely unbiased research, which is respected by broker executives as among the most thorough on the web. Thank you for your support.
The ForexBrokers.com annual review is among the most cited in the industry. With over 83,000 words of research across the site, we spend hundreds of hours testing forex brokers each year. Industry leaders trust us because our rigorous testing is totally independent and 100% unbiased.
When it comes to active trading programs, not all forex brokers' offerings are created equal. The requirements, and the resulting commission/spread discounts a forex trader is entitled to, can vary considerably across forex brokers. In addition, the available trading tools active traders need, such as advanced order types, for example, may vary from one firm to another.
Bottom line: this year was a very close race.
Active Forex Trading Best FX Brokers
Based on over 70 different variables, here are the top seven forex brokerages for active trading.
Active traders are consistently engaged with the market on a daily basis. Tracking news, monitoring watch lists, and conducting analysis make up most of the usual routine. As a result, this unique breed of investor places far more trades, on average, than any long-term investor.
For active equities trading in the US, for example, this means placing at least ten trades per month. Meanwhile, active forex trading is measured differently since fx trading is conducted with much more leverage. Instead of total trades, active forex traders are measured by total volume.
For example, an active US equities trader can access up to 4:1 margin (2:1 is standard in most cases), resulting in trade volumes of, say, at least $1 million each month. Alternatively, an active forex trader using 50:1, 100:1, or even higher margin can rack up volumes of tens of millions or more each month.
Definitions aside, looking at our top picks for active trading, CMC Markets rose to the top in our 2018 Review after placing second in 2017. CMC Markets lowered its barrier to entry for its rebate program, which coupled with its already low average spreads, is a winning combination.
Clients of CMC Markets can access all-in costs of 0.755 pips on the EUR/USD, using average spread data published by the Broker for February 2018. Through its active trading rebate program, CMC Markets reduced the barrier to entry from £200 million down to £50 million in monthly volume, making it easier for traders to qualify.
View a full breakdown of CMC Markets commission notes.
Meanwhile, Saxo Bank revamped its active trader offering in 2017 by expanding to six commission level tiers, effectively catering to a wider audience. Saxo Bank ended its required minimum commission spend and commission-free pricing, which had inherently wider spreads.
Not only that, but Saxo Bank also aligned with the industry best practices outlined in the Global FX Code and began to publish more detailed statistics regarding its execution of orders. Additional transparency into execution and pricing data is valuable to any active trader.
Also, Saxo Bank added three additional margin tiers (7 through 10) for higher volume traders, to help align with market volatility and margin call trends, better-protecting traders.
Lastly, Saxo Bank rolled out new volume-based discount pricing across its six tiers where commissions were reduced by 20% up to 66%, depending on the monthly volume traded.
Coupled with low average spreads of 0.4 pips, using February 2018 data, the all-in cost for its entry-level tier is 0.9 pips (after factoring in 0.5 pips as the $50 commission equivalent).
In third place, IG followed closely behind Saxo Bank, thanks to the active trader pricing on its Forex Direct offering. The broker lists average spreads of 0.263 pips (although these values date back to October 2016). After adding the default tier commission of $60 per million or 0.6 pip equivalent, the all-in cost is approximately 0.9 pips.
In its primary offering, IG listed an average spread of 0.74 pips for the 12 weeks ending February 2017, making Forex Direct the clear winner when it comes to price competition. Together with a low minimum deposit of just $1000 to open a Forex Direct account at IG, the broker's active trader offering continues to rank highly among peers.
Even further discounts are available when monthly trading volumes exceed $100m, where commission rates halve to $30 per million.
Dukascopy Bank finished in fourth place with its commission-based pricing. Referencing average EUR/USD spread data for the US session during February 2018, all-in costs were 1.02 pips (0.32 pips + 0.70 commission).
Dukascopy's entry-level tier of $70 per million ($35 per side with 0.32 pip average spreads), can be obtained with a deposit of at least $5,000. Overall, Dukascopy Bank fared better in the middle to higher activity tiers, even though its entry tier had a higher all-in cost to CMC Markets, Saxo Bank, and IG.
Commissions aside, Dukascopy's JForex 3 desktop platform continues to help the broker stand out with advanced order types and support for algorithmic trading.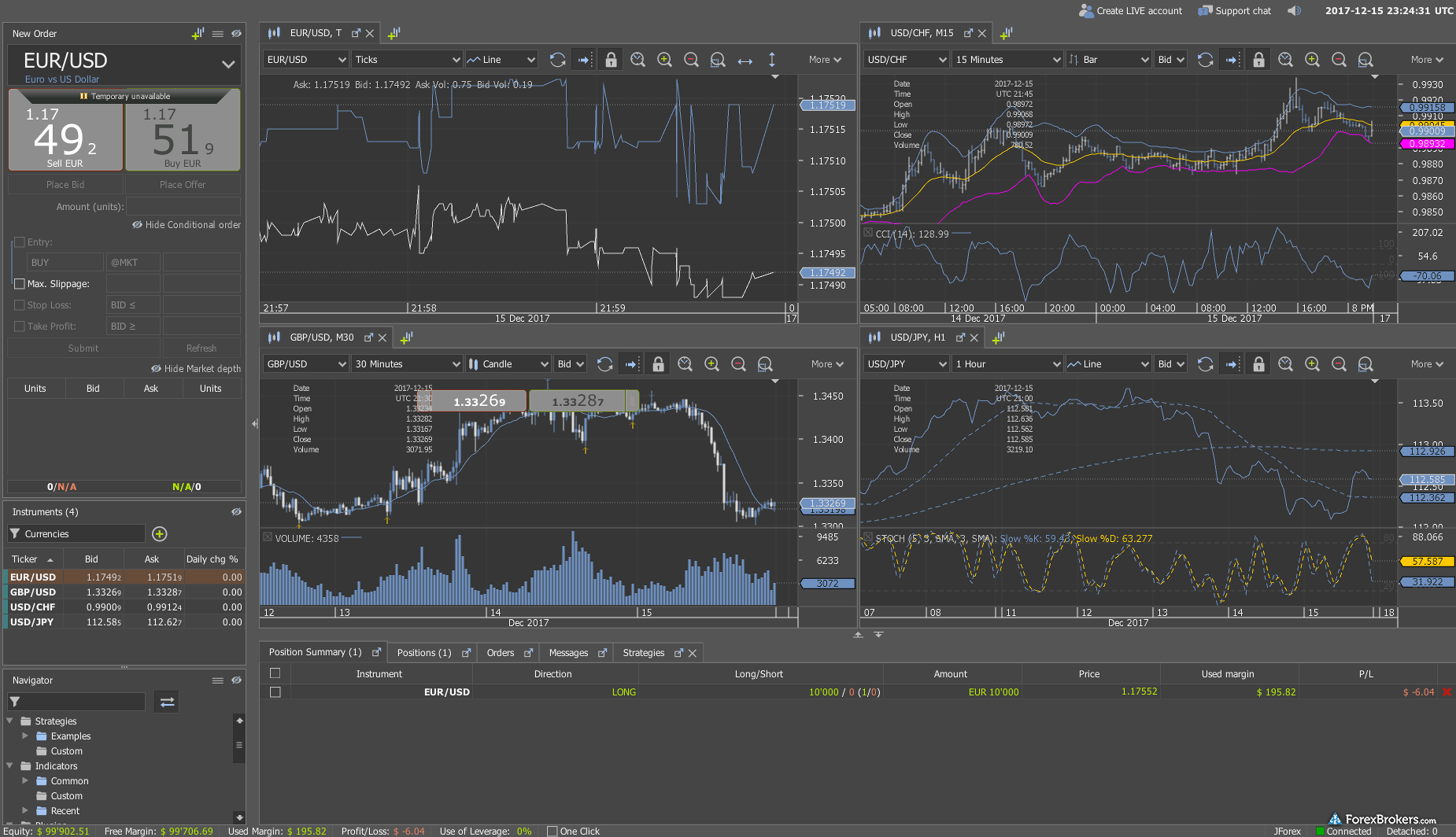 Finishing fifth, TickMill lists the spreads on its EUR/USD pair at as low as 0.2 pips (although this was not listed as an average spread). Combined with its VIP account offering for traders who deposit at least $50,000, the all-in cost equates to 0.52 pips after including its $3.2 per standard lot (0.32 pip round-turn commission equivalent).
Next up, Forex.com fares well in its higher volume thresholds. Forex.com provides a five-tier offering and clients who maintain an average monthly balance of $100,000 get bumped up to tier two where spreads on the EUR/USD drop to 1.2 pips. For those who trade over $150m per month, spreads come down to 0.9 pips.
Lastly, Pepperstone lists an average spread of 0.16 pips in its ECN Razor account, which when added to its commission equivalent of approximately 0.753 pips (or roughly $7 per standard lot), the all-in cost equates to 0.913 pips.
For active traders at Pepperstone, a $200 rebate kicks in once at least $20m in volume is reached, followed by a $1,500 rebate at $100m, $3,000 at $150, and $15,000 at $500m. The only caveat with Pepperstone's active trader program is traders must request the rebate manually, requiring clients to monitor their volumes.
Overall, the best broker for active trading will depend on your specific situation when it comes to commission and fees. All the forex brokers in this category offer competitive pricing for active and hyperactive traders who trade frequently.
Helpful questions for traders considering an active trader program include: How much do I plan to trade over the next 30 days or calendar month? How will the available margin rates at my broker affect my trade sizes and overall volumes? How sensitive is my trading strategy to spread/commission rates? FInally, factors including the available execution method, order types, trading platforms, and other such preferences can play a crucial role in your overall experience.
Related Articles
Explore our other online trading guides:
Forex Risk Disclaimer
"There is a very high degree of risk involved in trading securities. With respect to margin-based foreign exchange trading, off-exchange derivatives, and cryptocurrencies, there is considerable exposure to risk, including but not limited to, leverage, creditworthiness, limited regulatory protection and market volatility that may substantially affect the price, or liquidity of a currency or related instrument. It should not be assumed that the methods, techniques, or indicators presented in these products will be profitable, or that they will not result in losses."Learn more.