The global use of mobile devices to access online services, ranging from email to social network sites such as Facebook, Twitter, and LinkedIn, has continued to grow exponentially in recent years.
This trend has accelerated as smartphones get faster processors, more RAM, and larger hard drives capable of running powerful applications and web software. As a result of these innovations, mobile app usage is helping drive the shift to mobile across many industries, including finance, while the transition to mobile continues.
Adding to the momentum of this trend are innovations from financial technology (FinTech) in terms of integrated payments and banking apps through which consumers perform many related financial transactions from their mobile devices. As a result, mobile apps for investing and trading are part of this same arms race, and the growth in mobile is just as real as it is for trading platforms on desktop and web, with many forex brokers ranking neck and neck in terms of mobile app innovation.
While nearly all forex brokers have offered mobile apps for years, the competition continues to increase as clients demand many of the same features in mobile that are normally found on desktop and web platforms.  
To identify the best forex brokers for mobile trading in 2017 we focused on identifying mobile experiences that were bug free, cleanly designed, and provided a wide range of features.
First place goes to TD Ameritrade for its impressive mobile app, which packed multiple innovations, including advanced order visualizations, powerful charting, and syncing watchlists enabled by default for forex traders. Whether you are logging in with your fingerprint (on compatible devices) or exploring a comprehensive array of customizations, the thinkorswim mobile app experience is cleanly designed and impresses throughout.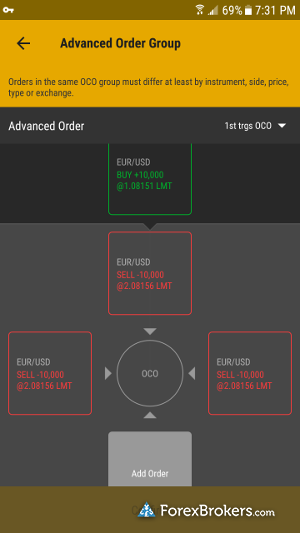 Saxo Bank took second place, as its SaxoTrader GO mobile app is highly responsive with its web-based counterpart helping to provide many of the same features to forex traders using the mobile app. Like thinkorswim, syncing watchlists and charts are also enabled by default. The app is rich in features, yet keeps a clean and user-friendly interface wrapped in a modern design.
Dukascopy Bank's SWFX Trader mobile app took third place as the best forex mobile trading app for 2017, thanks to extensive research and integrated pattern recognition tools packed into a user-friendly layout that includes advanced order types. Charting came loaded with technical indicators, and despite the lack of drawing tools, the app's overall positives outweighed this minor drawback.
CMC Markets took fourth place as its mobile app offers unique features such as the ability to subscribe to future news events; charting also comes packed with technical indicators and drawing tools. FXCM's mobile app came in fifth place with a clean user interface and powerful charting, and despite its lack of synced watchlists, the app is very nice.
All in all, the best forex trading mobile apps will not only provide an alternative for traders to access their accounts but will inevitably become a replacement for web and desktop platforms, making it easier for traders to do what they need, whenever they need to do it.