Providing forex traders with effective educational resources is critical. Put simply, educated investors make more intelligent investment decisions. Most forex brokers consistently strive to educate their existing and prospective clients. That said, the delivery and quality of educational content varies.
For our assessment of forex broker education, we analyzed 20 different variables for each firm. Our focus was on forex education and understanding the overall forex market, from the basics to advanced strategy. The variables assessed included blogs, articles, video content, seminars, webinars, and content organization, among others. Forex broker platform tutorials and FAQs were not considered educational material.  
IG took first place this year with a comprehensive range of educational materials for forex, with a video accompanying nearly every article. The broker even offers its own educational mobile app. Furthermore, IG holds in-person seminars to cover areas such as advanced technical analysis, and for its online webinars archived recordings are readily available.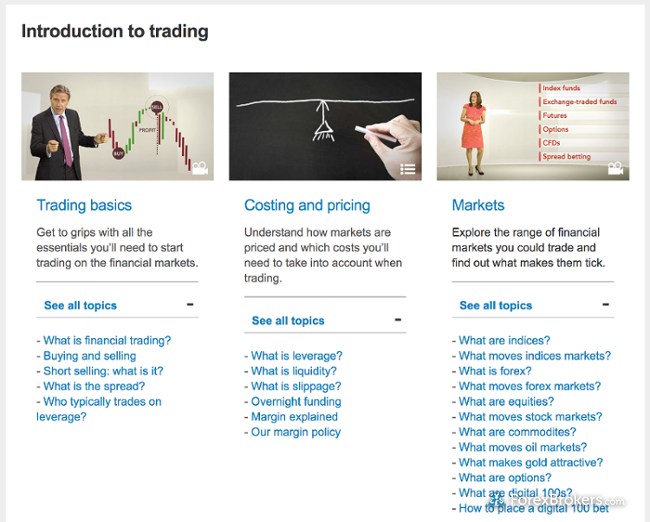 FOREX.com took second place, thanks to its newly enhanced education center (available on its US brand), which provides educational content grouped by experience level as well as five different educational themes: trading concepts, risk management, trading strategies, and technical and fundamental analysis. Meanwhile, on its UK brand, FOREX.com provides interactive, self-paced forex courses together with a variety of educational videos on its YouTube channel.
FXCM followed in third place with a great balance between weekly and monthly recurrent webinar themes covering traits of successful traders and the use of Fibonacci tools, among other subjects.  FXCM also provides several beginner videos about forex transaction basics, including what a pip is and what fractional pips are. The firm also offers eBook-style trading guides and its FXCM University, which includes courses organized by experience level, starting with a "freshman year" for beginners, and more advanced subjects for its "senior year" level.
Admiral Markets followed in fourth place with an extensive list of detailed articles, many of which include accompanying video content (from the company's YouTube channel). Admiral Markets also offers the resources of its online Zero-To-Hero academy, a series of educational courses delivered over 21 days. 
Saxo Bank took fifth place with its broad range of education-related materials, which are grouped by experience level and cover multiple asset classes including spot forex and forex options under the company's Saxo Academy offering.
It is worth mentioning that many of the brokers ranked well for forex education, with only minor differences compared to the top five. This was a positive finding as it shows firms are competing closely to deliver traders diverse and high-quality educational materials.