The ForexBrokers.com Annual Review (3 years running) is among the most cited in the industry. Our Head of Research, Steven Hatzakis, is frequently referenced as a leading analyst covering forex brokers and cryptocurrency. Learn more.
Founded in 2003 as an educational center for technical analysis, FXOpen launched its brokerage services in 2005 and was an early pioneer with micro contracts and Sharia-compliant accounts before building its own ECN bridge technology on the MetaTrader platform.
After launching an STP account offering in 2013, FXOpen reached $100 billion in monthly trading volume, and continues to operate predominantly as a MetaTrader broker. FXOpen obtained regulatory status with the UK's FCA, and in Australia it also has an unregulated entity in Nevis that maintains membership with Financial Commission, an External Dispute Resolution (EDR) organization.
FXOpen offers Investment accounts for PAMM account investors, in addition to its various account types, including STP, ECN, Micro, and Crypto trading accounts, providing access to 52 currency pairs and nearly two dozen CFDs as well as 43 pairs on some of the most popular cryptocurrencies in its MetaTrader4 (MT4) and MetaTrader5 (MT5) platforms.
Trust Score
Trading with a forex broker traders can trust is crucial to success. Unfortunately, forex fraud and scams are common in the industry.
Here at ForexBrokers.com, we maintain the largest independent regulatory database available on the web. Using 28 different variables, we have created a proprietary 1-100 score (the higher the better) of overall trustworthiness, which we call the Trust Score. Here is our trust summary of FXOpen.
| | FXOpen |
| --- | --- |
| Year Founded | 2003 |
| Publicly-Traded Company (Listed) | No |
| Regulated in Major Hub | Yes |
| Regulated in Emerging Hub | No |
| Authorised in the European Union | Yes |
Offering of Investments
The following table summarizes the different investment products available to FXOpen clients.
| | FXOpen |
| --- | --- |
| Currency Pairs (Total Forex pairs) | 95 |
| CFDs - Total Offered | 16 |
| Cryptocurrency traded as actual | Yes |
| Cryptocurrency traded as CFD | Yes |
Commissions & Fees
Depending on the account type you choose – ranging from ECN and STP to Micro, FXOpen offers several pricing options for its commissions and fees, yet average spreads published by FXOpen were not available to order to make a level comparison with other brokers.

FXOpen accounts
Overall, FXOpen offers competitive pricing on its ECN account and across its various entities, depending on where you choose to establish your trading account. It can be a good choice for beginners and experienced traders compared to the MetaTrader offerings of forex brokers.
It's worth noting that in 2018, FXOpen launched a Pro subdomain (i.e., a new website url) for its professional client offering in the EU, with $15 commission per trade, compared to other EU brokers that simply separated it by account type within their existing web addresses.
| | FXOpen |
| --- | --- |
| Minimum Initial Deposit | $100 |
| Average Spread EUR/USD - Standard | N/A |
| All-in Cost EUR/USD - Active | N/A |
| Active Trader or Premium/VIP | Yes |
Customer Service
To score Customer Service, ForexBrokers.com partnered with customer experience research group Customerwise to conduct phone tests from locations throughout the UK. For our 2019 Review, 229 customer service tests were conducted over six weeks.
Results:
Average Connection Time: <1 minute
Average Net Promoter Score: 6.4 / 10
Average Professionalism Score: 3.4 / 10
Overall Score: 5.8 / 10
Ranking: 15th (23 brokers)
Research
A team of analysts contributes to FXOpen's blog with daily updates and analysis on Forex, CFDs, and cryptocurrencies, and content that is industry standard for most brokers. FXOpen also provides an economic calendar that shows a forecast of upcoming events with the consensus estimate, as well as market news updates – both powered by FXStreet – on its UK, Australia, and Nevis websites.
Overall, research is a little more than the bare minimum at FXOpen, and remains a category that has significant room for improvement in terms of broadening the scope and range of research tools available one the broker's website and within its trading platforms. In 2018, FXOpen cast some light on this category with the addition of blog-style research briefs, where a chart is accompanied by a summary market analysis. 

FXOpen research analysis
| | FXOpen |
| --- | --- |
| Daily Market Commentary | Yes |
| Forex News (Top-Tier Sources) | Yes |
| Weekly Webinars | No |
| AutoChartist | No |
| Trading Central (Recognia) | No |
| Delkos Research | No |
| Acuity Trading | No |
| Social Trading / Copy-Trading | Yes |
| Social Sentiment - Currency Pairs | No |
| Economic Calendar | Yes |
Platforms & Tools
FXOpen is predominantly a MetaTrader-only broker. This means it offers the suite of platforms from MetaQuotes Software corporation, the developer of the widely popular MetaTrader4 platform for desktop, mobile, and web, and MetaTrader5 desktop software. To learn more about MT4, read our MetaTrader guide.
While hundreds of brokers offer the popular suite of platforms from MetaQuotes, including MT4 and MT5, a crucial aspect often overlooked is how each broker will configure the platform when it comes to how the execution is handled, yet this difference can be hard to see on the surface, such as whether a broker offers agency execution or operates a dealing desk. FX Open offers both options.
As far as charting tools are concerned, MT4 and MT5 come with several dozen technical indicators by default for the charting module, and is no different at FXOpen, which offers the opportunity to backtest an automated trading strategy, which is something for which the Metatrader platforms are famous. Otherwise, the historical data shown in the charts will usually vary from broker to broker due to the inherent off-exchange nature of spot foreign exchange markets, as well as where prices are sourced from.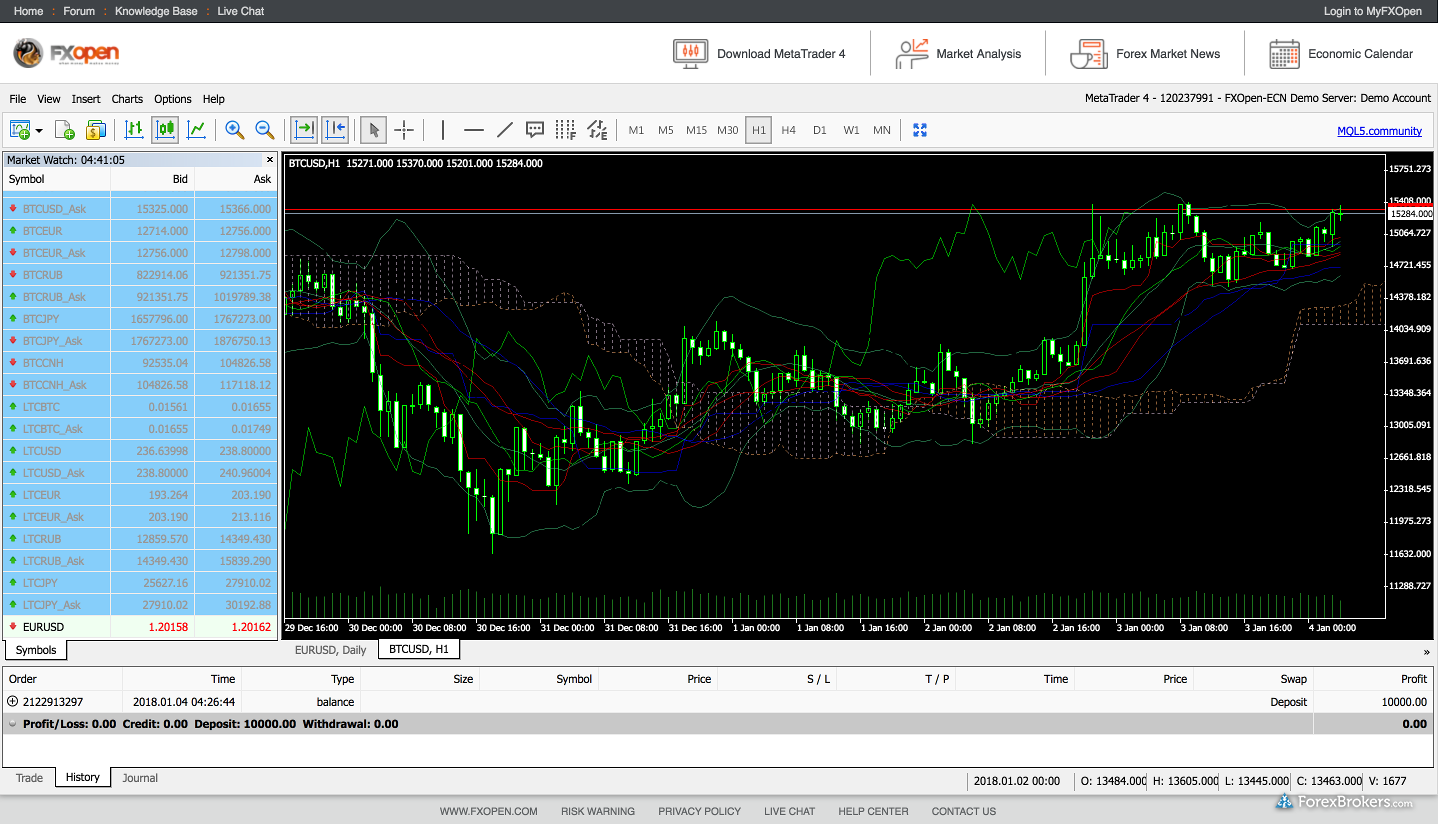 Before leaving the MT4 platform, FX Open offers several social copy-trading platforms, including ZuluTrade, which requires live trading systems to forward test, and Myfxbook, which has a database of systems that are subject to instant backfill bias. Furthermore, FX Open requires you to have an MT4 account to sync customer account data to these third-party services.
MT4 also offers its own signals market, which is available from within the platform, and like ZuluTrade, it uses a stringent process to vet signal providers that use live accounts, compared to Myfxbook.
ZuluTrade would be my choice over Myfxbook and it also fares well with MT4's own signals market, with the key takeaway being that commission rates and the available trading systems will vary across MT4, ZuluTrade, and Myfxbook.
Moving into the managed account offering at FXOpen, investors can choose from various money managers that are ranked by performance and other criteria within FXOpen's PAMM platform, which is closer to a managed account structure than a social trading platform.
Like any offering that offers many underlying investment vehicles to choose from, the quality of each one will be a key factor, including its strategy, fees, historical performance, and other quantitative and qualitative data. In 2017, FXOpen added Cryptocurrencies to its PAMM platform, which combined with the existing tools provided for sorting PAMM managers, giving the broker a diverse social trading offering.
It's worth noting that the PAMM offering is not available from FXOpen UK, and beyond the social-trading platforms, FXOpen is predominantly a MetaTrader broker.
| | FXOpen |
| --- | --- |
| Virtual Trading (Demo) | Yes |
| Proprietary Platform | No |
| Desktop Platform (Windows) | Yes |
| Web Platform | Yes |
| Social Trading / Copy-Trading | Yes |
| MetaTrader4 (MT4) | Yes |
| MetaTrader5 (MT5) | Yes |
| cTrader | No |
| Charting - Indicators / Studies (Total) | 51 |
| Charting - Drawing Tools (Total) | 31 |
| Charting - Trade From Chart | Yes |
| Watchlists - Total Fields | 7 |
| Order Type - Trailing Stop | Yes |
Mobile Trading
The native versions of the mobile app for MetaTrader4 and MetaTrader5 are available for Android and iOS devices straight from the developer and score highly as MetaQuotes was an early pioneer in forex platforms, including mobile trading apps. To learn more about the MT4 mobile app, read our MetaTrader guide.
FXOpen also offers its Tick Trader mobile app for Android, developed by Soft-FX (the same developer of the PAMM offering). The app has seen a major overhaul since our 2017 review, as it now is not only functional, but also includes numerous features. For example, new security policies prevent screenshots, which is becoming an industry standard for apps that support cryptocurrency trading.
Using Tick Trader was generally a smooth experience and the only bug worth mentioning was when indicators were added to a chart, they would not adjust when the timeframe was changed. For example, adding indicators to a 1-hour chart would be fine, but when switching to a daily chart, the transition would cause the indicators to become offset (requiring they be removed and re-added).
Aside from this bug, Tick Trader has made tremendous progress since our last review when it wasn't even functioning. That said, FXOpen's mobile experience still has a ways to go overall as it finished in the bottom half of FX brokers in our 2019 Review.
| | FXOpen |
| --- | --- |
| Android App | Yes |
| Apple iOS App | Yes |
| Trading - Forex | Yes |
| Trading - CFDs | Yes |
| Alerts - Basic Fields | Yes |
| Watch List | Yes |
| Watch List Syncing | No |
| Charting - Indicators / Studies | 30 |
| Charting - Draw Trend Lines | Yes |
| Charting - Trend Lines Moveable | Yes |
| Charting - Multiple Time Frames | Yes |
| Charting - Drawings Autosave | No |
| Forex Calendar | No |
Other Notes
For traders who want to speculate on the price of digital currencies such as Bitcoin, the cryptocurrency account is not available from the firm's Australia entity – it is available only from FXOpen's unregulated entity in Nevis, and more recently from its UK entity regulated by the FCA. In lieu of regulations in the offshore island country of Nevis, FXOpen is a member of the Financial Commission, an External Dispute Resolution (EDR) organization based in Hong Kong. The Financial Commission can be a resource for FXOpen customers when it comes to trade disputes, while clients seeking greater regulatory oversight and protection can choose the UK or Australian entity.
The micro account is not available from FXOpen UK, and can be opened only with the Nevis entity, FXOpen Markets Limited, or with FXOpen Australia for 100AUD.
In February 2018, FXOpen further expanded the range of cryptocurrency CFDs available from 28 crypto-to-fiat pairs, derived from seven underlying cryptocurrencies, and up to 43 pairs, derived from 10 crypto assets, following the addition of Bitcoin Cash, Ripple, Ethereum Classic, Monero, NEO, IOTA, EOS, and OMNI.
Final Thoughts
Features that help FXOpen maintain an edge over other Metatrader brokers, beyond the competitive spreads in its ECN account, include its cryptocurrency account offering, PAMM for investors, and social copy-trading trading platforms on offer, although some of these offerings are available only from its unregulated entity in Nevis.
In addition, the broker offers numerous account types, low minimum deposits, and a respectable range of forex pairs and CFDs. FXOpen can be a suitable alternative to brokers that require a higher minimum across their account types, including for high volume traders who need large deposits to qualify for active trader accounts.
While FXOpen inched closer towards expanding its research offering with the addition of analysis snippets, research is still an underserved area the broker should enhance, along with its range of CFDs which remains very limited. The broker did, however, finish in seventh place in our Crypto category, from among 28 brokers in our 2019 forex broker review.
Methodology
For our 2019 Forex Broker Review we assessed, rated, and ranked 28 international forex brokers. Each FX broker was graded on 81 variables. How we test.
Forex Risk Disclaimer
"There is a very high degree of risk involved in trading securities. With respect to margin-based foreign exchange trading, off-exchange derivatives, and cryptocurrencies, there is considerable exposure to risk, including but not limited to, leverage, creditworthiness, limited regulatory protection and market volatility that may substantially affect the price, or liquidity of a currency or related instrument. It should not be assumed that the methods, techniques, or indicators presented in these products will be profitable, or that they will not result in losses." Learn more.
---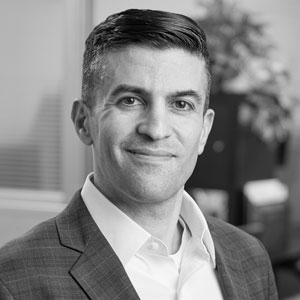 Reviewed by Steven Hatzakis Steven Hatzakis is the Global Director of Research for ForexBrokers.com. Steven previously served as an Editor for Finance Magnates, where he authored over 1,000 published articles about the online finance industry. Steven is an active fintech and crypto industry researcher and advises blockchain companies at the board level. Over the past 20 years, Steven has held numerous positions within the international forex markets, from writing to consulting to serving as a registered commodity futures representative.
FXOpen Competitors
Select one or more of these brokers to compare against FXOpen.
---
Ratings Overall
Summary
Commissions & Fees
Offering of Investments
Platforms & Tools
Research
Customer Service
Mobile Trading
Education
---
Commissions & Fees
Commission Notes
FXOpen Ltd (UK):
For clients who open an ECN account with FXOpen UK, the minimum is 300 euros, and CFD trading also takes place via the ECN account with FXOpen UK.
FXOpen's STP accounts, which can be opened with as little as $10, have their commissions imbedded into floating spreads that vary per currency pair and on market conditions and available liquidity within FXOpen's ECN platform.
For clients who open an STP account with FXOpen UK, the minimum is 300 euros, and there are less options for the number of currencies you can hold in your balance in an STP account than what the ECN account offers.
FXOpen AU Pty Ltd (Australia):
The standard account at FXOpen Australia requires 1,000 AUD deposit, and defaults to a commission rate of $25 per side or $50 round turn per million.
Meanwhile, a micro ECN account is also offered at FXOpen Australia – starting with a minimum deposit of at least 200 AUD – and uses a commission-based pricing of $5 per 100,000 traded or $10 per 100,000 round turn ($100 RT per M).
FXOpen Markets Limited (Nevis):
With regard to the Nevis entity, when you deposit $100 or more of currency equivalent, your ECN account can be denominated in a wide range of currencies at FXOpen. These include USD, AUD, CHF, EUR, GBP, JPY, RUB, SGD, Gold, and even in thousandths of Bitcoin (BTC) also known as milli BTC (mBTC).
The micro account can only be opened with the Nevis entity where execution is via FXOpen's dealing desk, and this account provides access to 28 currency pairs and only two CFDs (gold and silver) compared to the 50 pairs for STP accounts (plus gold and silver) and 70+ instruments for ECN accounts, which can access a broader range of index and energy CFDs.
ECN account:
In the ECN account, commission rates vary from $30-$100 round turn per 1 million traded (which equates to 0.3 – 1.0 pip), where the applicable rate is determined by several factors such as the amount of equity in your FXOpen account, and the volume traded in the past 30 days.
Active Traders:
FXOpen does offer a VIP ECN account through its Australian entity, where a deposit of at least 25,000 AUD will bring your default commission rate to $18 per side on 1 million units traded. This equates to $36 round trip per million and is irrespective of trading volume.
Commission charges appear as soon as a trade is placed. For traders that do more than $250 million per month, FXOpen can review the commission rates you pay to see if they can be revised.
The applicable commission tier can be affected by larger balances, which can improve the rate if trading volumes exceed certain thresholds, whereas the volume traded alone can also influence the applicable tier on which you will be charged, irrespective of balance size.
The following table outlines commission tiers for clients of FXOpen (Nevis) who open an ECN account:
FXOpen's other account type, the STP account, has a commission equivalent imbedded within the prevailing spreads – like brokers with non-commission pricing where spreads are inherently wider.
Compare FXOpen
Find out how FXOpen stacks up against other brokers.