As an early pioneer in offering contracts for difference (CFDs) and spread betting, IG was founded in 1974 and has grown to be a global leader in the online trading industry. This London-based public company is listed on the London Stock Exchange's FTSE 250 (LON: IGG).
IG offers traders access to trade over 10,000 products across multiple asset classes, including forex, CFDs on shares, indices, commodities, bonds, and other global markets, including exchange-traded shares through its regulated offerings.
As of May 2016, the IG brand was servicing over 152,000 active clients globally through its staff of 1,400 and its 15 international offices, under its regulated entities including in the UK. IG Group offers binary derivatives to US clients through its North American Derivatives Exchange (NADEX) division regulated by the CFTC.
Commissions & Fees
IG has very competitive pricing on its web-based and mobile/tablet platforms, which include the MT4 platform, with minimum spreads on the EUR/USD from 0.6 pips and average spreads of 0.74 pips on the pair, for the four weeks ending September 30, 2016, for mini and standard size contracts.
For volume traders, IG has even more competitive rates on its commission-based offering, Forex Direct, in which spreads can drop to 0.26 pips, where a commission of $1 to $6 per standard lot (100K units) is added, depending on the related tier pricing level you qualify for based on specific volume thresholds.
| View All Fees | IG | Saxo Bank | CMC Markets | City Index | XTB |
| --- | --- | --- | --- | --- | --- |
| All-in Cost EUR/USD - Active | 0.363 | 0.600 | 0.772 | 0.690 | N/A |
| All-in Cost GBP/USD - Active | 1.092 | 0.900 | 1.115 | 1.220 | N/A |
| Average Spread EUR/USD - Standard | 0.750 | 1.000 | 0.772 | 0.690 | 0.900 |
| Average Spread GBP/USD - Standard | 1.280 | 1.300 | 1.115 | 1.220 | N/A |
| Commissions & Fees | | | | | |
| Overall | | | | | |
If you are not yet ready to deposit $10,000 to trade at Saxo Bank on a 0.2 pips spread, IG is a great alternative as only £1,000 is needed for Forex Direct, compared to $25,000 for an Active Trader account at FXCM or $10,000 for a Premium account at FOREX.com.
You can also start a live account at IG with as little as £250, making IG friendly for beginners and experienced traders who want to test-drive IG's platforms.  
Customer Service
Besides the live chat module within the platform, users can check in to live chat on the main IG homepage, which states, "If the live chat button is not green, it's because our experts are busy with other clients." Luckily it was green when we tried to reach a rep, and it was easy to get some questions answered.
On a different occasion, I had contacted the support line with an inquiry but the person who could handle the request was not in the office, and I was asked to leave a contact number for someone to get back to me. I received a call back within 24 hours, and the person I spoke with was very friendly, courteous, and professional, and emailed me additional information, helping to resolve my inquiry after our call ended.
Overall, IG finished second for customer service out of 20 brokers as its representatives consistently deliver high quality customer service.
On another occasion, I spoke on the phone with a UK support representative who was very helpful and knowledgeable, and put me on hold only on a few occasions when she had to double-check the answers to questions regarding their pricing tiers on Forex Direct.
Overall, IG finished second for customer service out of 20 brokers as its representatives consistently deliver high quality customer service.
Research
One of IG's strong points, aside from its competitive pricing and large number of tradeable products, is its depth of research content on its platform and in the IG Analysis section on the company's website.
The trading platform offers streaming news from Reuters and research in the form of an Economic Calendar, as well as a customizable Market Screener and a Market Data section.  
Once clicked, these research tools open in a new tab within the web-browser and keep the user session active and logged in (instead of just being redirected to a public link, users remain logged in to the site).
The Economic Calendar function from within the platform, which also launches as a new browser tab, contains the type of tools most equity traders would find useful. These include company earnings, dividend payments, stock splits, and IPOs.
Available research tools for shares include key fundamental data: market capitalization, recent fiscal year earnings per share (EPS), dividend yield, profit margin, return on investment (ROI), and a normalized price to earnings (P/E) ratio. The parameters for these fields can be specified by sliding a scale from the minimum to maximum ranges available in order to filter results.
The Macroeconomics news tab is a useful feature for forex traders, whereas the remaining research tools are optimized for CFD and share traders.
Lastly, within the research section on the web platform, the Market Data category, based on the location of the user, shows relevant headlines from Reuters, so a trader located in Germany, for example, may see German-related news, whereas a trader in another country sees news relevant to their country.
Overall, the research and related tools for news and market analysis were quite rich, yet the segmentation of this content across multiple tabs removed the user from the main section of the platform where trading takes place.
Other platforms such as OANDA also follow a similar approach with regard to opening new windows within the browser while keeping the user logged into the platform on each page, while accessing research.
Some users may prefer research centralized in one place, such as the way Saxo Bank does it in their News & Research section within the SaxoTraderGo web-based platform; nevertheless, IG is a close competitor in this area and both companies rank highly in the research category.
Around the time of our review, IG had closed on its acquisition of DailyFX from FXCM for $40m to strengthen its research offering.
Platforms & Tools
IG's main trading platform is web based and available as an app for Android tablet or smartphone devices, and as an iOS version for iPhone and iPad, as well as for Windows smartphone and tablet devices.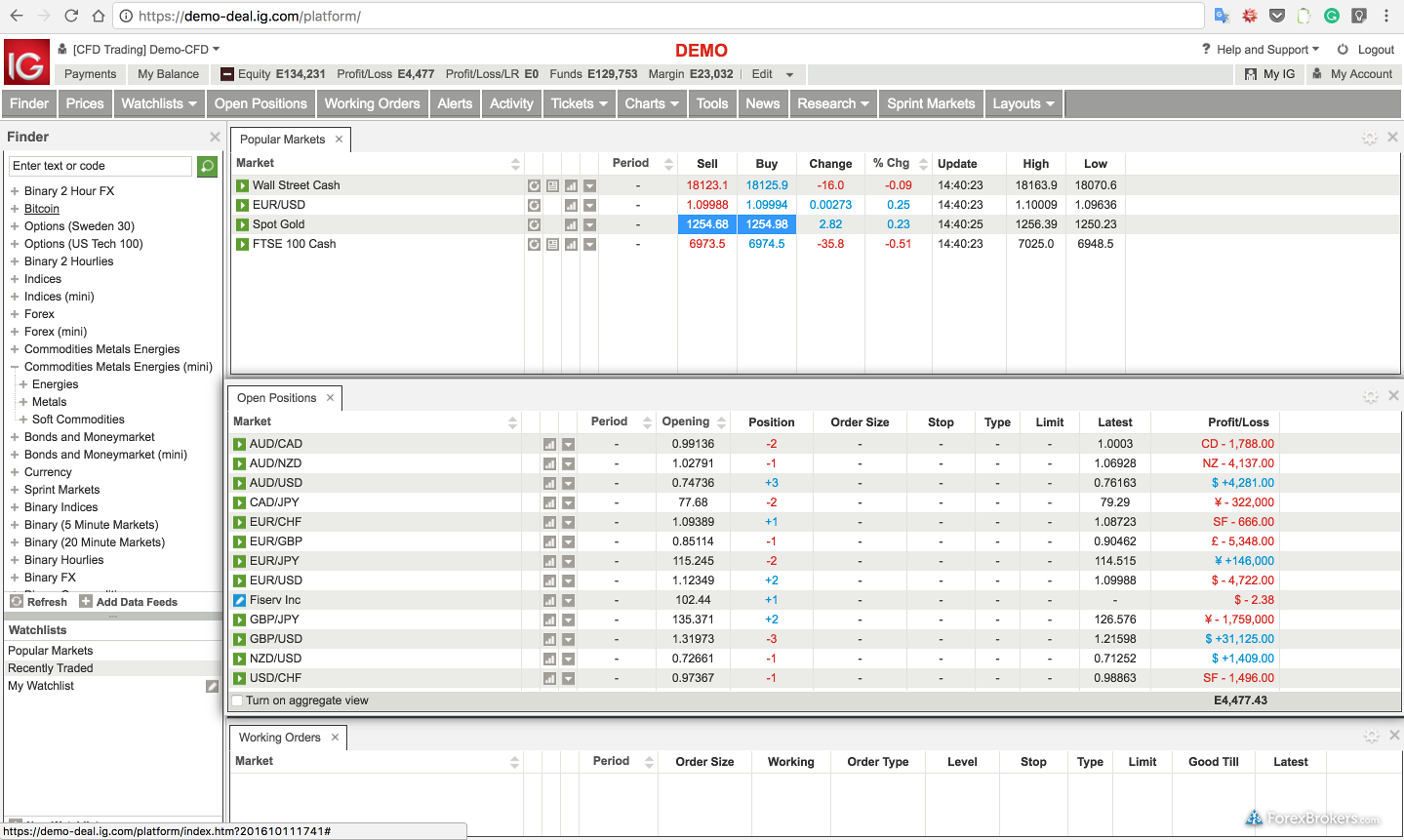 In addition, IG offers the MetaTrader4 (MT4) platform, which it launched in 2013, enabling clients to run a desktop or mobile version of the popular MT4 software.
Aside from the MT4 platform, IG offers predominantly web-based platforms across multiple devices and operating systems, including an app for Apple watch. For desktop-based software, IG offers the L2 Dealer platform where Forex Direct and Direct Market Access (DMA) are available for share trading.
After setting up a demo account to test the IG web-based platform, you can log into the IG website with your new login credentials and access account information under the MyIG section, as well as launch the platform, by clicking the 'Open classic platform' tab.
On initial login, the top row of the web-based platform displays account balance details such as equity and any floating profit or loss (P/L), and other account-related fields that can be edited to show up to five categories on that row.
The web-based version of the IG trading platform has a well-organized layout, with most of the categories and sections listed along the main row near the top of the platform.  
We found that this layout doesn't resize easily across various screen resolutions, and is difficult to keep organized, as resizing windows within platform is not a fluid experience. This is because each panel is free floating by default within the main platform, and this can cause panels to overlap and the layout to become disorganized. Like any platform with free-floating panels, or for traders with multiple monitors, you may need a few minutes to set up your layout on the IG web platform.
Because the research tools open in a new window tab, traders lacking additional monitors may find it harder to switch between tabs than it would be if the tools were on the main platform view. These are two areas in which improvements could lead to a better offering, in terms of both the user interface (UI) and user experience (UX) design.
The Finder panel is used to look up instruments, with all products categorized by asset class, with additional categories and sub-categories where instruments are grouped.
Charts can be opened from nearly any view that shows live market prices and streaming bid/ask rates, and various other shortcuts provide access to a trading ticket or order dialogue window.
In addition, from these rows where prices are shown, such as from within a 'watch list,' a small arrow points to a dropdown menu offering more actions such as adding an alert.
Launching a chart from the web-based version of the IG platform took time to figure out as a tiny bar-chart icon must be located from within any of the rows of instruments listed in the default layout.
Clicking on this icon launches the chart window, where navigation is easy and various categories are listed: Technical, Drawing, Alerts, Layout, and various time frames available as drop-down menus from within the upper tool bar of the chart window.
While the number of features seemed light, one interesting aspect of the charts was the ability for news icons to appear on a historical timeline corresponding at the bottom of the chart, enabling users to compare market prices with past news events visually over the entire chart history.
More advanced charting is provided by IG under the tools section of the platform, including its ProRealTime charting solution for all markets, followed by Auto Chartist and Trading Central, two popular third-party providers. Otherwise, the default charts within the platform feature some advanced functionality, such as the ability to add an alert on a specific indicator, with 22 indicators available to choose from.
In the trial version, prices from certain exchanges are delayed by 15-20 minutes by default, whereas for real-time data clients can subscribe for a fee, depending on the particular exchange. Within the web platform, traders can customize their subscriptions to 20 international exchanges, and subscribe for level 1 or level 2 real-time data for a fee that is rebated if a certain trading volume is made per month in the relevant markets.
The IG MetaTrader4 (MT4) desktop platform was straight out of the box, and ran on Windows without issues, yet it felt light as the news section was empty (this may be offered only to live account holders).
IG's MT4 uses multiple data servers clients can choose from to connect to the company's servers, with the degree of latency listed for each in milliseconds (ms) in the bottom right-hand corner of the platform.
While this feature is native in MT4, like nearly all other MT4 functions, not all brokers offer multiple servers beyond live and demo.
Mobile Trading
Overall features within IG's mobile app were on a par with leading competitors, including Saxo, FXCM, and FxPro, among others, and it was easy to access key categories from the side menu.
IG's mobile app ranks highly as the app comes packed with plenty of features such as alerts, sentiment, an economic calendar, watch list, and detailed market information for each instrument, all packed within a well-designed layout.
The charting function within IG's mobile app is loaded with technical indicators and drawing tools that can be accessed by tapping anywhere on the chart for the list of tools to appear.
IG's mobile app ranks highly as the app comes packed with plenty of features such as alerts, sentiment, an economic calendar, watch list, and detailed market information for each instrument, all packed within a well-designed layout.
Other Notes
IG provides open access to its API, available at IG Labs, and is similar to the way in which OANDA and FXCM provide their API feeds for open public access.
One striking characteristic regarding IG's prices for forex pairs was the speed with which price ticks were updated.
While this can be seen as a positive, it depends on the user experience  because the price updates can change too fast to be deciphered, yet are noticeable (i.e., the price changes from X, to Y, to Z, without the user being able to see what value Y was in time).
Some brokers may add some filters so their rates only update at a maximum of one or two times per second. Alternatively, they could add some other variable to limit the price throttling per each unit of time. It appears that IG either has no such filter or permits prices to update more frequently per second than firms such as Saxo, OANDA, FXCM, FxPro, CMC Markets, and others.
However, this can also be seen as a positive feature if the fleeting prices enable an order to be filled at a rate that would otherwise be missed or filled at a worse price due to price latency or throttling. 
Considering IG's spreads and available execution models, including its Forex Direct offering, we are neutral in our attitude toward the speed of price tick updates – as it is hard to quantify this against brokers who may provide a different number of price updates per second.
IG also offers exchange-traded securities (non-CFDs) for residents of the UK, Germany, and Australia to access international stock exchanges. IG also offers 7,500 CFD products and at least 70 currency pairs.
Final Thoughts
Retail forex and CFD traders who want access to nearly every market and have the ability to trade shares as CFDs or exchange-traded securities on a number of international exchanges will find IG provides a wide selection on its available platforms.  
Comparable to other brokers that require a larger minimum deposit, such as Saxo Bank, IG may be a great alternative for traders on a smaller budget, as minimum deposits start from £100, and £1,000 for access to Forex Direct.
IG can also be an ideal choice for those who require a greater degree of leverage, compared to brokers with a tiered-margin structure such as Saxo Bank. Close competitors offering access to markets beyond forex include Plus500, CMC Markets, and FxPro.
Methodology
For our 2017 Forex Broker Review we assessed, rated, and ranked 20 international forex brokers. Each FX broker was graded on 255 variables. Learn more.
Forex Risk Disclaimer
There is a very high degree of risk involved in trading securities. With respect to foreign exchange trading, there is considerable exposure to risk, including but not limited to, leverage, creditworthiness, limited regulatory protection and market volatility that may substantially affect the price, or liquidity of a currency or currency pair. It should not be assumed that the methods, techniques, or indicators presented in these products will be profitable, or that they will not result in losses. Learn more.
View all IG Group Fees & Features
---
Reviewed by Steven Hatzakis Steven Hatzakis is the Global Director of Research for ForexBrokers.com. Steven previously served as an Editor for Finance Magnates, where he authored over 1,000 published articles about the online finance industry. Over the past 18 years, Steven has held numerous positions within the international forex markets, from writing to consulting to serving as a registered commodity futures representative.
IG Group Competitors
Select one or more of these brokers to compare against IG Group.
---
Ratings Overall
Summary
Commissions & Fees
Offering of Investments
Platforms & Tools
Research
Customer Service
Mobile Trading
Education
Best in Class
Overall
Commissions & Fees
Offering of Investments
Platforms & Tools
Research
Customer Service
Investor Education
Active Trading
Compare IG Group
Find out how IG Group stacks up against other brokers.