Founded in 1996, Swissquote became publicly listed in 2000 on the SIX Swiss stock exchange under the ticker symbol SQN, and has since grown to be a leading brokerage with subsidiaries regulated in Malta, the United Kingdom and Hong Kong. Swissquote also holds a Swiss banking license from FINMA in Switzerland.
In addition to its multi-asset brokerage offering, Swissquote offers a wealth of advisory services to investors with 5.2 billion Swiss francs (CHF) in assets and CHF18.6 billion in custody (as per its 2016 annual report). The company employs 540 staff while maintaining over 300,000 client accounts across its subsidiaries that are regulated in Europe and Asia.
With its headquarters in Switzerland, Swissquote Bank offers traders access to over two million products, including bonds, warrants, ETFs, funds, shares, derivatives, futures, options and other securities including forex, across its eForex, SwissquoteFOX, FXBook, Advanced Trader, MetaTrader4 and MetaTrader5 platforms.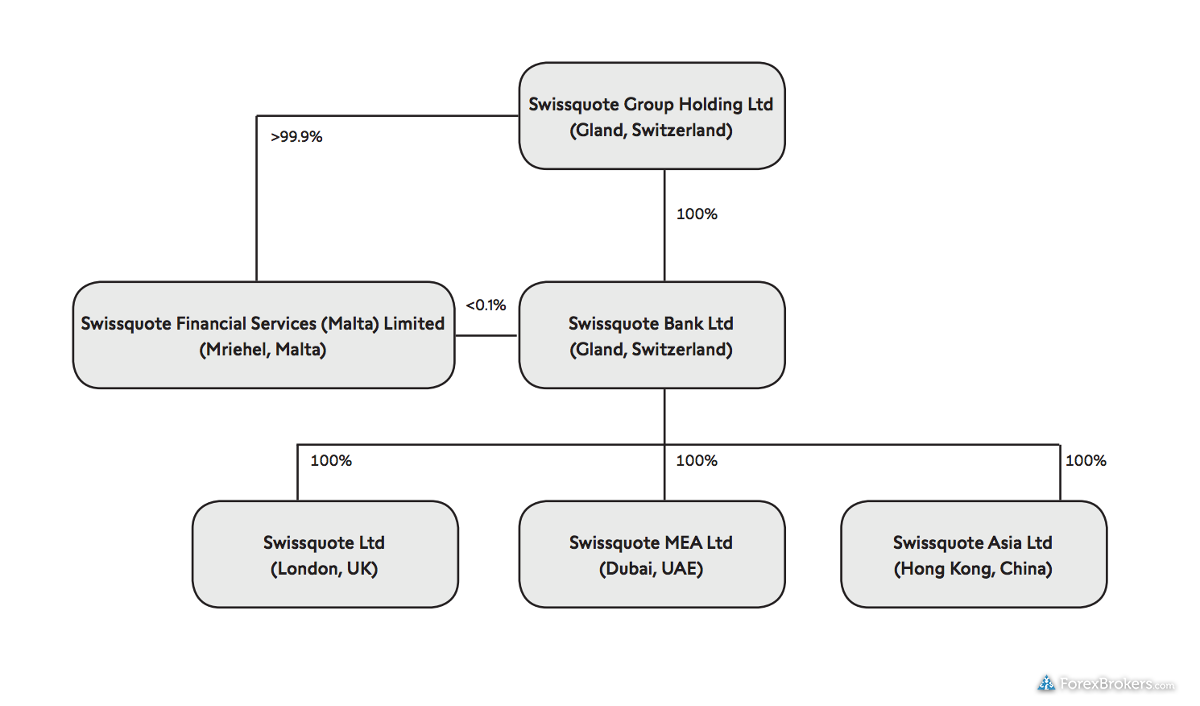 Commissions & Fees
The commissions and spreads from Swissquote's UK entity, Swissquote Ltd, differ significantly from the Switzerland entity Swissquote Bank Ltd, with average forex spreads on the EUR/USD at 0.80 pips on its commission-free offering in the UK, compared to multi-pip spreads in the non-commission account in Switzerland.
| View All Fees | Swissquote | ADS Securities | Dukascopy | Saxo Bank |
| --- | --- | --- | --- | --- |
| Commissions & Fees | | | | |
| Overall | | | | |
| All-in Cost EUR/USD - Active | N/A | N/A | 0.420 | 0.600 |
| All-in Cost GBP/USD - Active | N/A | N/A | 1.080 | 0.900 |
At the UK entity, for active traders who surpass 1,000 lots (10 million units) in volume, there is a commission-based pricing with raw spreads from 0.0-0.3 pips on the EUR/USD and a round-turn commission of 0.65 pips – bringing the all-in cost to 0.95 pips, which is comparable to other multi-asset brokers that have active trading offerings.
It's also worth noting that the UK entity executes trades on an agency basis, whereas the Swiss entity uses dealing-desk execution when it comes to its forex/CFD offering. This is comparable to Saxo Bank's structure between the UK entity, where its Danish bank entity acts as a liquidity provider (LP). Similarly, Swissquote's Swiss entity acts as a liquidity provider (LP) for Swissquote's UK entity.
Unless you're an active trader, even if you have more than $25k on deposit, forex spreads in the premium account are still high at Swissquote's Swiss entity, compared to firms such as IG, CMC Markets and Saxo Bank. In addition, spreads are even higher for mini and standard account holders making Swissquote Bank a more expensive choice for beginners or those on a tighter trading budget. Meanwhile, Swissquote's UK entity has more competitive pricing but a limited offering of investments in terms of markets you can trade.
Customer Service
Swissquote offers numerous points of contact across its global offices, with live chat available online during local office hours and phone support that connects you to a trading desk 24 hours a day during the trading week. There are also dedicated lines just for forex. I was assigned a dedicated account representative, which facilitated the quick exchange of emails. The representative had no trouble answering my questions and was on standby ready to assist via email or phone.
This consistency of high-quality support helped Swissquote rank near the top in terms of its customer service.
During several calls to the FX trading desk in London, the dealer I spoke to was very professional and helped answer some trading-related questions before transferring me to another associate who was equally supportive and took time to answer all of my inquiries. This consistency of high-quality support helped Swissquote rank near the top in terms of its customer service.
In several instances during our interaction on live chat, staff in the eForex department were not clear about the share-trading offering, which suggests a need to unify product information across departments. Otherwise, customer service was easily accessible and high quality.
Research
Swissquote offers streaming news headlines on its trading platforms, along with an economic calendar forecast and blog commentary from in-house analysts, in what can be described as a standard industry offering. To help complement an otherwise basic research offering, Swissquote features its SQORE signals service.
As social copy trading has expanded over the past decade, the search for the best trading signals remains a challenge Swissquote wants to help clients overcome with SQORE. When underlying market conditions match a given strategy in SQORE, then buy/sell signals are generated and displayed in the client's account.
Since Swissquote's own quantitative research team runs the strategies, this makes SQORE a premium tool for investors to find trading ideas as it is backed by the firm's staff.  You don't often see this with signals services or social trading platforms.
Platforms & Tools
Swissquote offers its own in-house platforms, including the Swissquote Advanced Trader (desktop and web versions), as well as multiple third-party platforms such as MetaTrader 4, MetaTrader 5, SwissquoteFOX and FXBook. For this review, I focused my testing on Swissquote Advanced Trader, which is available only at the firm's Swiss entity, Swissquote Bank.
Starting with the desktop version, the Advanced Trader platform runs off Java and installed on Windows easily. The layout is organized and clean and looks like a traditional forex platform, with all the space used efficiently.
The quote management section is the unofficial watchlist, which looks plain on the surface, yet right-clicking on any row reveals a drop-down menu with shortcuts to open a chart or place an order, including a 'timed order' – which is a neat feature that lets you set an order to trigger at a specific time/date.
The Advanced Trader platform lived up to its name, yet wasn't too complex to use, compared to other advanced platforms.
Moving to the charting section, I was very impressed with the design and user-friendliness of the charts, as the chart window isn't cluttered with icons, and everything is nicely organized.
With 49 indicators consisting of 17 overlays listed separately, the charts are powerful and combine to produce a positive experience. Zooming in and out and switching between timeframes and drawing tools was seamless.
Besides several advanced settings in the platform options, there are other useful advanced features such as the ability to create an alert on an indicator and enabling candlestick patterns to show automatically.
The Advanced Trader platform lived up to its name, yet wasn't too complex to use, compared to other advanced platforms. The ability to connect the SQORE trading signals (with a live account) helps deliver premium research qualities experienced traders and beginners will appreciate.
Moving to the web-based version of the platform, Advanced Trader Web, the platform interface was not as smooth as the desktop version, and is Flash based, which is outdated as the industry shifts to HTML 5 for web apps. We expect Swissquote to transition from this platform to HTML 5 to help it rank higher and be on par with peers such as Saxo Bank, Markets.com and XTB that have modern web platforms.
It's clear that the desktop version of Advanced Trader is superior to its web-based counterpart. Also note that in addition to linking the SQORE account to the Advanced Trader platform, traders looking for algorithmic trading capabilities can choose from the popular MetaTrader4 (MT4) or MetaTrader5 (MT5) platforms at Swissquote's UK entity, helping the broker cater to all client segments.
Mobile Trading
Swissquote offers several mobile apps for Android and iPhone devices, depending on the account type you open.
While reviewing the Advanced Trader app for Android on my Samsung Galaxy S7 Edge, I found the app very light with just eight fields in the settings, and research was limited to headlines streaming from the Dow Jones Newswire.
Shifting to the charting module in the app, the charts do not auto rotate when the phone is set to landscape mode, which was disappointing. Also, there are no drawing tools or indicators, which limits the usability of the charts and the app's overall ranking.
The Advanced Trader mobile app has a well-designed layout that is easy to explore from a side menu, and placing an order or viewing open positions is easy. Yet key features such as the ability to set alerts, in addition to the limitations in the charts, make the app basic. Overall, Advanced Trader mobile has room to improve in 2017.   
Other Notes
From its Swiss entity, Swissquote provides wealth management and advisory services via ePrivate Banking for investors who deposit at least CHF20,000 or more, including a robo-advisor solution that lets users adjust the strategy parameters through its online portal.
Banking aside, around the time of our review, Swissquote launched a Virtual Reality (VR) app that lets traders access a virtual trading platform to trade . This is an interesting innovation and hints at where trading might be heading in terms of convergences in platform innovation towards virtual trading desks.
Final Thoughts
Swissquote's eForex account offering through its UK-regulated entity is very basic, with only several dozen CFDs and a good range of nearly 80 currency pairs. The broker is clearly focused on catering predominantly to forex traders and providing access to third-party platforms from MetaTrader. Top that off with highly competitive spreads/commissions on its active trader program, and it's a compelling choice for casual and active fx traders.
On the other hand, the firm's Switzerland entity provides access to both the Trading and eForex accounts, where the Advanced Trader platform can be used. While Swissquote bank provides much wider forex spreads and is a more expensive option, it gives traders access to a wider range of markets.
For traders who require a multi-asset solution and are willing to pay a premium to have their brokerage account held with a Swiss bank, I recommend Swissquote bank. Having access to two million products across a vast array of symbols on the exchange-traded side, including bonds, funds, warrants, futures, options and global stock exchanges, in addition to forex, is worth the premium price tag.
Methodology
For our 2017 Forex Broker Review we assessed, rated, and ranked 20 international forex brokers. Each FX broker was graded on 255 variables. Learn more.
Forex Risk Disclaimer
There is a very high degree of risk involved in trading securities. With respect to foreign exchange trading, there is considerable exposure to risk, including but not limited to, leverage, creditworthiness, limited regulatory protection and market volatility that may substantially affect the price, or liquidity of a currency or currency pair. It should not be assumed that the methods, techniques, or indicators presented in these products will be profitable, or that they will not result in losses. Learn more.
View all Swissquote Fees & Features
---
Reviewed by Steven Hatzakis Steven Hatzakis is the Global Director of Research for ForexBrokers.com. Steven previously served as an Editor for Finance Magnates, where he authored over 1,000 published articles about the online finance industry. Over the past 18 years, Steven has held numerous positions within the international forex markets, from writing to consulting to serving as a registered commodity futures representative.
Swissquote Competitors
Select one or more of these brokers to compare against Swissquote.
---
Ratings Overall
Summary
Commissions & Fees
Offering of Investments
Platforms & Tools
Research
Customer Service
Mobile Trading
Education
Compare Swissquote
Find out how Swissquote stacks up against other brokers.