Founded in 1996, Swissquote (SWX:SQN) became publicly listed in 2000 on the SIX Swiss stock exchange and has since grown to be a leading brokerage with subsidiaries regulated in Malta, the United Kingdom, United Arab Emirates, and Hong Kong. Swissquote also holds a Swiss banking license from FINMA in Switzerland.
In addition to its multi-asset brokerage offering, Swissquote offers a wealth of advisory services to investors and had over CHF 21 billion in custody at the end of June 30th 2017 (per its latest half-year report). Swissquote also maintains over 300,000 client accounts across its subsidiaries that are regulated in Europe and Asia.
In 2017, Swissquote became the first bank in the world to add trading of underlying cryptocurrencies(non-CFD), starting with Bitcoin and in December 2017 expanding to also offer Bitcoin Cash, Ethereum, Litecoin, and Ripple.
With its headquarters in Switzerland, Swissquote Bank offers traders access to over two million products, including bonds, warrants, ETFs, funds, shares, derivatives, futures, options and other securities including forex, across its eForex, SwissquoteFOX, FXBook, Advanced Trader, MetaTrader4 and MetaTrader5 platforms.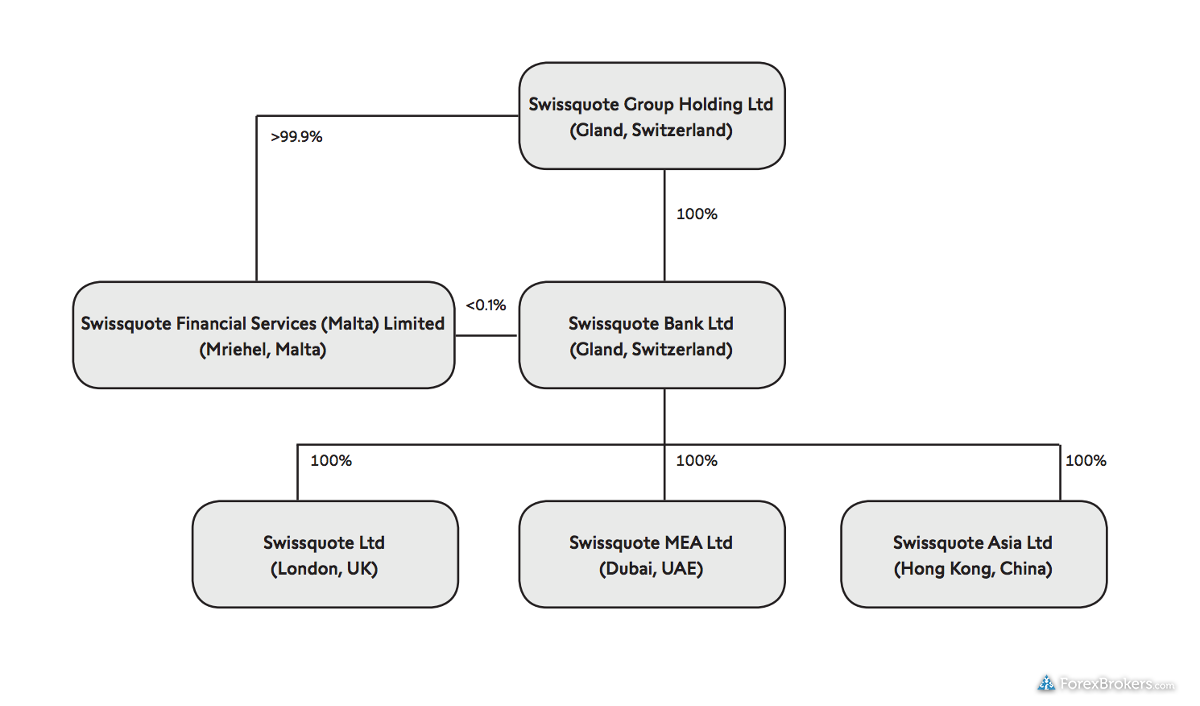 Trust Score
Trading with a forex broker traders can trust is crucial to success. Unfortunately, forex fraud and scams are common in the industry.
Here at ForexBrokers.com, we maintain the largest independent regulatory database available on the web. Using 28 different variables, we have created a proprietary 1-100 score (the higher the better) of overall trustworthiness, which we call the Trust Score. Here is our trust summary of Swissquote.
| | Swissquote |
| --- | --- |
| Trust Score | 91 |
| Year Founded | 1996 |
| Publicly-Traded Company (Listed) | Yes |
| Regulated in Major Hub | Yes |
| Regulated in Emerging Hub | Yes |
| Authorised in the European Union | Yes |
| CFTC Registered (USA) | No |
| FCA Regulated (UK) | Yes |
| IIROC Authorised (Canada) | No |
| FINMA Authorised (Switzerland) | Yes |
| ASIC Authorised (Australia) | No |
| SFC Authorised (Hong Kong) | Yes |
| MAS Authorised (Singapore) | No |
| FSA Authorised (Japan) | No |
| FMA Authorised (New Zealand) | No |
| CySEC Authorised (Cyprus) | No |
Offering of Investments
The following table summarizes the different investment products available to Swissquote clients.
| | Swissquote |
| --- | --- |
| Minimum Initial Deposit | €500.00 |
| Currency Pairs (Total Forex pairs) | 78 |
| CFDs - Total Offered | 57 |
| Exchange Traded Securities: US | Yes |
| Exchange Traded Securities: International | Yes |
| Cryptocurrency traded as actual | Yes |
| Cryptocurrency traded as CFD | No |
Commissions & Fees
The commissions and spreads from Swissquote's UK entity, Swissquote Ltd, differ significantly from its Switzerland entity, Swissquote Bank Ltd. A commission-free offering is provided in the UK, while multi-pip spreads in non-commission accounts are offered in Switzerland.
At Swissquote's UK entity, active traders who surpass 1,000 lots (10 million units) in volume pay a a round-turn commission of 0.65 pips in addition to raw spreads from 0.0-0.3 pips on the EUR/USD, bringing the all-in cost to 0.95 pips. This pricing is comparable to other multi-asset brokers that have active trading offerings.
Unless you're an active trader, even if you have more than $25k on deposit, forex spreads in the premium account are still high at Swissquote's Swiss entity, compared to firms such as IG, CMC Markets and Saxo Bank. In addition, spreads are even higher for mini and standard account holders making Swissquote Bank a more expensive choice for beginners or those on a tighter trading budget. Meanwhile, Swissquote's UK entity has more competitive pricing but a limited offering of investments in terms of markets you can trade.
Meanwhile, Swissquote's UK entity has more competitive pricing, however, it provides a limited offering of investments.
| | Swissquote |
| --- | --- |
| Average Spread EUR/USD - Standard | N/A |
| All-in Cost EUR/USD - Active | N/A |
| Active Trader or Premium/VIP | Yes |
Customer Service
For our 2018 Forex Review, 129 customer service phone tests were conducted over three months. The data collected is institutional grade. On average, three questions were asked for each test. To score each test, the tests were divided into three separate groups and scores were given for the time taken to connect with each support representative and the ability of each representative to professionally (and thoroughly) answer each question. A Net Promoter Score was also given for the overall experience.
Results:
Average Connection Time: <2-3 minutes
Average Net Promoter Score: 6.5 / 10
Average Professionalism Score: 5 / 10
Overall Score: 6.5 / 10
Ranking: 34th (43 brokers)
Research
Swissquote offers streaming news headlines on its trading platforms, along with an economic calendar forecast and blog commentary from in-house analysts, in what can be described as a standard industry offering.
However, what helps separate Swissquote in this category is its focus on quality and depth. For example, since Swissquote's own quantitative research team runs its strategies, this makes its SQORE tool beneficial for investors looking find trading quality trade ideas. You don't often see this with signals services or social trading platforms.
Overall, Swissquote finished 10th out of 43 brokers for research in our 2018 Review.
| | Swissquote |
| --- | --- |
| Daily Market Commentary | Yes |
| Forex News (Top-Tier Sources) | Yes |
| AutoChartist | Yes |
| Trading Central (Recognia) | No |
| Delkos Research | No |
| Acuity Trading | No |
| Social Trading / Copy-Trading | Yes |
| Social Sentiment - Currency Pairs | No |
| Client Webinars | Yes |
| Client Webinars (Archived) | Yes |
| Videos - Beginner Trading Videos | No |
| Economic Calendar | Yes |
| Calendar Includes Forecasts | Yes |
| Economic News Sentiment | Yes |
| Trade Ideas - Backtesting | Yes |
Platforms & Tools
Swissquote offers its own in-house platforms, including the Swissquote Advanced Trader (desktop and web versions), as well as multiple third-party platforms such as MetaTrader 4, MetaTrader 5, SwissquoteFOX and FXBook. For this review, I focused my testing on Swissquote Advanced Trader, which is available only at the firm's Swiss entity, Swissquote Bank.
Starting with the desktop version, the Advanced Trader platform runs off Java and installed on MacOS easily. The layout is organized and clean and looks like a traditional forex platform, with all the space used efficiently.
The quote management section is the unofficial watchlist, which looks plain on the surface, yet right-clicking on any row reveals a drop-down menu with shortcuts to open a chart or place an order, including a 'timed order' – which is a neat feature that lets you set an order to trigger at a specific time/date.
Moving to the charting section, I was very impressed with the design and user-friendliness of the charts, as the chart window isn't cluttered with icons, and everything is nicely organized.
Charts come with 49 indicators and 18 drawing tools that combine to produce a positive experience. Zooming in and out and switching between timeframes and drawing tools was seamless.
Besides several advanced settings in the platform options, there are other useful advanced features such as the ability to create an alert on an indicator and enabling candlestick patterns to show automatically.
The Advanced Trader platform lived up to its name, yet wasn't too complex to use, compared to other advanced platforms.
The Advanced Trader platform lived up to its name, yet wasn't too complex to use, compared to other advanced platforms. The ability to connect the SQORE trading signals (with a live account) helps deliver premium research qualities experienced traders and beginners will appreciate.
Moving to the web-based version of the platform, Advanced Trader Web, the platform interface was not as smooth as the desktop version. Worse, it is Flash-based, which is an outdated web standard that is no longer supported by most major browsers. With HTML5 being the current standard for web apps, Swissquote absolutely needs to overhaul Advance Trader Web sooner than later.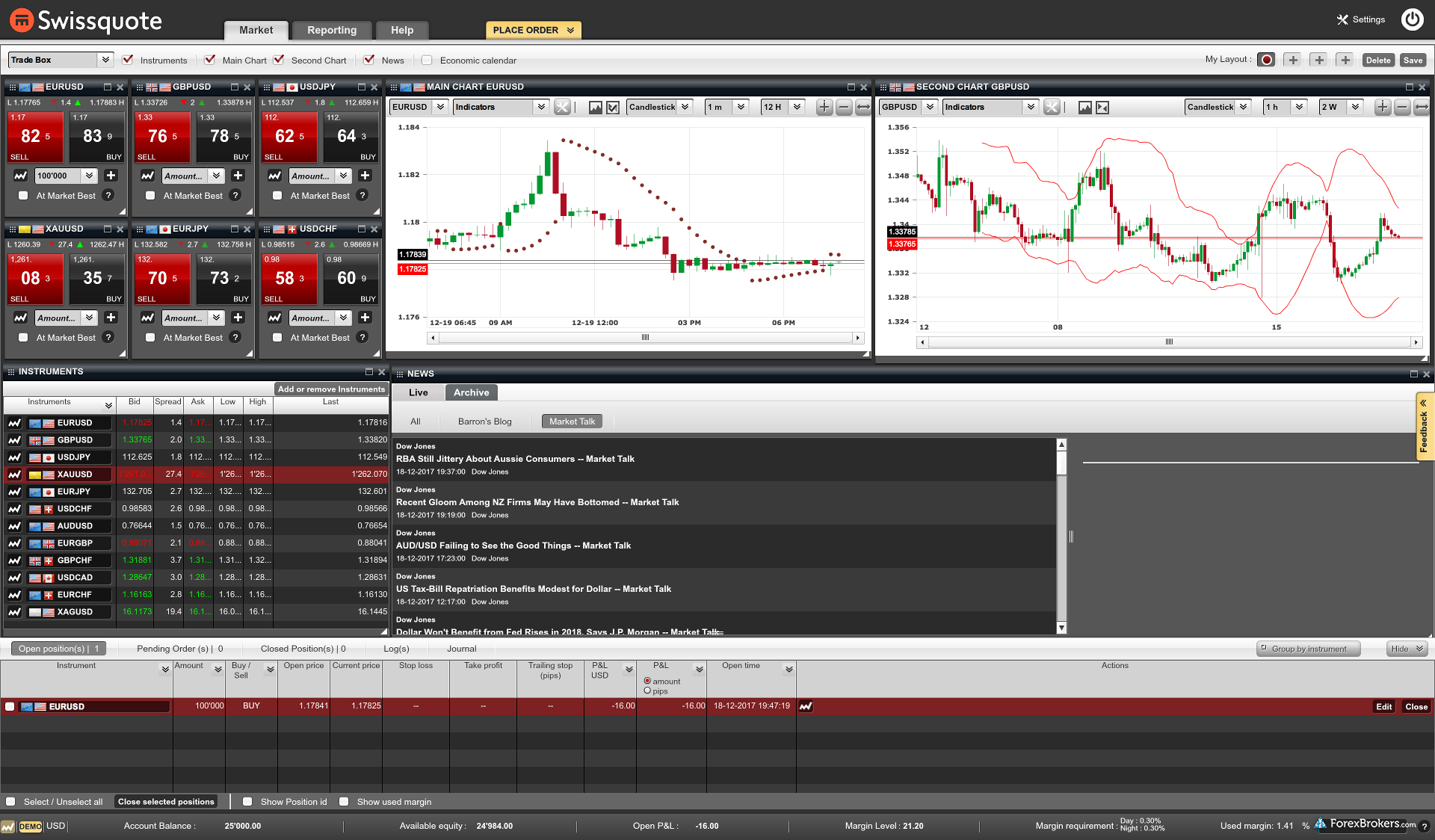 All in all, it's clear that the desktop version of Advanced Trader is superior to its web-based counterpart. Also note that in addition to linking the SQORE account to the Advanced Trader platform, traders looking for algorithmic trading capabilities can choose from the popular MetaTrader4 (MT4) or MetaTrader5 (MT5) platforms at Swissquote's UK entity, helping the broker cater to all client segments.
All variables considered, Swissquote provides a respectable offering of trading platforms and tools. The broker ranked just outside of the top ten, finishing 12th for this category.
| | Swissquote |
| --- | --- |
| Virtual Trading (Demo) | Yes |
| Desktop Platform (Windows) | Yes |
| Desktop Platform (Mac) | Yes |
| Web Platform | Yes |
| Social Trading / Copy-Trading | Yes |
| Proprietary | Yes |
| MetaTrader4 (MT4) | Yes |
| MetaTrader5 (MT5) | Yes |
| cTrader | No |
| Currenex | No |
| ZuluTrade | No |
| MirrorTrader | No |
| Charting - Drawing Tools (Total) | 31 |
| Charting - Indicators / Studies (Total) | 51 |
| Watchlists - Total Fields | 7 |
| Order Type - Trailing Stop | Yes |
Mobile Trading
Swissquote offers several mobile apps for Android and iPhone devices, depending on the account type you open.
While reviewing the Advanced Trader app for Android on my Samsung Galaxy S8+ Edge, I found the app very light with just eight fields in the settings, and research was limited to headlines streaming from the Dow Jones Newswire. Even when comparing the app year over year, changes have been minimal.
Shifting to the charting module in the app, the charts do not auto rotate when the phone is set to landscape mode, which was disappointing. Also, there are no drawing tools or indicators, which limits the usability of the charts and the app's overall ranking.
If there is one positive aspect of the mobile experience, it's that the app is user-friendly and cleanly designed. Performing basic tasks such as placing a trade or viewing positions is a breeze.
Unfortunately, ease of use is not enough to recommend Swissquote based on its mobile experience alone. The app lacks the depth of features and tools to compete with industry leaders, and ultimately Swissquote's mobile experience simply falls in line with the industry average.
| | Swissquote |
| --- | --- |
| Android App | Yes |
| Apple iOS App | Yes |
| Charting - Draw Trend Lines | Yes |
| Charting - Can Turn Horizontally | Yes |
| Charting - Technical Studies/Indicators | 30 |
| Watch List Syncing | No |
| Trading - Forex | Yes |
| Trading - CFDs | Yes |
| Alerts - Basic Fields | Yes |
Other Notes
From its Swiss entity, Swissquote provides wealth management and advisory services via ePrivate Banking for investors who deposit at least CHF20,000 or more, including a robo-advisor solution that lets users adjust the strategy parameters through its online portal.
It's also worth noting that the UK entity executes trades on an agency basis, whereas the Swiss entity uses dealing-desk execution when it comes to its forex/CFD offering. This is comparable to Saxo Bank's structure between the UK entity, where its Danish bank entity acts as a liquidity provider (LP). Similarly, Swissquote's Swiss entity acts as a liquidity provider (LP) for Swissquote's UK entity.
Lastly, with its launch of underlying (non-CFD) cryptocurrency investing in Bitcoin, Bitcoin Cash, Ethereum, Litecoin, and Ripple, Swissquote Bank has quickly established itself as an industry leader. In 2018, Swissquote is our top pick for crypto trading, thanks to its support of the underlying and historical, trusted brand.
As of early 2018, Swissquote's crypto offering remains new with no sending capabilities in the hosted wallet where the bank custodies the private keys for its clients. As one would expect, this is an area the company is planning to expand on.
Final Thoughts
Swissquote's eForex account offering through its UK-regulated entity is basic, with only several dozen CFDs and nearly 80 currency pairs. The broker is clearly focused on catering predominantly to forex traders and providing access to third-party platforms from MetaTrader. Top that off with highly competitive spreads/commissions on its active trader program, and it's a compelling choice for casual and active fx traders alike.
On the other hand, the firm's Switzerland entity is more expensive; however, it is backed by a trusted Swiss Bank offering where clients can access an extensive range of markets and services.
For traders who require a multi-asset solution and are willing to pay a premium to have their brokerage account held with a Swiss bank, I recommend Swissquote bank. Having access to two million products across a vast array of symbols on the exchange-traded side, including bonds, funds, warrants, futures, options and global stock exchanges, in addition to forex, and now cryptocurrency - justifies the price tag.
Methodology
For our 2018 Forex Broker Review we assessed, rated, and ranked 43 international forex brokers. Each FX broker was graded on 140 variables. Learn more.
Forex Risk Disclaimer
"There is a very high degree of risk involved in trading securities. With respect to margin-based foreign exchange trading, off-exchange derivatives, and cryptocurrencies, there is considerable exposure to risk, including but not limited to, leverage, creditworthiness, limited regulatory protection and market volatility that may substantially affect the price, or liquidity of a currency or related instrument. It should not be assumed that the methods, techniques, or indicators presented in these products will be profitable, or that they will not result in losses."Learn more.
---
Reviewed by Steven Hatzakis Steven Hatzakis is the Global Director of Research for ForexBrokers.com. Steven previously served as an Editor for Finance Magnates, where he authored over 1,000 published articles about the online finance industry. Steven is an active fintech and crypto industry researcher and advises blockchain companies at the board level. Over the past 19 years, Steven has held numerous positions within the international forex markets, from writing to consulting to serving as a registered commodity futures representative.
Swissquote Competitors
Select one or more of these brokers to compare against Swissquote.
---
Ratings Overall
Summary
Commissions & Fees
Offering of Investments
Platforms & Tools
Research
Customer Service
Mobile Trading
Education
Best in Class
Offering of Investments
Crypto Trading
Offering of Investments
Customer Service
---
Commissions & Fees
Commission Notes
Swissquote offers multiple account types and commission structures, depending on the market you wish to trade alongside your chosen instrument. These range from CFDs to exchange-traded securities, in addition to forex trading.
The commission rate for forex can drop to as low as 0.5 pips (€5 per standard lot round turn) for traders who do several hundred million in monthly volume, and is negotiated on a case-by-case basis. This makes the UK entity more competitive on the 129 instruments offered compared to the eForex account at the Switzerland entity, for active traders.
FINMA-regulated offering in Switzerland:
Clients who want to trade exchange-traded securities must open a trading account with the Swiss entity. This account also gives access to the eForex account but not vice-versa.
For the eForex account, Swissquote offers three different sub-account types where the applicable spreads are based on your balance, with mini spreads the widest for clients who deposit from $1k to $10k, standard from $10k-$25k and premium above $25k with minimum spreads on the EUR/USD pair as low as 1.8 pips.
FCA-regulated offering in the UK:
The UK entity does not offer the Advanced Trader platform, leaving only the MT4 and MT5 platforms, along with the SQORE signals offering when you open a trading account.
The spreads are commission free by default in the UK offering, and are the same for all customers unless customers request the commission-based pricing and deposit at least €50,000 and trade 100 million units monthly, or more. This tailored fee structure can help bring spreads even lower, using a commission-based pricing that starts with spreads of 0.2 pips on the EUR/USD and a round-turn commission of $7 (€6.5) per million, or roughly 0.65 pips. This equates to an all-in cost of 0.85 pips and competes with the higher tiers available at firms such as FXCM, Saxo Bank, IG and Forex.com, helping Swissquote compete in the Active Trader category.
Compare Swissquote
Find out how Swissquote stacks up against other brokers.