Advertiser Disclosure
×
ForexBrokers.com helps investors like you across the globe by spending hundreds of hours each year testing and researching forex brokers. You support us through our independently chosen links, which may earn us a commission. This does not impact our completely unbiased research, which is respected by broker executives as among the most thorough on the web. Thank you for your support.
The ForexBrokers.com annual review is among the most cited in the industry. With over 83,000 words of research across the site, we spend hundreds of hours testing forex brokers each year. Industry leaders trust us because our rigorous testing is totally independent and 100% unbiased.
Among the 43 forex brokers reviewed for the ForexBrokers.com 2018 Annual Review, 33 offer cryptocurrency trading (77%) in one form or another (for a breakdown of how to trade cryptos, read our cryptocurrency guide).
Three forex brokers in our 2018 Review offer the underlying, while 32 offer crypto as a CFD, and five offer accessibility via other means, such as exchange-traded products or futures contracts.
With an expanding number of fx brokers offering cryptocurrency trading, finding the right cryptocurrency broker can be a daunting task. Liquidity, trading costs, regulation, and product availability are just a sampling of challenges and risks when dealing with digital assets.
Not only that, but it is hard to not be tempted to trade with one of the hundreds of new cryptocurrency exchanges that have popped up across the web. These websites have been frequently hacked, leading to theft of customer assets, or have faced regulatory scrutiny for operating without a license, and/or potential AML/KYC violations.
In other words, sometimes the greatest risks are the ones that you don't even realize you are taking. This is why here on ForexBrokers.com we focus on reviewing forex brokers that are regulated and have been in operation, in some cases, for decades. We also include a Trust Score rating for each broker, making it easy to determine how trustworthy a firm is.
That said, not all stand-alone crypto exchanges are bad. For example, while Coinbase was not included in our annual review since it does not offer forex trading, it's worth noting that the company has become a market leader with over 10 million customer accounts opened. For more on Coinbase, read our review.
In this guide, we will breakdown the best forex brokers for cryptocurrency trading.
Best Forex Brokers for Crypto Trading
Based on over 55 different variables, here are our top finishers:
First place this year went to Swissquote Bank, which distinguished itself as the best forex broker for crypto. Swissquote Bank not only launched a physical offering (the first bank to do so), it also launched its own exchange-traded certificate that aims to track the [upside] price of Bitcoin while minimizing downside price movements.
While Swissquote's crypto wallet doesn't permit withdrawals, it does act as a custodian for its clients by holding the equivalent at Bitstamp. This enables Swissquote to be fully collateralized for its crypto holdings while preventing potential hacks against its customer accounts.
It is also important to note that Swissquote is publicly traded and regulated in some of the largest market centers around the globe. The firm is trustworthy.
Overall, Swissquote's offering is compelling and unique. Oh, and one more thing, Swissquote also charges competitive fees for trading, as shown below; it's honestly the full package.
Second place goes to UFX which offers the most extensive selection of cryptocurrency CFDs. In total, 30 pairs are available to trade.
IG was another top contender, offering CFDs on Bitcoin, Ethereum, Bitcoin Cash, as well as a Bitcoin mini contract; for a total of seven crypto pairs, along with favorable contract specifications and flexible margin requirements.
Next up, eToro was an early pioneer not just in social copy-trading but also in offering cryptocurrency as far back as 2014. In 2017, eToro further expanded its offering with more pairs and the launch of its crypto CopyFund last summer.
Finishing fifth, ThinkMarkets entered the crypto scene in 2017 with a large number of cryptocurrency pairs, coupled with very low margin requirements. This proved to be troublesome for ThinkMarkets as volatility increased towards the end of the year, and the broker reduced margin availability as a result. In total, ThinkMarkets provides a cryptocurrency CFD offering with competitive contract specifications across nine popular pairs.
Yet another respectable offering comes from AvaTrade, which boosted its cryptocurrency CFD offering to nine different crypto assets in 2017. The broker also supports weekend trading and provides lower margin requirements.
Our final Best in Class finisher is XTB, which launched five cryptocurrency CFD pairs in 2017: BTC/USD, ETH/USD, XRP/USD, LTC/USD and DASH/USD.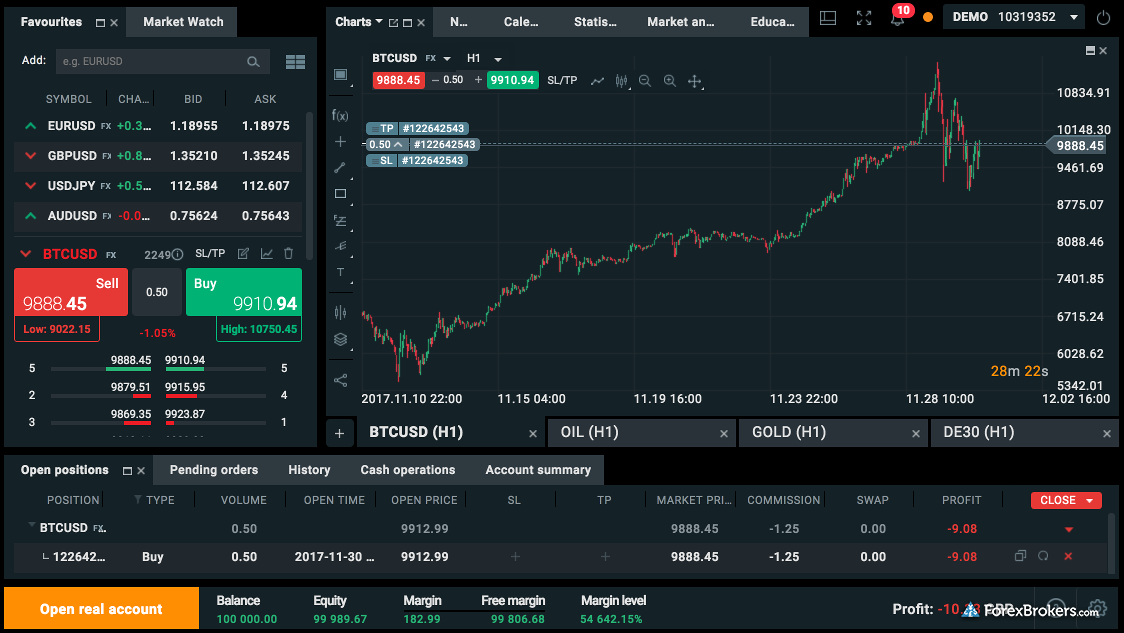 Honorable mention for our 2018 listing of the best forex brokers for cryptocurrency goes to FXOpen. FXOpen is unique in that it offers a crypto account, where balances are denominated in Bitcoin, as well as 13 cryptocurrency CFD pairs in total.
Cryptocurrency Risks and Final Thoughts
Several final thoughts to keep in mind, selecting a forex broker to trade crypto will depend on where you are located, the services available in your region, in addition to your trading style and any specific needs (e.g. margin).  
Whether trading crypto as a Contract for Difference (CFD), other off-exchange derivative, or trading an on-exchange listed security, futures, or options contract, or even trading the actual underlying physical cryptocurrency, there can be advantages and disadvantages to each method. These differences can be thought as trade-offs, and whether they are better or worse depends on the needs of the investor or trader. For example, some brokers do not permit weekend trading of their cryptocurrency CFD contracts.
To diversify cryptocurrency exposure, some traders may opt to trade cryptos using multiple methods or maintain portfolios with multiple brokers.
Regardless of which approach you take, make sure to proceed with caution. Cryptocurrency trading is risky and new market providers are emerging each month. Some marketplaces are designed as scams from day one, launching with clever marketing campaigns designed to prey on unsuspecting investors.
All in all, cryptocurrency trading is here to stay. Use a trusted broker and never risk what you aren't willing to lose. Hopefully, this guide will help steer you in the right direction.
Related Articles
Explore our other online trading guides:
Forex Risk Disclaimer
"There is a very high degree of risk involved in trading securities. With respect to margin-based foreign exchange trading, off-exchange derivatives, and cryptocurrencies, there is considerable exposure to risk, including but not limited to, leverage, creditworthiness, limited regulatory protection and market volatility that may substantially affect the price, or liquidity of a currency or related instrument. It should not be assumed that the methods, techniques, or indicators presented in these products will be profitable, or that they will not result in losses."Learn more.