Founded in 1996, OANDA has evolved to become a global leader in retail foreign exchange markets, offering forex and CFD trading to self-directed investors, and corporate FX services, currency management solutions, and data on exchange rates for global enterprises.
The OANDA brand operates across eight global financial centers, serving clients in over 196 countries through its entities licensed in six major regulatory jurisdictions, including the US, UK, Canada, Australia, Japan, and Singapore.
OANDA caters to Forex and CFD traders through its fxTrade platform, which is available as a desktop, web, and mobile platform, and across several operating systems. It also offers the popular MetaTrader4 (MT4) platform.
Commissions & Fees
OANDA's bid/ask spreads, which are the fees clients pay to trade, are most comparable to FOREX.com and FxPro, while the minimum spread available (or lowest advertised rate) may be slightly higher than other firms that list a sub-pip spread (i.e., less than 1.0 pip).
For example, the EUR/USD spread at OANDA was between 1.2 and 1.3 pips when we looked at a 30-day period ending October 2016. OANDA's spreads are comparable to some of its competitors, including FxPro and FOREX.com, as well as firms such as FXCM when factoring in the total cost of a trade (spread + commission) for agency brokers.
Compared to OANDA's 1.2 pip spread, FXCM's commission-based pricing offers spreads on the EUR/USD as low as 0.68 pips when factoring in the spread + commission for its Active Trader offering for clients that deposit $25,000, and 1.2 pips (0.5 pip spread + 0.8 pip commission) for standard account holders.
| View All Fees | OANDA | FxPro | Forex.com | FXCM | Admiral Markets |
| --- | --- | --- | --- | --- | --- |
| All-in Cost EUR/USD - Active | 1.000 | 1.200 | 0.700 | 0.800 | 1.200 |
| All-in Cost GBP/USD - Active | 1.500 | 1.600 | 1.300 | 1.000 | 1.500 |
| Average Spread EUR/USD - Standard | 1.200 | 1.200 | 1.300 | 1.000 | 1.200 |
| Average Spread GBP/USD - Standard | 1.700 | 1.800 | 1.700 | 1.200 | 1.700 |
| Commissions & Fees | | | | | |
| Overall | | | | | |
A key distinction is OANDA combines its risk-management expertise to offer execution as a market-maker, where its ability to deal at a price does not rely entirely on third parties the way an agency broker model does, similar to FOREX.com. This is why comparing the spread alone is not sufficient, as the execution model and other characteristics can impact the effective cost of trades over time (in some cases).
Customer Service
One notable weak spot in OANDA's offering is its customer service. During testing for our 2017 Review, we found that while reps were friendly and courteous, lengthy hold times, limited answers, and delayed responses yielded an overall poor experience. The broker placed 19th out of 20 brokers we tested.
Research
OANDA offers a broad range of research for forex traders, including from within its trading platforms, which redirect users to the company's website and its MarketPulse site, providing access to diverse content.
News on OANDA's MetaTrader4 (MT4) platform streams from Reuters, Market Pulse, MarketWatch, Mainichi, CNBC, and other providers. 
Research content includes technical analysis, various macroeconomic news, as well as research from UBS, an economic calendar forecast from 4CAST, and access to AutoChartist for traders to find and research trading opportunities.
OANDA's MarketPulse site has content dedicated to news, research, and analysis, and is supported by the firm's research team. OANDA's mobile app, fxTrade, streams news from the Dow Jones as well as the company's blog.
On the fxTrade desktop platform certain research modules trigger an external browser to open the content in a web page. OANDA can improve this by keeping the research centralized in the platform so traders are not distracted from their desktop-based trading. This is an area we would like to see fixed to improve the fxTrade desktop experience.
In terms of research, OANDA ranks closely with FXCM, FOREX.com, FxPro, and multi-asset brokers that have broader research to cover additional markets, including Saxo Bank, IG, and CMC Markets.
Platforms & Tools
OANDA offers several platforms for beginners and advanced traders, starting with access to its fxTrade platform, which is available through the web, mobile devices, as well as desktop versions for Windows, Mac, and Linux operating systems.
Aside from OANDA's proprietary fxTrade platform, the company also offers the popular MetaTrader4 (MT4) platform developed by MetaQuotes Software Corporation, which lets you use algorithmic trading systems known as Expert Advisors (EAs).
Additional platforms are available in the OANDA Marketplace, where traders can find third-party apps and algorithmic trading platforms such as the Seer Trading Platform or some of OANDA's own apps that can be used for trading.
OANDA combines a number of services into its online account management portal that make it easy to transfer money between accounts and access your statements. The portal also lets you launch the web-based version of the fxTrade platform by clicking "Advanced Charting" from within the portal dashboard.
After launching the fxTrade advanced charting module, the interface gives traders the opportunity to buy or sell from within the default chart window.
From within the Advanced Charting section, clients can switch between linked accounts on the left side panel, and place trades using the floating buy/sell panel within the chart.  Economic analysis and news from MarketPulse are shown as tabs on the tools row near the top left side of the platform layout.
There is also a tab to launch the Application Programming interface (API) from across the top row of the platform, which redirects to the API section where multiple API types are available via a token access.
When you create an order to place a trade, the order interface is very light in the web-based version, offering only a few parameters to choose from, such as the quantity, take profit, and stop-loss fields for market orders. Meanwhile, when you create a pending order, the dialogue adds an entry price and expiration parameter for both stop and limit orders, in addition to the other fields.
OANDA's Advanced Charting module within fxTrade looks simple but it is indeed quite powerful, having the ability to overlay multiple currency pairs within a single chart for comparison. It also has a comprehensive suite of at least 145 drawing tools and 57 indicators.
The charts are powered by TradingView, a third-party charting developer, and are integrated within the fxTrade advanced charting web module.
A major limitation in the advanced charting module is that open trades and pending orders cannot be managed within the fxTrade advanced charting platform, as a support rep confirmed to me via live chat after I was unable to find any way to manually close a trade.
There is, however, a full version of the fxTrade web app accessible under a different url, which enables positions to be managed via the web, yet it is only available to certain legacy clients. This is because OANDA recently upgraded its execution engine to version 20, and wasn't able to make the full web app available to all its clients, as explained to me by a live support representative.
While reviewing the fxTrade web app, we found the layout very intuitive to follow and were able to navigate the interface easily. Certain categories on the side menu redirect to a new tab within the browser.
The advanced charting module is not a viable alternative for clients who cannot access the fxTrade web app, since positions cannot be closed or managed from Advanced Charting, and therefore this inconsistency leaves non-legacy clients with no other choice but to download the desktop or mobile app to close or manage trades in their fxTrade.
It's likely this is a transient issue due to the recent major upgrade as explained above, since the web app is only available to certain legacy clients (around the time of this review), yet it is still something that will affect certain users such as new clients until it is resolved.
Moving on to the desktop version of the fxTrade platform from OANDA, we ran both versions of the platform, one for the MAC operating system, and the other on Windows 8 and Windows 10. Overall, we found the platform experience to be consistent across operating systems.
OANDA lists a comprehensive set of features under "Resources" within the fxTrade desktop platform, including Technical Analysis, News, MarketPulse, Research from UBS, an Economic Calendar, and content from 4CAST. However, all of these features cause a web-browser page to open in order to fetch the resource.
We'd like to see some of these features work from within the platform itself, rather than triggering an external application (in this case a web browser) to open the linked resource. Otherwise, the redirecting can distract one from focusing on the trading platform, so this remains an area that could be improved to help centralize the research and news in one place on the desktop version of fxTrade.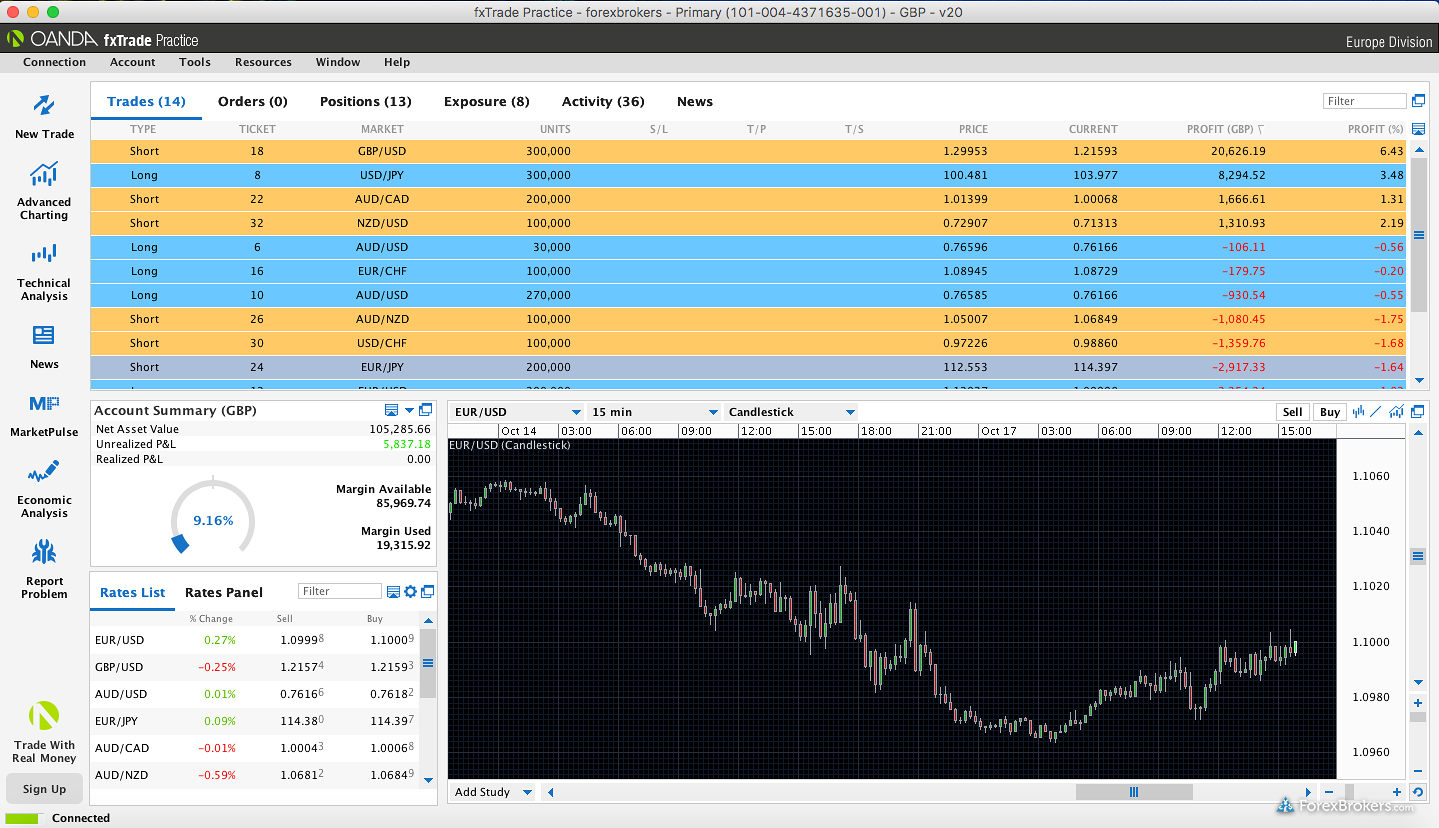 One of the most attractive features within the desktop version of the platform is the advanced charting, which is nearly identical to the web-based version. The order dialogue has additional variables that can be customized , while the lighter version of the web-based platform does not.
Other helpful features include an account management section that can be accessed within the platform under the account tab. Here traders can transfer funds and create sub-accounts or switch accounts and generate various reports, as well as change their password.
Overall, the desktop version of the fxTrade platform feels like an extension of the web-based advanced charting version of fxTrade, adding a few additional features, while keeping the look and feel consistent.
Overall, the desktop version of the fxTrade platform feels like an extension of the web-based advanced charting version of fxTrade, adding a few additional features, while keeping the look and feel consistent. The fxTrade web app resembles the mobile app layout with a default black background.
OANDA also offers the MetaTrader4 (MT4) platform, which we tested in both demo and live, and like nearly every MT4 platform, most of the features are native to MT4, with OANDA plugging in its pricing, news, and reporting (among other unique features).
Additional platforms are available from third-party developers within OANDA's Marketplace, including the Seer Trading Platform, which can be used for developing, back-testing and forward-testing automated trading systems. OANDA also supports trading connectivity to the ProTrader platform, also known as ProTrader Multi-Connect (PTMC), developed by PFSOFT.
It is common for brokers with open API access, such as FXCM and OANDA, to support a larger number of platforms, as the platform developers will be able to establish connectivity freely, compared to brokers who only selectively connect to trading platforms through partnerships or other synergies.
Within the Platform & Tools category, OANDA excels in the scope and depth of the platforms and components it offers, and ranks highly among its peers, including FOREX.com, FXCM, and FxPro.
Mobile Trading
Overall, OANDA's mobile app ranks near the top compared to FXCM, SAXO, IG, FOREX.com, and other market leaders.
The charting tools within the mobile app version of fxTrade are packed with nearly the same number of features as the desktop and web-based versions of the platform, and include drawing tools, chart types, and available indicators.
The mobile app version of the fxTrade platform from OANDA has a very easy layout to navigate, with a sliding row on top of the screen that contains the main sections, such as Rates, Portfolio, News, New Order, and a 'More' tab.
One cool feature within OANDA's mobile app is the ability to switch between multiple live accounts that can be linked to the same login ID, including across MT4 accounts within the fxTrade app.
The charting tools within the mobile app version of fxTrade are packed with nearly the same number of features as the desktop and web-based versions of the platform, and include drawing tools, chart types, and available indicators.
To access account details and margin statistics, users can click on an arrow in the top right corner of the mobile app.
The market order and pending order dialogue within the mobile app were rich with advanced features, just as in the desktop version of the platform, and were easy to fill out.
Through the 'More' tab, users can access further settings such as Price Alert, Economic Calendar, Technical Analysis, Contact Us, and Settings tabs.
Funding via the mobile app using a credit card was very easy and funds were credited to the live account almost immediately after the transaction was successful completed, and the process took barely a minute from start to finish.
We tested the Android version of the mobile app during our review and were very pleased with the experience.  In this regard, OANDA ranks highly compared to its peers, as described above.
Other Notes
OANDA recently implemented an inactivity fee, but this will only kick in for clients who do not place any trades for at least two years, as per a recent update to clients from OANDA in September 2016.  
The smallest contract size for trading forex that most brokers offer is 1000 units or 1 micro lot, whereas, OANDA brings this minimum trade size down by three orders of magnitude to 1 unit or 0.001 micro lot.
This ultra-tiny contract size can also be helpful for users who want to test various trading systems while keeping the value of a pip much lower than what would be typical with a micro contract, by trading any number of unit increments on each trade.
For example, instead of a 100,000-unit trade (which is normally a standard lot) of EUR/USD, a trader may opt to specify 123,854 units (or any other non-standardized amount), depending on their trading strategy. This can be particularly useful for money managers who need to allocate odd amounts in order for the trade size to correspond to a specific allocation percentage for investors.
Final Thoughts
OANDA provides forex traders access with a wide range of options, including powerful charting tools, numerous research and news channels, 70 currency pairs, and 52 CFDs, all at competitive prices.
Overall, OANDA's edge is its strong regulatory track record, with licenses in the strictest major financial centers, and the company's robust proprietary trading technology, which is trusted by large corporate clients and well-known brands.
International traders seeking to access a larger number of forex pairs and CFDs than what is available at OANDA may instead choose IG Group, Saxo Bank, or Plus500, whereas a firm such as FxPro has the same number of forex pairs but a larger range of CFDs.
Traders who need a powerful charting solution will find OANDA's charting capabilities rich with features. With nearly no minimum trade size and a minimum deposit of at least $20 to start a live account, OANDA is a very suitable choice for beginners – as well as advanced traders who can connect via API or those who use automated trading systems. OANDA ranks near the top in all key categories.
Methodology
For our 2017 Forex Broker Review we assessed, rated, and ranked 20 international forex brokers. Each FX broker was graded on 255 variables. Learn more.
Forex Risk Disclaimer
There is a very high degree of risk involved in trading securities. With respect to foreign exchange trading, there is considerable exposure to risk, including but not limited to, leverage, creditworthiness, limited regulatory protection and market volatility that may substantially affect the price, or liquidity of a currency or currency pair. It should not be assumed that the methods, techniques, or indicators presented in these products will be profitable, or that they will not result in losses. Learn more.
View all OANDA Fees & Features
---
Reviewed by Steven Hatzakis Steven Hatzakis is the Global Director of Research for ForexBrokers.com. Steven previously served as an Editor for Finance Magnates, where he authored over 1,000 published articles about the online finance industry. Over the past 18 years, Steven has held numerous positions within the international forex markets, from writing to consulting to serving as a registered commodity futures representative.
OANDA Competitors
Select one or more of these brokers to compare against OANDA.
---
Ratings Overall
Summary
Commissions & Fees
Offering of Investments
Platforms & Tools
Research
Customer Service
Mobile Trading
Education
Best in Class
This broker did not finish Best in Class.
Compare OANDA
Find out how OANDA stacks up against other brokers.