Online social networks such as Facebook and LinkedIn have fundamentally changed the way people socialize and interact on and off the internet. The financial trading world is no exception, and the rise of social trading – also known as copy trading, mirror trading, or auto trading – has been ongoing for over a decade. The idea is simple: use technology to copy the real-time forex trades (forex signals) of other live investors (forex trading system providers) you want to follow, so that every time they trade you are able to replicate (copy) their trades in your own account.
Social Copy Trading Best FX Brokers
Based on over 100 different variables, here is are the top five forex brokerages for copy trading.
Without social trading technology, the act of copy trading would be considered a managed account and require a power of attorney. However, thanks to careful language and ever evolving technology, many regulators consider social trading self-directed as the client must decide who to copy. It's important to note that not all trading platforms with social features provide copy trading.
Many of the early pioneers in social trading technology started out first as third-party platform developers, such as Tradency, ZuluTrade, and eToro. While some of these firms are still independent service providers (ISPs), eToro became its own broker, for example. 
From the 20 international forex brokers we reviewed for copy trading, eToro is our top pick for 2017 as it has continued to innovate with the latest launch of its next generation eToro platform, which delivers an impressive user experience packed in a modern web-based user interface. 
eToro took it a step further this year with the launch of its CopyFunds offering, where it groups together the best forex traders for other investors to follow by copying each CopyFund, helping to solve the challenge traders face in selecting which traders to copy. Overall, the eToro experience sets the bar high for social trading and is the clear winner, leading the industry forward as a broker that is almost exclusively focused on social copy trading.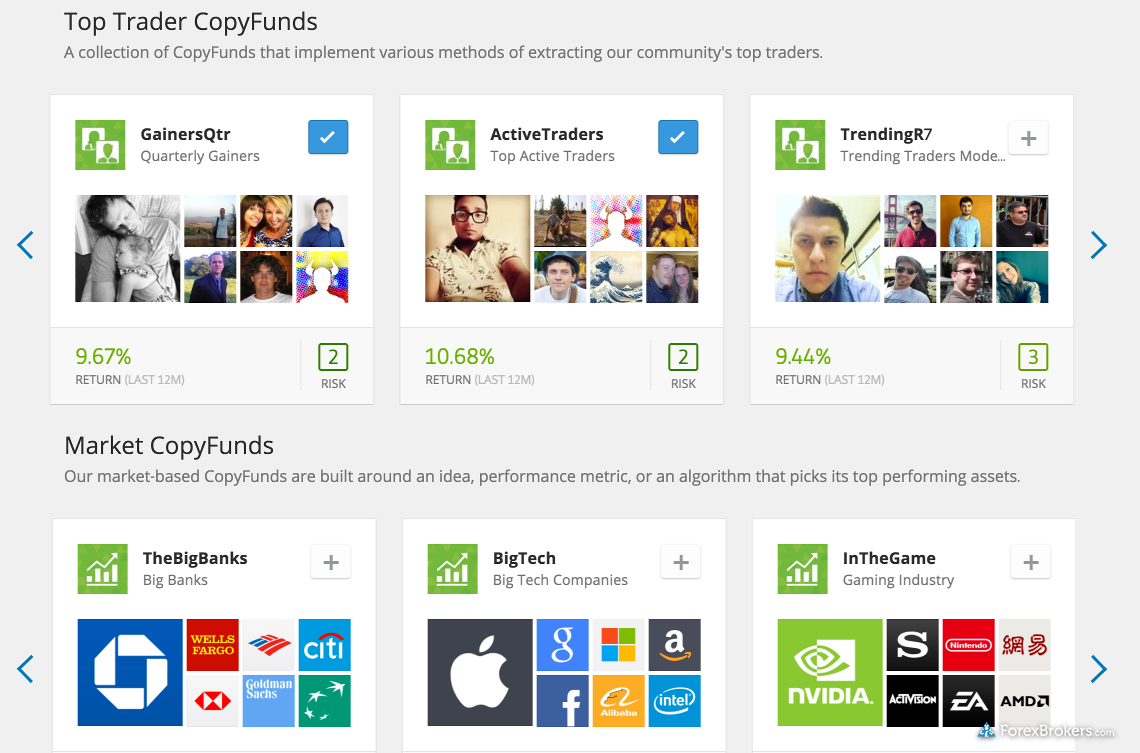 Pepperstone took second place this year as it offers a comprehensive range of third-party social copy-trading platforms, in addition to the native forex signals market available in MetaTrader 4 (MT4), and Spotware Systems' cMirror platform. The firm also offers the ZuluTrade platform, and AutoTrade by Myfxbook. Also, in early 2017, it was announced that Tradency's MirrorTrader platform would be made available to clients, in addition to the developer's RoboX solution, although these account types were not yet available.
All in all, Pepperstone leads the field with one of the widest ranges of third-party social trading platforms available, even though it has not created any such technology of its own, and provides traders a diverse range of options.
FXCM followed in third place with several options available for social copy trading, including ZuluTrade and the native signals' market available in the MT4 platform, although it discontinued its MirrorTrader offering. Fourth place was held by XTB, offering its xSocial trading platform through the firm's offices in France and Germany. City Index followed with its Connect platform for social trading.
Understanding how social networks calculate trading performance is an important aspect as it will affect the ordering of trader rankings. The method used to measure and track profit and loss will also influence trade copiers. Instant backfill bias is just one example of the challenges social trading technology developers face if they permit traders to instantly upload their entire trading history with the click of a button. While such challenges have been known for years, and thanks to procedures put in place by firms, as well as following regulatory requirements, forex traders have access to reputable forex brokers and robust tools to conduct copy trading.  
Related Articles
Explore our other online trading guides: