Founded in 1977, Interactive Brokers is one of the oldest online brokerages in the U.S. and has been listed publicly (IEX:IBKR) since 2007. It was one of the first to offer a multi-asset solution that now includes options, futures, forex, and bonds across 120 market centers in 31 countries.
Regulated in numerous major financial centers globally, Interactive Brokers is known for its competitive commission rates, and today offers retail forex in nearly all regions of the world and in the U.S. to Eligible Contract Participants (ECPs), offering 115 currency pairs, over 4200 CFDs, and thousands of exchange-traded securities.
Interactive Brokers offers a web-based and desktop version of its IBKR Trader Workstation (TWS) trading platform, which is covered by U.S. patents and includes a plethora of different order types, including algorithms for automated trading. The broker also launched Bitcoin futures, further broadening its offering into digital asset.
Trust Score
Trading with a forex broker traders can trust is crucial to success. Unfortunately, forex fraud and scams are common in the industry.
Here at ForexBrokers.com, we maintain the largest independent regulatory database available on the web. Using 28 different variables, we have created a proprietary 1-100 score (the higher the better) of overall trustworthiness, which we call the Trust Score. Here is our trust summary of Interactive Brokers.
| | Interactive Brokers |
| --- | --- |
| Trust Score | 91 |
| Year Founded | 1977 |
| Publicly-Traded Company (Listed) | Yes |
| Regulated in Major Hub | Yes |
| Regulated in Emerging Hub | No |
| Authorised in the European Union | Yes |
| CFTC Registered (USA) | Yes |
| FCA Regulated (UK) | Yes |
| IIROC Authorised (Canada) | Yes |
| FINMA Authorised (Switzerland) | No |
| ASIC Authorised (Australia) | No |
| SFC Authorised (Hong Kong) | Yes |
| MAS Authorised (Singapore) | No |
| FSA Authorised (Japan) | Yes |
| FMA Authorised (New Zealand) | No |
| CySEC Authorised (Cyprus) | No |
Offering of Investments
The following table summarizes the different investment products available to Interactive Brokers clients.
| | Interactive Brokers |
| --- | --- |
| Minimum Initial Deposit | $0 |
| Currency Pairs (Total Forex pairs) | 115 |
| CFDs - Total Offered | 4217 |
| Exchange Traded Securities: US | Yes |
| Exchange Traded Securities: International | Yes |
| Cryptocurrency traded as actual | No |
| Cryptocurrency traded as CFD | Yes |
Commissions & Fees
For forex traders, IBKR aggregates prices from 14 of the world's largest dealers and instead of marking up spreads, it charges a commission per trade ranging from $16-$40 per million round turn ($8-$20 per side), comparable to brokers that offer commission-based FX trading on an agency basis.
For active traders, there are applicable discounts you may be entitled to depending on your monthly trading volumes and the relevant products, and while active traders can be rewarded with commission discounts, beginners may find overcoming fees more challenging due to monthly minimum spend requirements.
Despite all these various fees and trading costs, Interactive Brokers appears to score well in this category, but without publishing its average spreads, it is difficult to make a precise comparison. Overall, we would like to see IBKR publish its average forex spreads in 2018, since it competes well in other asset classes such as equities, where it ranked first out of 16 U.S. equity brokers in our sister site's StockBrokers.com 2017 Broker Review.
| | Interactive Brokers |
| --- | --- |
| Average Spread EUR/USD - Standard | N/A |
| All-in Cost EUR/USD - Active | N/A |
| Active Trader or Premium/VIP | Yes |
Customer Service
For our 2018 Forex Review, 129 customer service phone tests were conducted over three months. The data collected is institutional grade. On average, three questions were asked for each test. To score each test, the tests were divided into three separate groups and scores were given for the time taken to connect with each support representative and the ability of each representative to professionally (and thoroughly) answer each question. A Net Promoter Score was also given for the overall experience.
Results:
Average Connection Time: <1 minute
Average Net Promoter Score: 4.33 / 10
Average Professionalism Score: 5.7 / 10
Overall Score: 6.7 / 10
Ranking: 25th (43 brokers)
Research
On the research front, Interactive Brokers provides a broad range of choices. Available resources include a long list of analytical tools covering nearly every spectrum, including technical and fundamental analysis, news, and portfolios.
From within the IBKR TWS desktop platform and IB WebTrader, there are several research channels with content from Market Pulse, and FX Commentary provided from the Traders Insight section, with weekly videos that recap market conditions for the prior week. Since our last review, Real Vision TV and Live Bloomberg TV are now available on all IBKR's trading platforms (instead of redirecting to a web page) along with the broker's in-house produced videos.
Out of all brokers reviewed on ForexBrokers.com, Interactive Brokers offers the widest array of 3rd party research, including free and premium content, as well as bundled services.
The content provided by Traders' Insight and MarketPulse, alongside the extensive list of analytical tools and news content, helps Interactive Brokers rank highly in the research category compared to other forex brokers with multi-asset and exchange-traded offerings. For research, Interactive Brokers finished 8th out of 43 brokers in out 2018 Review.
| | Interactive Brokers |
| --- | --- |
| Daily Market Commentary | No |
| Forex News (Top-Tier Sources) | Yes |
| AutoChartist | No |
| Trading Central (Recognia) | Yes |
| Delkos Research | No |
| Acuity Trading | No |
| Social Trading / Copy-Trading | No |
| Social Sentiment - Currency Pairs | No |
| Client Webinars | Yes |
| Client Webinars (Archived) | Yes |
| Videos - Beginner Trading Videos | No |
| Economic Calendar | Yes |
| Calendar Includes Forecasts | Yes |
| Economic News Sentiment | Yes |
| Trade Ideas - Backtesting | No |
Platforms & Tools
The Trader Workstation (TWS), Interactive Brokers' flagship desktop trading platform, is available for both MacOS and Windows. For browser trading, Interactive Brokers offers an HTML 5-based IB WebTrader.
Overall, the TWS desktop version of the platform is the clear choice at Interactive Brokers, and for those who are willing to dedicate time to learn to use the platform, it can become a powerful tool in your multi-asset trading arsenal.
Within the Trader Workstation (TWS) desktop platform, FXTrader is the main terminal for trading forex and gives traders access to 85 forex pairs offered by Interactive Brokers.
One interesting feature with order pre-populating is that you can repeat this process and have several orders that have not yet been transmitted but are pre-filled and ready for submission. This is comparable to the "blast order" feature from thinkorswim by TD Ameritrade, where a bunch of orders can be sent simultaneously.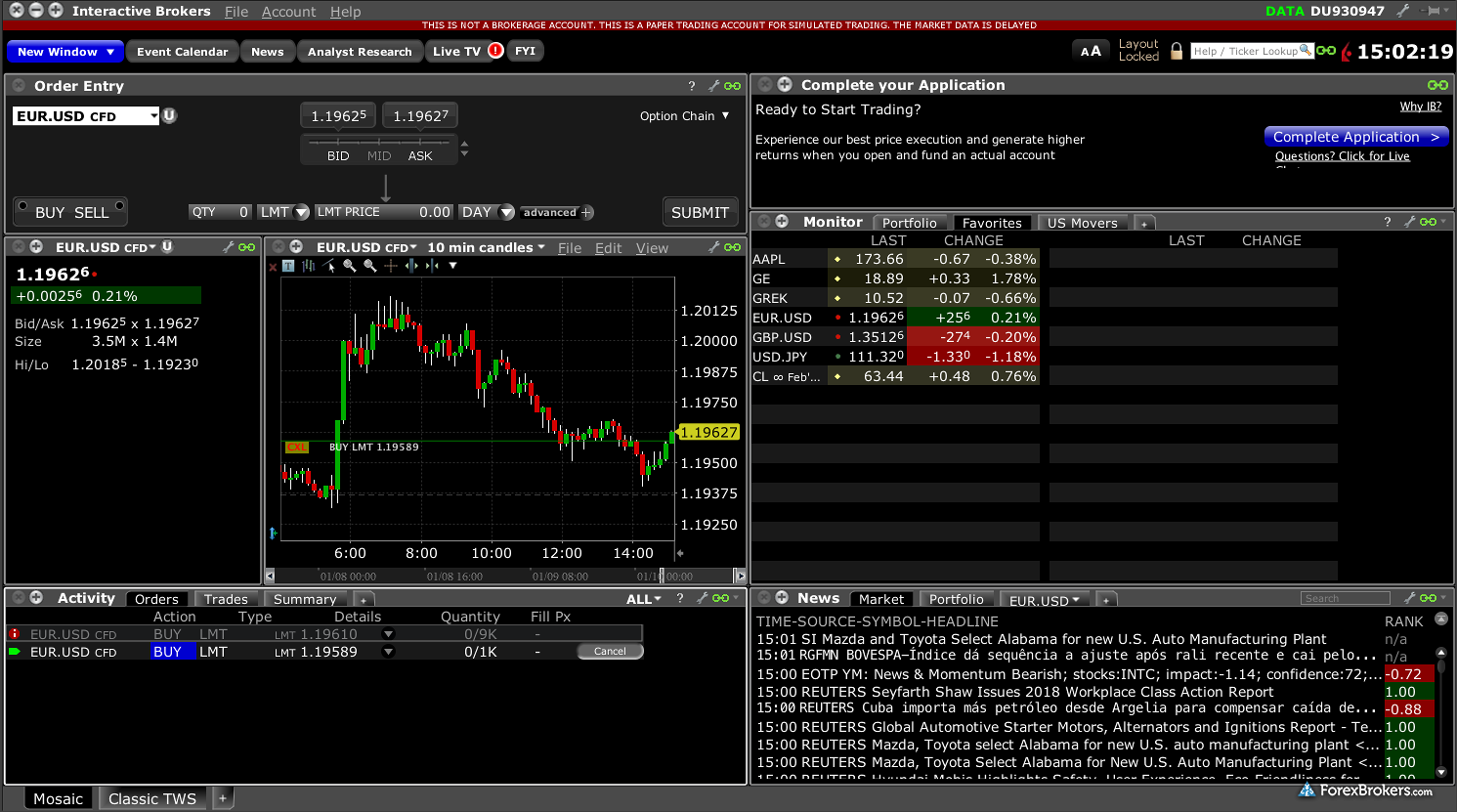 Besides exchange-traded forex futures and forex options, Interactive Brokers offers two types of spot forex contracts: IDEALPRO, which uses a notional cash amount to account for trade reconciliations, and considered a cash-settled security, and SMART, a contract structured as a non-deliverable rolling CFD.
Traditional retail forex traders will find it easier to use the SMART CFD contract, while futures traders used to conversion calculations involved with physical delivery may opt for the IDEALPRO contract.
In cases where a trade size is less than a certain minimum, or 20,000 units for example on the IDEALPRO GBP.USD forex contract, the order can still be overridden and submitted as an odd lot amount, but the execution rate can't be guaranteed to match the rate displayed on the platform. This is a neat feature that helps uphold transparency with regard to price execution.
Getting the platform configured is also a clean experience, as Interactive Brokers provides over a dozen default layouts that can be used, including one for forex trading.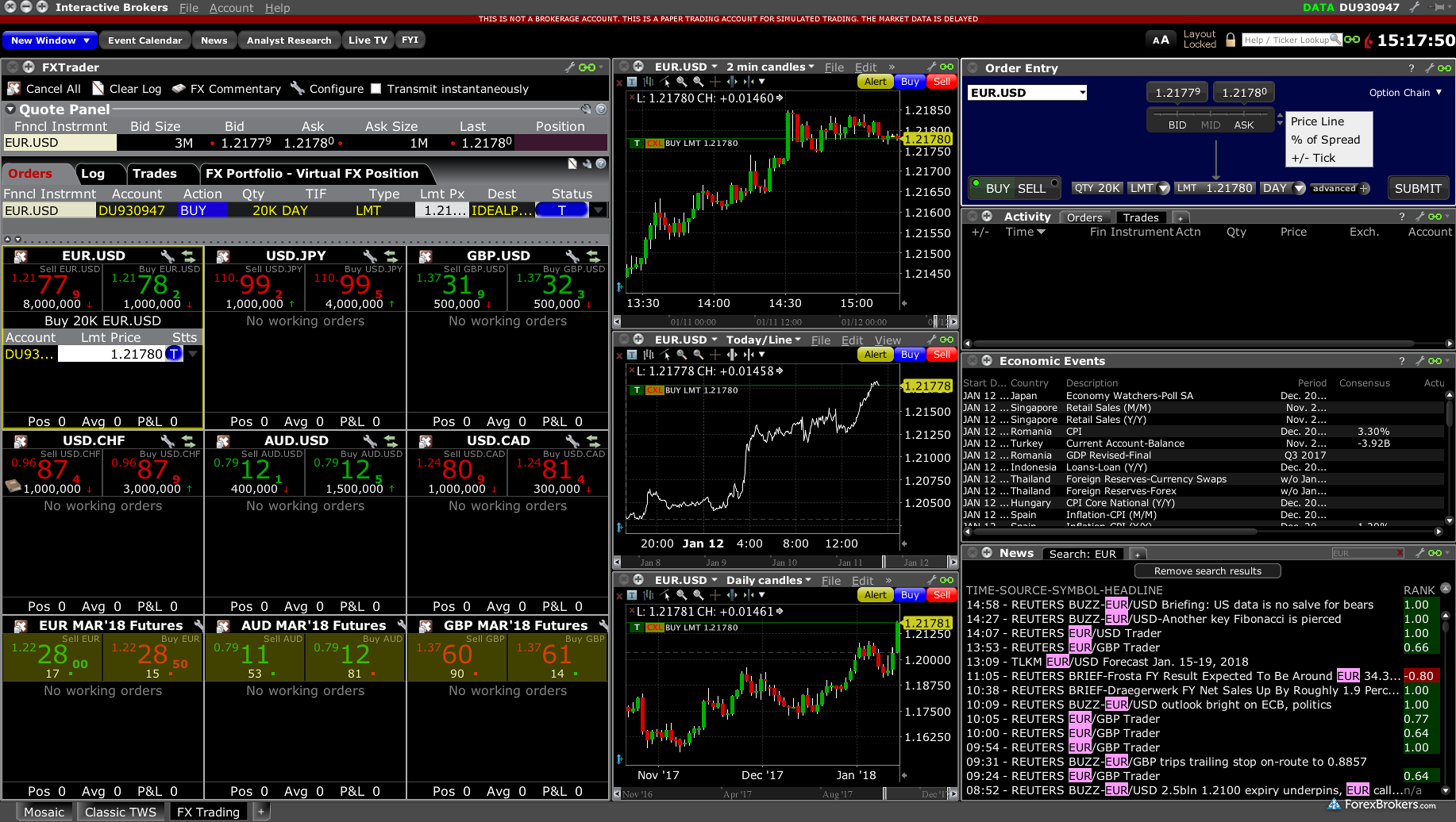 Shifting to charting within the TWS desktop platform, there are 121 available studies that can be added to a chart, which is far above the industry average of 42 compared to other brokers reviewed, and only surpassed by thinkorswim by TD Ameritrade, which has 397, followed by Dukascopy Bank with 313, and then City Index with 139.
The drawing tools were not as extensive, with only 10 to choose from, and while the number of customizations that can be made in the TWS platform is impressive, the complexity and long lists of possible configurations can be intimidating to unseasoned investors.
To put into perspective how complex some of the configuration options are, the watchlist alone can be configured with nearly 300 different available columns, although many of these are related to equities analysis such as earnings per share (EPS) or price/earnings (PE) ratios, and not forex. Meanwhile, when adding forex pairs to a watchlist, users can choose from both spot forex cash rates as well as forex CFDs from either the IDEALPRO or SMART venue. Impressive indeed.
The IBot feature, which lets you chat with an artificially intelligent bot (either by typing or the voice command), understands commands such as "show me a chart of the EUR.USD" and then returns a matching chart that can opened from the search results. This feature has improved from its beta stage seen in our review last year, and is now also integrated into Interactive Broker's mobile app.
Moving to the web-based version of the TWS, Interactive Brokers is light compared to the desktop version, as far as functionality goes. It comes equipped with everything traders need to go about their business, specifically trading, but lacks the depth of its desktop counterpart. For example. The web version doesn't support opening forex charts, leaving just stocks, indexes and futures available for charting. The broker has started to build out its Client Portal and we expect to see further development in this area.
Unless you cannot access the desktop, or you prefer a more simplified trading environment, then web-based TWS is worth checking out. Otherwise, stick with the flagship desktop TWS platform.
Overall, the TWS desktop version of the platform is the clear choice at Interactive Brokers, and for those who are willing to dedicate time to learn to use the platform, it can become a powerful tool in your multi-asset trading arsenal. The advanced features of the desktop version are positive attributes compared to other platforms from multi-asset brokers that lack depth of options, such as Plus500 or XTB. IBKR's TWS finished Best in Class in our 2018 review.
| | Interactive Brokers |
| --- | --- |
| Virtual Trading (Demo) | Yes |
| Desktop Platform (Windows) | Yes |
| Desktop Platform (Mac) | No |
| Web Platform | No |
| Social Trading / Copy-Trading | No |
| Proprietary | Yes |
| MetaTrader4 (MT4) | No |
| MetaTrader5 (MT5) | No |
| cTrader | No |
| Currenex | No |
| ZuluTrade | No |
| MirrorTrader | No |
| Charting - Drawing Tools (Total) | 9 |
| Charting - Indicators / Studies (Total) | 121 |
| Watchlists - Total Fields | 300 |
| Order Type - Trailing Stop | Yes |
Mobile Trading
Interactive Brokers offers several mobile applications, including its IBKR mobile trading app for Android smartphones and tablets as well as all iOS devices, including iPhone, iPad, and the Apple Watch. My testing was conducted using the Android smartphone app.
Charting within the mobile app had nearly one-third less indicators than the desktop platform, but it still packed in 70 indicators, which is far more than most brokers offer in their mobile apps or even on their desktop and web platforms.
Charting within the mobile app had nearly one-third less indicators than the desktop platform, but it still packed in 70 indicators, which is far more than most brokers offer in their mobile apps or even on their desktop and web platforms. Surprisingly, one drawback was the lack of drawing tools, including the ability to plot a trend line.
While we were glad to see the number of indicators in the mobile app grow, there remains no drawing tools in Interactive Broker's mobile app, limiting the use of the charts. Otherwise, Indicators were easy to add, and can be saved as a template for quick analysis on other charts.
Charting aside, the TWS mobile app is easy to navigate and offers a good range of sophisticated tools, ranging from the trading assistant to customized scanners, and most recently the iBot chat bot. Other parts of the app, such as the complex order dialogue and watch list management, are not as easy to figure out, yet provide sophisticated functionality such as multi-leg options trading.
Overall, Interactive Brokers provides a great mobile experience that competes among the best multi-asset brokers in the industry.
| | Interactive Brokers |
| --- | --- |
| Android App | Yes |
| Apple iOS App | Yes |
| Charting - Draw Trend Lines | No |
| Charting - Can Turn Horizontally | Yes |
| Charting - Technical Studies/Indicators | 68 |
| Watch List Syncing | Yes |
| Trading - Forex | Yes |
| Trading - CFDs | Yes |
| Alerts - Basic Fields | Yes |
Other Notes
Besides the algorithmic-driven orders, Interactive Brokers offers multiple options for algorithmic traders or those who wish to connect programmatically via API using various protocols across its trading platforms, including the FIX CTCI platform for traders who need to build their own trading systems.
In 2017, Interactive Brokers launched Bitcoin futures, helping to position itself to cater to the growing demand from traders and investors who look for exposure to speculative digital assets within their portfolios.In addition to futures on offer, IBKR's concurrent ability to provide CFDs reflects its strength as a multi-asset broker. Until cryptocurrencies are well established, we do not anticipate further support beyond futures contracts.
In the US, Interactive Brokers offers forex to clients who meet the definition of an ECP (i.e. have at least $10 million in assets). The company discontinued its retail forex offering clients in Alberta, Canada
Final Thoughts
With nearly every type of forex instruments available across 115 currency pairs, including spot, forwards, futures and options trading, Interactive Brokers provides a diverse and bespoke offering for currency traders, on top of over 4000 CFDs across global markets.
Interactive Brokers' minimum monthly activity fees and related charges should be taken into consideration when deciding whether the broker will be a good fit for your trading style. For low-volume traders and beginners, I do not recommend Interactive Brokers.
Even though experienced traders will require time to learn the TWS platform, Interactive Brokers is a great choice for professional and active traders. The broker's competitive commissions structure and wide range of available markets, alongside the extensive configuration options and order types found within the TWS suite of platforms, is a winning combination.
Methodology
For our 2018 Forex Broker Review we assessed, rated, and ranked 43 international forex brokers. Each FX broker was graded on 140 variables. Learn more.
Forex Risk Disclaimer
"There is a very high degree of risk involved in trading securities. With respect to margin-based foreign exchange trading, off-exchange derivatives, and cryptocurrencies, there is considerable exposure to risk, including but not limited to, leverage, creditworthiness, limited regulatory protection and market volatility that may substantially affect the price, or liquidity of a currency or related instrument. It should not be assumed that the methods, techniques, or indicators presented in these products will be profitable, or that they will not result in losses."Learn more.
---
Reviewed by Steven Hatzakis Steven Hatzakis is the Global Director of Research for ForexBrokers.com. Steven previously served as an Editor for Finance Magnates, where he authored over 1,000 published articles about the online finance industry. Steven is an active fintech and crypto industry researcher and advises blockchain companies at the board level. Over the past 19 years, Steven has held numerous positions within the international forex markets, from writing to consulting to serving as a registered commodity futures representative.
Interactive Brokers Competitors
Select one or more of these brokers to compare against Interactive Brokers.
---
Ratings Overall
Summary
Commissions & Fees
Offering of Investments
Platforms & Tools
Research
Customer Service
Mobile Trading
Education
Best in Class
Overall Ranking
Offering of Investments
Platform & Tools
Mobile Trading
Overall Ranking
Commissions & Fees
Offering of Investments
Platform & Tools
Research
Mobile Trading
Education
---
Commissions & Fees
Commission Notes
For accounts that are not denominated in USD, commissions are converted from the USD trade value and then charged to the base currency of the account. There are also costs for market data, which vary depending on the subscriptions you require for the markets/exchanges you wish to access.
Bitcoin Futures commission:
Minimum monthly commission charges:
Unless your balance is over $100,000 in net liquidation value so you can avoid any monthly activity fees, traders incur a standard activity fee of $10 per month, minus any commissions paid that month (the first three months are waived).
For example, if at the end of a month the total commissions paid were $4 to trade $100,000 worth of euros (via the EUR.USD symbol) at $2 per side or $4 round trip to open then close the trade, the standard activity fee will be $6 based on the $10 fee, minus the $4 generated in commission for the month.
Active Trader Discounts:
Forex commissions are calculated as a percentage of the value of each trade you place, depending on the applicable commission tier – where higher volume traders are rewarded with steeper discounts on commission fees.
For example, monthly trade amounts up to 1 billion USD in notional value are charged a commission of 0.20 basis points, where 1 basis point is 0.0001. So a trade value of 1,000,000 units under this tier would incur a commission of $20.00 (i.e., 0.00002 x 1,000,000 = $20.00).
Compare Interactive Brokers
Find out how Interactive Brokers stacks up against other brokers.