Since 1999, FXCM has become an iconic name in retail foreign exchange markets as a pioneer in developing online forex offerings for retail traders. With its headquarters in London, FXCM has grown to have multiple international offices and is licensed in several major regulatory hubs globally.
In 2017, FXCM exited the US market and is no longer accepting US clients. Through this process, part of its holdings were reorganized under the name Global Brokerage (NASDAQ:GLBR), which holds an ownership interest in FXCM. On December 11th, 2017, Global Brokerage filed for Chapter 11 bankruptcy protection in a New York court. FXCM Group is not involved with the bankruptcy filing, and the restructuring of GLBR will not affect its clients as per regulatory filings.
As a Leucadia company, the FXCM Group has multiple entities in other major jurisdictions, including entities regulated in the UK, Australia, and indirect affiliated offices in Canada, South Africa, and Japan.
FXCM provides traders multiple platforms and tools for algorithmic trading, in addition to its App Store, which provides access to software created by third-party developers. FXCM also offers comprehensive options for traders to connect through its public API. Furthermore, FXCM caters to algorithmic traders and provides news and research as part of the global offerings available under the FXCM brand.
Trust Score
Trading with a forex broker traders can trust is crucial to success. Unfortunately, forex fraud and scams are common in the industry.
Here at ForexBrokers.com, we maintain the largest independent regulatory database available on the web. Using 28 different variables, we have created a proprietary 1-100 score (the higher the better) of overall trustworthiness, which we call the Trust Score. Here is our trust summary of FXCM.
| | FXCM |
| --- | --- |
| Trust Score | 80 |
| Year Founded | 1999 |
| Publicly-Traded Company (Listed) | Yes |
| Regulated in Major Hub | Yes |
| Regulated in Emerging Hub | Yes |
| Authorised in the European Union | Yes |
| CFTC Registered (USA) | No |
| FCA Regulated (UK) | Yes |
| IIROC Authorised (Canada) | Yes |
| FINMA Authorised (Switzerland) | No |
| ASIC Authorised (Australia) | Yes |
| SFC Authorised (Hong Kong) | No |
| MAS Authorised (Singapore) | No |
| FSA Authorised (Japan) | No |
| FMA Authorised (New Zealand) | No |
| CySEC Authorised (Cyprus) | No |
Offering of Investments
The following table summarizes the different investment products available to FXCM clients.
| | FXCM |
| --- | --- |
| Minimum Initial Deposit | $0.00 |
| Currency Pairs (Total Forex pairs) | 39 |
| CFDs - Total Offered | 18 |
| Exchange Traded Securities: US | No |
| Exchange Traded Securities: International | No |
| Cryptocurrency traded as actual | No |
| Cryptocurrency traded as CFD | Yes |
Commissions & Fees
FXCM offers competitive commission rates for its Standard account and Active Trader account holders, while spreads are wider for commission-free mini account holders, who can access only 21 currency pairs compared to the 39 pairs Standard and Active Trader accounts can access.
Standard account holders are charged £6 per standard round turn (100,000 units) when trading on major pairs, and £10 per standard round turn on all other pairs, in addition to the prevailing spreads traders pay on each trade.
Using the time-weighted average tradable prices from July 1, 2016 to September 30, 2017, spreads for Active Trader accounts at FXCM are as low as 0.2 pips on pairs such as the EUR/USD and USD/JPY.
After adding the round-turn commission equivalent of 0.80 pips (or £6 per round-turn commission), the all-in cost to trade EUR/USD is 1 pip for Standard Account holders at FXCM, again using the previously referenced pricing data.
Active Trader accounts are available for clients that deposit at least $25,000, which come with a lower commission rate and access to premium research. For example, Active Trader accounts are charged as low as £4 per standard round-turn lot (£2 per side) on the EUR/USD pair, bringing the all-in cost to roughly 0.80 pip.
Overall, FXCM offers competitive spreads in terms of all-in costs for active traders compared to its close competitors such as Gain Capital (forex.com), Dukascopy, FxPro, IG, and SaxoBank.
| | FXCM |
| --- | --- |
| Average Spread EUR/USD - Standard | 1.30 |
| All-in Cost EUR/USD - Active | 0.80 |
| Active Trader or Premium/VIP | Yes |
Customer Service
For our 2018 Forex Review, 129 customer service phone tests were conducted over three months. The data collected is institutional grade. On average, three questions were asked for each test. To score each test, the tests were divided into three separate groups and scores were given for the time taken to connect with each support representative and the ability of each representative to professionally (and thoroughly) answer each question. A Net Promoter Score was also given for the overall experience.
Results:
Average Connection Time: 2-3 minutes
Average Net Promoter Score: 8 / 10
Average Professionalism Score: 8.6 / 10
Overall Score: 8 / 10
Ranking: 3th (43 brokers)
Research
FXCM's research tools including premium content from Trading Central, news headlines from Investing.com, as well as a market screener tool and a pattern-recognition scanner developed in conjunction with Grid Sight Technologies LTD, which is made available as an indicator.
It's worth noting that FXCM has done a good job in incorporating educational information into its research, including webinars and its trading university program. The broker has also published guides about cryptocurrencies, although has not yet formally launched cryptocurrency trading as of year-end 2017.
Although research is an area where FXCM has room to catch up following the sale of its DailyFX arm to IG, FXCM still provides variety of research content and tools relating to technical analysis and fundamental news for forex traders.
| | FXCM |
| --- | --- |
| Daily Market Commentary | Yes |
| Forex News (Top-Tier Sources) | Yes |
| AutoChartist | No |
| Trading Central (Recognia) | Yes |
| Delkos Research | No |
| Acuity Trading | No |
| Social Trading / Copy-Trading | Yes |
| Social Sentiment - Currency Pairs | Yes |
| Client Webinars | Yes |
| Client Webinars (Archived) | Yes |
| Videos - Beginner Trading Videos | Yes |
| Economic Calendar | Yes |
| Calendar Includes Forecasts | Yes |
| Economic News Sentiment | Yes |
| Trade Ideas - Backtesting | Yes |
Platforms & Tools
FXCM offers a growing range of trading platforms, including its Trading Station platform and third-party platforms such as MetaTrader4 (MT4) and NinjaTrader, which are accessible via desktop, the web, and mobile. To read more about MT4, read our MetaTrader guide to MetaTrader. For this review, I focused on FXCM's Trading Station.
FXCM's main trading platform, Trading Station, does well at catering to the entire spectrum of what a forex trader needs, regardless of skill level. For seasoned traders, advanced fields can be further customized for automated trading, technical analysis, or to import custom indicators.
Trading Station is a desktop and web-based platform that was developed with help from Gehtsoft USA LLC, the company that also helps power the Fxcodebase library, where third-party indictors can be found that are compatible with the Trading Station platform.
The Trading Station desktop platform allows its various panels to float freely within the main platform window, similar to other trading platforms, including desktop versions from Saxo Bank and FOREX.com, as well as certain web-based platforms, for example those from IG and CMC Markets.
The Marketscope 2.0 charting feature within the platform, which seems like an entire additional platform on its own, is a powerful charting package that runs in parallel to the main platform window.
While this advanced charting program is packed with tons of features, it may be too complex for less experienced traders. That said, technical analysis enthusiasts will find MarketScope has a premium feel without the price tag that accompanies paid charting subscriptions.
Looking at the functionality of Trading Station's web version, charts pack nearly the same number of indicators as the desktop, with 58 available, and the platform's 18 drawing tools were generally easy to use.
All in all, the web version of the Trading Station platform looks and feels just like the desktop version, yet doesn't contain as many advanced features as the desktop version does. Although, one feature I did enjoy was right-clicking on the charts reveals a drop-down menu which isn't usually seen in flash-based charts.
Trading Station aside, it's worth noting that the NinjaTrader platform from FXCM features numerous trading tools, including automated trading capabilities, where trading strategies and indicators can be created from scratch using NinjaScripts. We had a chance to install the NinjaTrader platform on Windows 10 and received a follow-up call/email from a NinjaTrader representative.
While NinjaTrader doesn't come pre-loaded with trading strategies, users can either make their own or use third-party developed NinjaScripts, similar to the way in which the MT4 platform operates. The platform also has a market replay and analyzer tool alongside over 150 indicators.
The FXCM App store provides various add-ons, technical indicators, and automated trading robots for its Trading Station, MetaTrader 4, and NinjaTrader platforms, as well as access to third-party products and platforms such as the Seer Trading Platform for algorithmic trading. In 2017, FXCM expanded its range of specialty platforms available on its website with the addition of QuantConnect, MotiveWave, IQBroker, AgendaTrader, NeroShell Trader, and StrategyQuant.
Lastly, FXCM also offers ZuluTrade, a social copy-trading platform where users can follow other traders and automatically copy their trades in real-time. Offering ZuluTrade complements FXCM's social copy trading offering, alongside the native signals available in its MT4 platform offering.
| | FXCM |
| --- | --- |
| Virtual Trading (Demo) | Yes |
| Desktop Platform (Windows) | Yes |
| Desktop Platform (Mac) | No |
| Web Platform | Yes |
| Social Trading / Copy-Trading | Yes |
| Proprietary | Yes |
| MetaTrader4 (MT4) | Yes |
| MetaTrader5 (MT5) | No |
| cTrader | No |
| Currenex | No |
| ZuluTrade | Yes |
| MirrorTrader | Yes |
| Charting - Drawing Tools (Total) | 31 |
| Charting - Indicators / Studies (Total) | 51 |
| Watchlists - Total Fields | 7 |
| Order Type - Trailing Stop | Yes |
Mobile Trading
FXCM offers Trading Station and MetaTrader4 (MT4) for mobile trading on both Android and iOS devices. To learn more about MT4, read our guide to MetaTrader. For this review, I tested the Trading Station mobile app on my Samsung Galaxy S8+ running Android.
FXCM's Trading Station mobile app packs a good range of features into a sleek design that was easy to use and comes with advanced features such as a comprehensive trade ticket with advanced order types, including one-cancels-other (OCO) orders.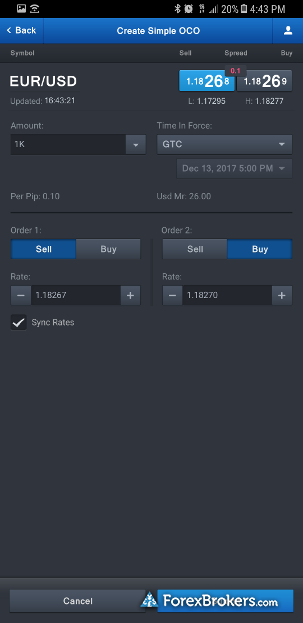 Charting comes with nearly 60 indicators and multiple drawing tools. Trend-lines can be drawn with precision thanks to a magnifying glass that auto zooms while dragging the trend-line into position.
Aiding the navigation of the mobile app is a row of tabs on the bottom and top of the app. These rows let users slide left or right to see additional tabs from either the top or bottom row. Tapping on any of the tabs in these rows will switch to the related view on the main screen. In addition, swiping left or right on the main screen will also switch between the next adjacent tabs, making it easy to scroll between screens.
One shortcoming of the mobile app was the lack of any apparent watch list, which could be a useful feature and ideally one that would sync with the watch list used on the web and desktop versions of the FXCM Trading Station.
Compared to my 2017 review of FXCM, I did not find a substantial number of changes. That said, the broker still provides a robust mobile experience overall and finished 11th out of 43 forex brokers in our 2018 Review.
| | FXCM |
| --- | --- |
| Android App | Yes |
| Apple iOS App | Yes |
| Charting - Draw Trend Lines | Yes |
| Charting - Can Turn Horizontally | Yes |
| Charting - Technical Studies/Indicators | 30 |
| Watch List Syncing | Yes |
| Trading - Forex | Yes |
| Trading - CFDs | Yes |
| Alerts - Basic Fields | Yes |
Other Notes
While FXCM did not launch cryptocurrency trading in 2017, it has compiled an extensive overview of the new asset class, providing educational content for users, which suggests FXCM could make a move into the space before the end of 2018.
FXCM's Trading Station platform and the company's Active Trader offering can appeal to the sophisticated trader, while newcomers may face a steeper learning curve due to the advanced platform features that may require getting used to in conjunction with FXCM's educational materials.
There is also a dedicated technical support team to assist traders in developing their MetaTrader4 Expert Advisors (EAs). The team will even help code strategies for clients for a nominal fee. FXCM also offers various APIs programmers can access publicly to connect their trading apps or platforms to FXCM.
Final Thoughts
FXCM is a great choice for those seeking to use automated trading strategies as all of its platforms offer traders the ability to run algorithmic trading and access advanced charting tools. FXCM also provides its clients access to several social copy-trading platforms, such as ZuluTrade.
In terms of pricing, FXCM would not be my choice for a mini account, as spreads are wider and the number of tradeable pairs are lower, compared to its other accounts. Therefore, FXCM shines most in its Active Trader account offering, where low commission rates and average spreads provide competitive pricing for high volume traders that can deposit at least $25k to meet the minimum account requirement. Meanwhile, traders on a tighter budget should utilize the Standard Account offering which features the same spreads with a slightly higher commission rate.
It is clear that FXCM's size as a company, years of operation, and regulatory status in major financial centers combine to make its offerings broad enough to cater to nearly every type of trader. That said, its reduction of total CFDs available from 313 to just 18 restricts its product range offering as a multi-asset broker.
Methodology
For our 2018 Forex Broker Review we assessed, rated, and ranked 43 international forex brokers. Each FX broker was graded on 140 variables. Learn more.
Forex Risk Disclaimer
"There is a very high degree of risk involved in trading securities. With respect to margin-based foreign exchange trading, off-exchange derivatives, and cryptocurrencies, there is considerable exposure to risk, including but not limited to, leverage, creditworthiness, limited regulatory protection and market volatility that may substantially affect the price, or liquidity of a currency or related instrument. It should not be assumed that the methods, techniques, or indicators presented in these products will be profitable, or that they will not result in losses."Learn more.
---
Reviewed by Steven Hatzakis Steven Hatzakis is the Global Director of Research for ForexBrokers.com. Steven previously served as an Editor for Finance Magnates, where he authored over 1,000 published articles about the online finance industry. Steven is an active fintech and crypto industry researcher and advises blockchain companies at the board level. Over the past 19 years, Steven has held numerous positions within the international forex markets, from writing to consulting to serving as a registered commodity futures representative.
FXCM Competitors
Select one or more of these brokers to compare against FXCM.
---
Ratings Overall
Summary
Commissions & Fees
Offering of Investments
Platforms & Tools
Research
Customer Service
Mobile Trading
Education
Best in Class
Platform & Tools
Research
Customer Service
Education
Social Copy Trading
Commissions & Fees
Platform & Tools
Mobile Trading
Education
---
Commissions & Fees
Commission Notes
Spreads for Mini Accounts are nearly 1 pip higher on the EUR/USD and USD/JPY pairs. These pairs had spreads as low as 1.5 pips for Mini Account holders at FXCM based on time-weighted average tradable prices from April through June 2016. Even though Mini Account holders aren't charged commission, FXCM's spreads for Mini Accounts are not nearly as competitive as its Standard Account and Active Trader offerings.
FXCM's commission and fees are comparable to those of its peers, such as forex.com, IG, CMC Markets, Saxo Bank, FxPro, and OANDA, when factoring in the total cost of a trade (spread+commission) and depending on the account type chosen.
For example, when we compared the average spreads we sampled from FxPro we found the company beat FXCM by only a fraction of a pip, offering a 0.4 pip spread on the EUR/USD in its cTrader platform – which includes a commission of $8 per round turn standard lot. This is similar to FXCM's 0.5 pip spread on the EUR/USD, which adds a commission of $8 per round turn standard lot for Standard Account holders.
Active Trader account holders at FXCM pay even less commission at $1.8 per standard lot, bringing their effective spread/cost from 1.7 pips down to 0.68 pips, thus surpassing FxPro's pricing in the example above. This is fractionally better than the Level 5 tier pricing of forex.com's Active Trader, which offers 0.84 pips on the EUR/USD for traders who do more than $500 million in month-to-date (MTD) volume.
Meanwhile, Saxo Bank's most aggressive pricing option for high volume traders brings the all-in cost to as low as 0.40 pips on the EUR/USD pair (0.2 spread+0.2 commission) and is designed for traders who do $100 million or more in volume per month.
For higher-volume traders, on the Forex Direct platform at IG, using the most aggressive pricing plan, traders who do more than 15,000 standard lots ($1.5 trillion in volume) pay a total cost of less than 0.40 pips to trade the EUR/USD.
Compare FXCM
Find out how FXCM stacks up against other brokers.