Founded in Poland in 2002, X-Trade Brokers (XTB) has grown over the past 15 years to become a leading online broker. It was listed on the Warsaw Stock Exchange in 2016 after a successful initial public offering that valued the company at nearly $350 million.
With offices in over a dozen countries across Europe and in Turkey, XTB is licensed by several major regulators including the UK's FCA, Poland's KNF, Germany's BaFIN, and Turkey's CMB.
XTB provides a multi-asset solution to forex and CFD traders globally, offering over 50 forex pairs, more than 20 indices, and 1,500-share CFDs, as well as more than 60 ETFs and 21 of the most popular commodity CFDs across its proprietary xStation suite of platforms, and MetaTrader4 platform by MetaQuotes Software Corporation.
Commissions & Fees
XTB offers three general account types, Basic, Standard and a commission-based Pro account. Each account comes with its own execution method and spread model, in terms of commissions and fees, and with overall spreads competitive for some of the major forex pairs.
Besides the method of execution, which varies per account type, ranging from dealing-desk execution to agency execution, other account differences can be seen in the bid/ask spreads. The Basic account can see target spreads of 2 pips, while the Standard account spreads can drop to 0.35 pips, and the PRO spreads (not including the per trade commission) can reach as low as 0.28 pips, according to XTB data.
| View All Fees | XTB | Plus500 | Markets.com | CMC Markets | ADS Securities |
| --- | --- | --- | --- | --- | --- |
| Overall | | | | | |
| Commissions & Fees | | | | | |
| All-in Cost EUR/USD - Active | N/A | N/A | 2.000 | 0.772 | N/A |
| All-in Cost GBP/USD - Active | N/A | N/A | 2.000 | 1.115 | N/A |
| CFDs - Total Offered | 2100 | 2045 | 2085 | 10172 | 810 |
While we were not able to obtain average spreads from XTB as the firm publishes only the minimum and target spreads for each currency pair on its website, a representative confirmed that the target spreads, which are recorded between 8 am and 8 pm CET/CEST, are an approximate value based on historical spread quotations and should not be construed as a median or average spread.
With minimum deposits at XTB that start at 250 base currency (i.e., £250, €250, or $250) the Pro account is the most competitive option in terms of lower spreads. It has a commission of £2.5, €3.5, or $4 per side on standard lots (100k), depending on the currency of the denominated account. In addition, unless you are a resident of the UK or Ireland, the Pro account will be your only option for opening an account with XTB.
XTB will rebate a portion of the spread back to you when you meet certain volume thresholds, starting from 100 lots or more on a monthly basis, helping XTB compete with brokers that have active trader offerings, such as FXCM and Forex.com, or liquidity rebates from CMC Markets.
Overall, we would like to see XTB publish what its average spreads are on a monthly basis to help make a more accurate comparison with other multi-asset brokers in this category who release such data, including publicly listed firms, as its spread seem otherwise competitive.
Customer Service
Starting with Live chat, XTB offers live chat across all of its platforms, including its web, desktop, and even on its mobile app, making it easy to access customer support across all products. For email support, service is available only during local office hours between 7 am and 5 pm UK time.
All in all, the XTB personnel we spoke to on the phone were knowledgeable, polite, and helped make for a fantastic customer support experience. The broker finished first for phone support and third overall.
Besides live chat and email, traders may opt to use the XTB phone number that allows you to reach the trading desk 24 hours a day during the trading week. Calling outside of local office hours will usually get you redirected to the Warsaw office where you can speak with an XTB trading desk representative directly.
All in all, the XTB personnel we spoke to on the phone were knowledgeable, polite, and helped make for a fantastic customer support experience. The broker finished first for phone support and third overall.
Research
XTB offers a diverse range of research across its platforms and websites. Beyond streaming headlines from top-tier news providers and an economic calendar, and in-house staff that publish technical and fundamental analysis, a premium service is offered under the TRADEBEAT brand that provides market sentiment, exclusive strategies, and trade recommendations for subscribers.
Helping to boost its ranking as a multi-asset broker in this category, XTB provides a stock screener that lets you filter basic fields to sort through nearly 1,500 tradable single-stock CFDs, a useful research tool for scanning symbols to trade.
Adding more detailed research reports and analysts' ratings could help boost XTB's ranking in this category.
Combined with other premium tools such as the heatmap and market sentiment, XTB's research tools are diverse, useful, and comparable to research offerings from other multi-asset brokers, such as IG Markets, Saxo Bank and CMC Markets, that have over 10,000 tradable CFDs.
Platforms & Tools
XTB's main platform offering, xStation5, is available for web, mobile, tablet, and even iOS and Android smartwatches. However, at the time of this review's publication in April, 2017, the desktop version of xStation5 had not yet launched. Instead, clients needing a desktop version had to still utilize the predecessor version, xStation3.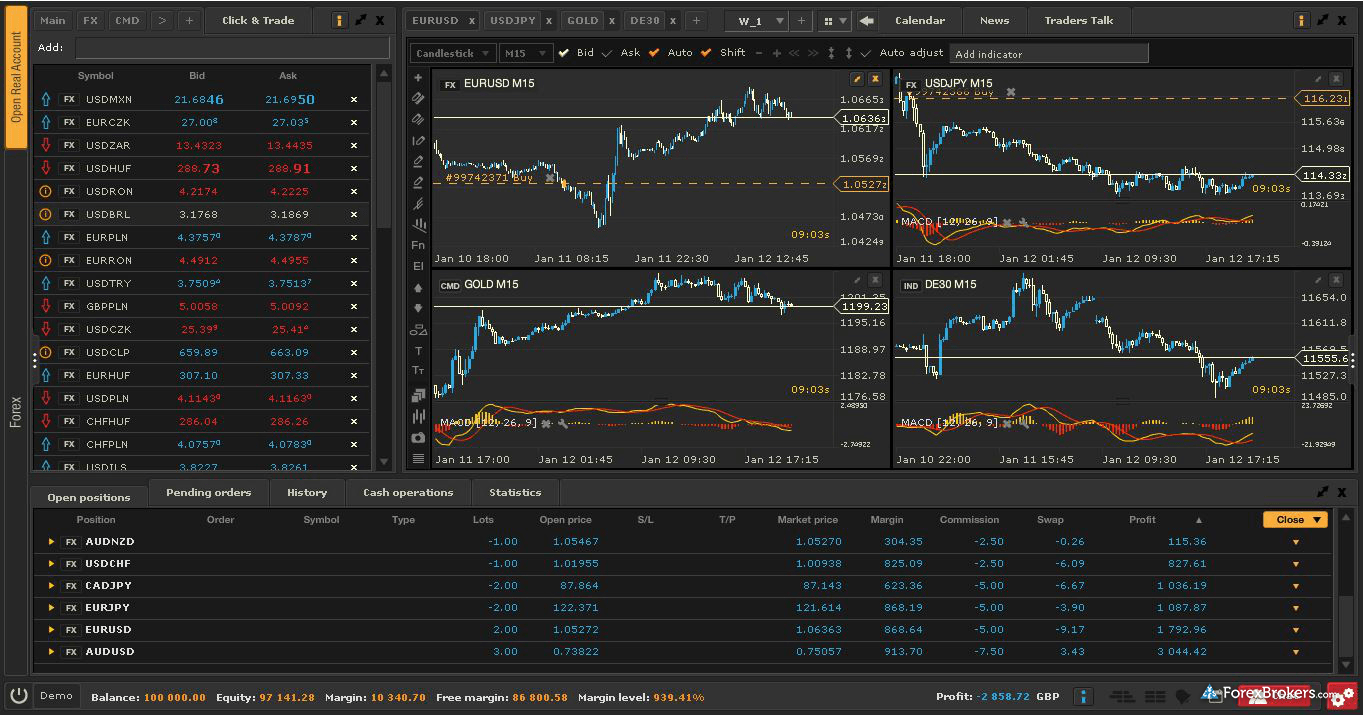 In terms of innovation, the most significant new features added in xStation5, which are not available in xStation3, include the ability to set a stop-loss or take-profit (limit) as a percentage of your balance, and new heatmap and sentiment analysis tools.
While the number of features has been kept to a minimum to avoid making the platform too complex, XTB has done well in balancing the platform with enough features while keeping the layout easy to use.
While the number of features has been kept to a minimum to avoid making the platform too complex, XTB has done well in balancing the platform with enough features while keeping the layout easy to use. However, the experience does feel more like a tablet app than a web app designed to maximize my computer monitor, even though the design was clean.
Looking at the web version, while xStation3 was flash based, xStation5 is HTML 5 based. This is a huge difference that yields not only speed improvements but a very modern, clean design. Menus and fonts are crisp and charts look much clearer. For example, charts now include a countdown timer showing the remaining time left in each candlestick.
Design aside, with charting there is a side panel on the left of the chart window where you can access various icons to select from the 26 indicators available or change the chart type or time frame, among other configurations, including 25 drawing tools, which were all easy to use.  
It was also easy to resize various panels within the platform or choose from several preset layouts. Furthermore, certain windows, such as the chart window can be detached. The chart window is a helpful feature if you have multiple monitors or want to focus closely on charting analysis.
Moving to the reporting tools, there is a statistics section in the platform that lets traders analyze their history on a trade-by-trade basis for closed positions, including calculating any max drawdown and average profit and loss over time, among other performance rankings.

The downside to the statistics tool is that it doesn't work for open positions as it requires trades to be closed and is therefore exclusively for historical analysis rather than real-time risk management/analysis.
For other analysis within the platform there are four tabs that are side by side. These include market sentiment, top movers, stock screener, and heatmap tabs, which helps xStation5 score well in terms of research tools as a multi-asset trading platform.
Another feature I found unique is xStation5's connection gauge. Although many platforms show connection statistics, xStation5 displays whether your connection is fast and whether the platform has had any disconnections since the start of the session.
If xStation5 doesn't service your needs, MetaTrader4 (MT4) – one of the most popular retail trading platforms globally – is also available at XTB for desktop, mobile, and web.
Overall, XTB scores well in the platforms and tools category, with several platforms available and innovative features in the xStation5 web platform. However, there are no automated trading capabilities; these are found only in MT4.
XTB has demonstrated a steady evolution from its prior generation platforms, and the future arrival of the desktop version of xStation5 should help boost XTB's ranking in this category, especially if automated trading is added.
Mobile Trading
The xStation mobile app from XTB is easy to navigate from its upper left side menu bar, and ranks highly in terms of features, design, and ease of use compared to mobile apps from industry peers. That said, there is room for further innovation in what is already a good foundation for its mobile app.   
The charting works well in both landscape and portrait mode, yet there are only 10 indicators and 10 drawing tools available. While this is comparable with industry standards, it was disappointing not to see more, considering the desktop platform has a total of 51 drawing tools (25) and indicators (26).
While exploring the app there is a + sign in the upper right corner that lets you search for products to trade, while in other sections of the app a quick link allows you to create a new order from nearly any screen, both useful shortcuts.
In terms of trading, when creating a new order, the trade ticket screen shows the pip values for stop-loss and limit prices converted into a US dollar equivalent – along with both values plotted on the chart visually. These are helpful features to the otherwise basic order window.
As far as research goes, the news section was very simple in the mobile app as there aren't many tools available beyond the streaming headlines that can be opened. The calendar tool does let you filter upcoming events by both country and the expected importance of each news announcement, and is useful for finding news-related trading opportunities. However, such features are the minimum industry standard.
For example, letting users subscribe to news events that matter to them would add a deeper level of usefulness to the trading experience, as we have seen brokers such as CMC Markets do with the economic calendar in their mobile app.
One final takeaway for mobile is within the settings menu; the app allows you to keep your screen locked on. This is a useful feature if you are trading and don't want to be interrupted by the screen going to sleep.
Lastly, a nice feature within the mobile app is the ability to chat with a support representative, especially as nearly 50% of XTB's clients use the mobile app, and not many brokers offer chat on their mobile app.
Lastly, a nice feature within the mobile app is the ability to chat with a support representative, especially as nearly 50% of XTB's clients use the mobile app, and not many brokers offer chat on their mobile app.
Overall, the XTB mobile app provides a quality experience that is slightly above the industry standard. For an enhanced experience, I'd like to see XTB add watch list syncing so your mobile watch list automatically syncs with the desktop and web platforms. Also, adding alerts would further improve the offering while unifying the mobile app with its desktop and web counterparts.
Other Notes
XTB uses the balance level and type of product you trade to determine the applicable margin tier, similar to other brokers such as Saxo Bank that have tiered margin levels depending on either the size of the positions you open and/or the amount of money in your trading account.
Final Thoughts
As a multi-asset broker regulated in several major financial centers, XTB suits the needs of beginners and active traders with its various platforms and account/pricing options, including its commission-based pricing on the Pro account.
XTB can be a suitable alternative to multi-asset brokers, such as IG, Saxo Bank, and CMC Markets that do not offer MT4, for traders that need both algorithmic trading capabilities and a wide range of CFDs.
Methodology
For our 2017 Forex Broker Review we assessed, rated, and ranked 20 international forex brokers. Each FX broker was graded on 255 variables. Learn more.
Forex Risk Disclaimer
There is a very high degree of risk involved in trading securities. With respect to foreign exchange trading, there is considerable exposure to risk, including but not limited to, leverage, creditworthiness, limited regulatory protection and market volatility that may substantially affect the price, or liquidity of a currency or currency pair. It should not be assumed that the methods, techniques, or indicators presented in these products will be profitable, or that they will not result in losses. Learn more.
View all XTB Fees & Features
---
Reviewed by Steven Hatzakis Steven Hatzakis is the Global Director of Research for ForexBrokers.com. Steven previously served as an Editor for Finance Magnates, where he authored over 1,000 published articles about the online finance industry. Over the past 18 years, Steven has held numerous positions within the international forex markets, from writing to consulting to serving as a registered commodity futures representative.
XTB Competitors
Select one or more of these brokers to compare against XTB.
---
Ratings Overall
Summary
Commissions & Fees
Offering of Investments
Platforms & Tools
Research
Customer Service
Mobile Trading
Education
Compare XTB
Find out how XTB stacks up against other brokers.