Over the past decade, FxPro has grown to become a leading retail FX market participant. Originally founded in 2006, the company has executed more than 250 million orders, offering Contract for Difference (CFD) trading across spot Forex, shares, indices, metals, energy contracts, and futures markets.
Trading at FxPro is offered across several third-party trading platforms, including the MetaTrader4 (MT4) and MetaTrader5 (MT5) platforms developed by MetaQuotes Software Corporation, FxPro branded version of the cTrader platform developed by Spotware Systems.
With retail and institutional clients in over 170 countries, the FxPro brand is primarily European and holds regulatory licenses in the United Kingdom (UK) under FxPro UK Limited, regulated by the FCA and its Cyprus entity, FxPro Financial Services Limited, which is regulated by CySEC, and it has an entity regulated by the Financial Sector Conduct Authority (FSCA) in South Africa as well as by the SCB in the Bahamas. In 2017, FxPro further expanded its regulatory footprint with a license from the Dubai Financial Services Authority (DFSA) of the United Arab Emirates (UAE).
Trust Score
Trading with a forex broker traders can trust is crucial to success. Unfortunately, forex fraud and scams are common in the industry.
Here at ForexBrokers.com, we maintain the largest independent regulatory database available on the web. Using 28 different variables, we have created a proprietary 1-100 score (the higher the better) of overall trustworthiness, which we call the Trust Score. Here is our trust summary of FxPro.
| | FxPro |
| --- | --- |
| Trust Score | 83 |
| Year Founded | 2006 |
| Publicly-Traded Company (Listed) | No |
| Regulated in Major Hub | Yes |
| Regulated in Emerging Hub | Yes |
| Authorised in the European Union | Yes |
| CFTC Registered (USA) | No |
| FCA Regulated (UK) | Yes |
| IIROC Authorised (Canada) | No |
| FINMA Authorised (Switzerland) | No |
| ASIC Authorised (Australia) | No |
| SFC Authorised (Hong Kong) | No |
| MAS Authorised (Singapore) | No |
| FSA Authorised (Japan) | No |
| FMA Authorised (New Zealand) | No |
| CySEC Authorised (Cyprus) | Yes |
Offering of Investments
The following table summarizes the different investment products available to FxPro clients.
| | FxPro |
| --- | --- |
| Minimum Initial Deposit | $100.00 |
| Currency Pairs (Total Forex pairs) | 70 |
| CFDs - Total Offered | 215 |
| Exchange Traded Securities: US | No |
| Exchange Traded Securities: International | No |
| Cryptocurrency traded as actual | No |
| Cryptocurrency traded as CFD | Yes |
Commissions & Fees
FxPro offers its most competitive spreads on its cTrader platform, where a commission of $4.5 per standard lot is added on each trade you make (total $9 per round turn trade), with average spreads of 0.45 on the EUR/USD, according to October 2018 data from FxPro.
FxPro's floating rate model (variable spread) is available on MT4 and MT5, with EUR/USD spreads of 1.2 for accounts on market execution and 1.4 for accounts with instant execution, as per October 2018 data from FxPro.
When comparing commission-based pricing, FxPro's all-in spreads (total cost of a trade) are roughly 1.35 pips (0.45 spread + 0.9 commission) using the EUR/USD example above on cTrader.
This pricing is comparable to competitors such as OANDA, forex.com, FXCM, IG, and Saxo Bank in their standard account offerings, but traders who do higher volumes or have larger deposits can receive more competitive pricing on Active Trader programs available at FXCM, IG, FOREX.com, and Saxo Bank.
Meanwhile, the spreads on MT4 and MT5 are more comparable to pricing from OANDA, CMC Markets, and Plus500, even though the account type and execution model may vary.
Overall, with the market and instant execution accounts available, traders have multiple options at FxPro when it comes to commissions and fees, which helps the broker cater to the entire spectrum of forex traders.
| | FxPro |
| --- | --- |
| Average Spread EUR/USD - Standard | 1.20 |
| All-in Cost EUR/USD - Active | 1.35 |
| Active Trader or Premium/VIP | Yes |
Customer Service
For our 2018 Forex Review, 129 customer service phone tests were conducted over three months. The data collected is institutional grade. On average, three questions were asked for each test. To score each test, the tests were divided into three separate groups and scores were given for the time taken to connect with each support representative and the ability of each representative to professionally (and thoroughly) answer each question. A Net Promoter Score was also given for the overall experience.
Results:
Average Connection Time: <1 minute
Average Net Promoter Score: 7.33 / 10
Average Professionalism Score: 6.2 / 10
Overall Score: 7.3 / 10
Ranking: 12th (43 brokers)
Research
FxPro provides daily updates on its blog, which has rich content from FxPro analysts and news streaming in its platforms from Dow Jones news wire.
Overall, research is robust at FxPro. The company combines its in-house content with research from several external providers, which it integrates within the trading platforms.
FxPro also provides Trading Central, a leading news and research provider that develops automated pattern-recognition solutions, which is available within the FxPro cTrader platform (web) and MT4 as a plugin. FxPro previously offered Auto Chartist, although that service was discontinued by the broker in 2017.
Overall, research is robust at FxPro. The company combines its in-house content with research from several external providers, which it integrates within the trading platforms.
Competitors that are comparable to FxPro in terms of in-house research and breadth of content include Saxo Bank, IG, and CMC Markets from the multi-asset providers, and then OANDA, FXCM, and GAIN on Forex-related content.
| | FxPro |
| --- | --- |
| Daily Market Commentary | Yes |
| Forex News (Top-Tier Sources) | Yes |
| AutoChartist | No |
| Trading Central (Recognia) | Yes |
| Delkos Research | No |
| Acuity Trading | No |
| Social Trading / Copy-Trading | Yes |
| Social Sentiment - Currency Pairs | Yes |
| Client Webinars | Yes |
| Client Webinars (Archived) | Yes |
| Videos - Beginner Trading Videos | Yes |
| Economic Calendar | Yes |
| Calendar Includes Forecasts | Yes |
| Economic News Sentiment | Yes |
| Trade Ideas - Backtesting | Yes |
Platforms & Tools
FxPro has an overall balanced offering in terms of pricing options and its range of tradable asset classes and markets, and caters to both beginners and those who develop or use automated trading systems on the MT4, MT5, and/or cTrader platforms.
Traders on the MT4 or MT5 platforms who use automated trading systems and are known as 'expert advisors' (EAs), can choose between the desktop or mobile versions of both platforms with either floating or fixed spreads, and instant execution.
FxPro also offers a web-based version of MT4 that is a lighter version of the desktop platform and can be accessed through any Java-enabled compatible web browser.
The cTrader web-based platform at FxPro packs advanced charting tools within a smooth design layout and features narrows spreads with commission-based pricing.
The web version of the cTrader platform at FxPro leverages HTML 5 technology for its responsive layout and is very easy to navigate, with great attention to detail in the user experience (UX) design.
The web version of the cTrader platform at FxPro leverages HTML 5 technology for its responsive layout and is very easy to navigate, with great attention to detail in the user experience (UX) design. Moving across sections of the platform and navigating sub-categories was seamless on the cTrader web platform at FxPro.
One miscellaneous note, in 2017 FxPro launched FX Pro Markets, which is another version of the cTrader platform branded for its clients. FX Pro Markets comes with nearly all functionality found in the cTrader platform, except for automated trading capabilities.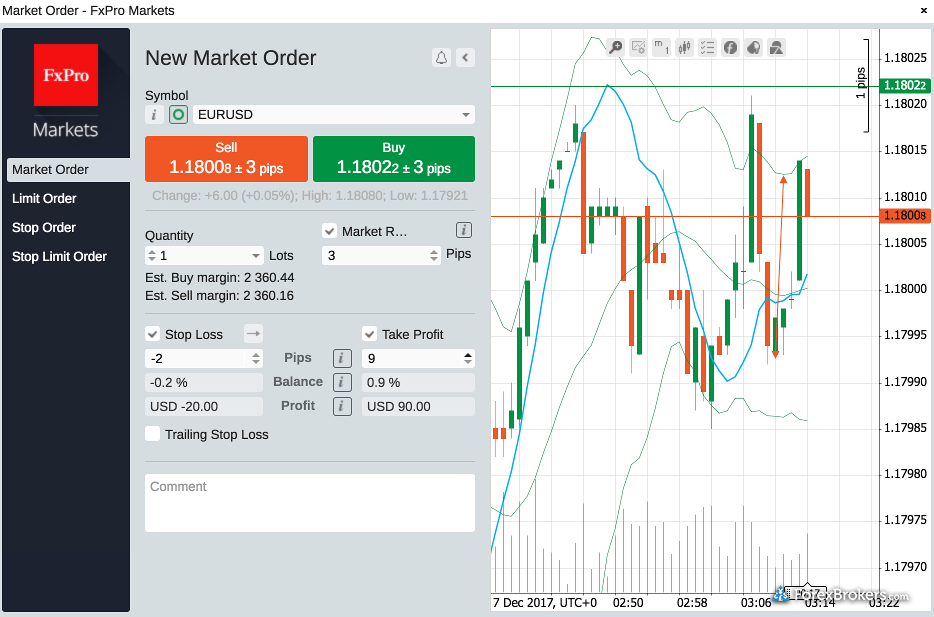 The desktop version of the cTrader platform ran smoothly on Windows 10 and contains an algorithmic trading functionality via its cBots feature, as well as trading ideas that are displayed as visual targets within charts.
This version of the platform we tested was packed with more features than the web-based version, including trade statistics, equity charts, and journal tabs within the bottom-right quadrant of the default platform layout.
Lastly, for traders interested in cryptocurrency, Bitcoin trading as a CFD under the cryptocurrency pair BTC/USD is available on both MT4 and cTrader, along with several other cryptocurrency pairs. This cryptocurrency CFDs offering is initially available to clients who hold an account with FxPro's UK and/or Bahamas entity.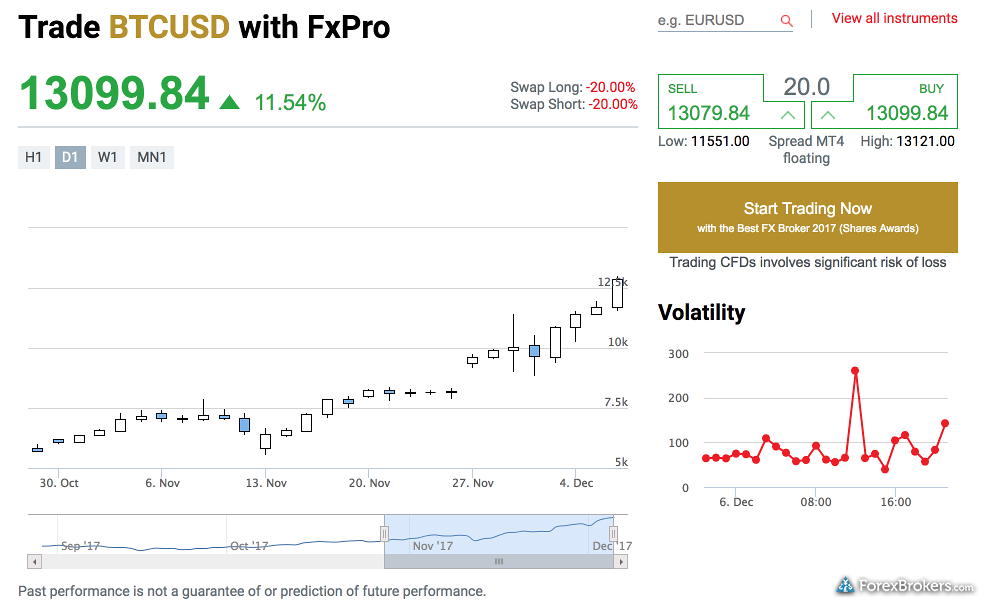 Overall, FxPro provides multiple platform options, giving traders a diverse selection of options depending on their trading style. All variables considered, FxPro finished middle of the pack for the Platforms & Tools category in our 2018 Review. It's good offering, just not award winning.
| | FxPro |
| --- | --- |
| Virtual Trading (Demo) | Yes |
| Desktop Platform (Windows) | Yes |
| Desktop Platform (Mac) | No |
| Web Platform | Yes |
| Social Trading / Copy-Trading | Yes |
| Proprietary | No |
| MetaTrader4 (MT4) | Yes |
| MetaTrader5 (MT5) | Yes |
| cTrader | Yes |
| Currenex | No |
| ZuluTrade | No |
| MirrorTrader | No |
| Charting - Drawing Tools (Total) | 31 |
| Charting - Indicators / Studies (Total) | 51 |
| Watchlists - Total Fields | 7 |
| Order Type - Trailing Stop | Yes |
Mobile Trading
The platforms FxPro offers for mobile trading currently, just like the desktop and web-based platforms, are from third-party developers, including MetaQuotes Software Corporation and Spotware Systems.
Although these platforms come with mostly native features, some areas are not native, such as the pricing and execution model, reporting features, and other areas that may or may not be disabled or customized by the broker.
While reviewing the mobile app for FxPro Markets, the white-labeled version of the cTrader platform, the interface and layout were consistent, with the web-based version of the platform FxPro offers, and navigation was easy and intuitive. This mobile app ranks highly overall, compared to other mobile apps such as MT4 from third-party developers.
The mobile versions of the MT4 and MT5 platforms are also standard from the developer with native features, aside from pricing, the execution model, and features such as back office-related reporting, as well as news feeds and other areas that can be customized by the broker.
While we did not review the mobile versions of FxPro's MT4 and MT5 platforms, we expect them to be consistent with the configuration settings of the desktop versions FxPro offers.
| | FxPro |
| --- | --- |
| Android App | Yes |
| Apple iOS App | Yes |
| Charting - Draw Trend Lines | Yes |
| Charting - Can Turn Horizontally | Yes |
| Charting - Technical Studies/Indicators | 30 |
| Watch List Syncing | Yes |
| Trading - Forex | Yes |
| Trading - CFDs | Yes |
| Alerts - Basic Fields | Yes |
Other Notes
The margin call threshold varies across account types at FxPro, as does the execution and tier-liquidity process, which follows a volume-weighted average price (VWAP) when orders are executed.
This means that, depending on account type, traders should check the related margin requirements as they will vary according to account type or platform. The stop-out level when margin calls are triggered (as well as how a margin call is handled) is different in a cTrader account than it is in MT4.
For example, a more aggressive trading strategy that uses higher leverage may get stopped out faster on cTrader than on MT4, although cTrader recently revised its stop-out logic, so that only certain trades are closed during a margin call, compared to all trades being liquidated.
With regard to tier-liquidity and order execution, certain account types, such as an instant execution account, could be subject to requotes, whereas a market execution account will not, yet these accounts can be subject to either positive or negative slippage. This is common among brokers who offer these execution types, and offers traders greater options, depending on their execution needs.
FxPro publishes quarterly execution statistics showing the degree of any positive or negative slippage across all of its executed orders in an effort to bring greater transparency to its execution process.
As some trading strategies are more sensitive to certain execution modes or account type-related pricing, each offering should be examined on a case-by-case basis, depending on a client's specific trading needs at any given time.
Final Thoughts
Of the many dozens of brokers that were regulated by the Cyprus Securities and Exchange Commission (CySEC) over the past decade, many failed, but FxPro emerged to earn its spot among the leading brokers, not only in Cyprus but also globally. Its ascent has been helped by the addition of its FCA authorization in the UK.
It would be great to see FxPro obtain additional licenses in other major regulatory hubs, such as Canada, the US, Australia, Hong Kong, and Singapore, as several of its major competitors have, including IG, CMC Markets, OANDA, FXCM, and FOREX.com.
FxPro has a rich platform offering, and the inclusion of MT4 web is an added benefit as many MT4 brokers do not offer the web-based version of the platform, and MT5 platform further complement FxPro's value proposition to traders.
Overall, FxPro caters to the needs of a diverse range of traders due to its various orders and account types, as well as its execution and pricing models, which offer instant execution, and floating or fixed spreads.
Methodology
For our 2018 Forex Broker Review we assessed, rated, and ranked 43 international forex brokers. Each FX broker was graded on 140 variables. Learn more.
Forex Risk Disclaimer
"There is a very high degree of risk involved in trading securities. With respect to margin-based foreign exchange trading, off-exchange derivatives, and cryptocurrencies, there is considerable exposure to risk, including but not limited to, leverage, creditworthiness, limited regulatory protection and market volatility that may substantially affect the price, or liquidity of a currency or related instrument. It should not be assumed that the methods, techniques, or indicators presented in these products will be profitable, or that they will not result in losses."Learn more.
---
Reviewed by Steven Hatzakis Steven Hatzakis is the Global Director of Research for ForexBrokers.com. Steven previously served as an Editor for Finance Magnates, where he authored over 1,000 published articles about the online finance industry. Steven is an active fintech and crypto industry researcher and advises blockchain companies at the board level. Over the past 19 years, Steven has held numerous positions within the international forex markets, from writing to consulting to serving as a registered commodity futures representative.
FxPro Competitors
Select one or more of these brokers to compare against FxPro.
---
Ratings Overall
Summary
Commissions & Fees
Offering of Investments
Platforms & Tools
Research
Customer Service
Mobile Trading
Education
---
Commissions & Fees
Commission Notes
On FxPro MT4 you can choose variable or fixed spreads. For the variable spread pricing, there are two types of execution-based pricing, instant and market. .
The spreads for "Instant" execution will be slightly wider (avg. spread EUR/USD 1.4, using October 2018 data from FxPro) as an extra premium is added to help buffer orders so that they are filled faster and can be subject to slippage or requotes.
The "Market" execution mode will show tighter spreads (avg. spread EUR/USD 1.2) yet can be subject to positive or negative slippage depending on market conditions – yet are not requoted.
On FxPro MT5 there is no fix spread offering, and only market execution is available where orders are executed at the volume-weighted average price (VWAP).
Similarly, on FxPro cTrader there is no fixed spread model, and market execution is used, yet spreads drop considerably (avg. EUR/USD spread 0.45 using October 2018 data from FxPro) and a round-turn (RT) commission of $90 per million per trade is added ($45 per side) bringing the all-in cost to 1.35 pips.
Compare FxPro
Find out how FxPro stacks up against other brokers.