ForexBrokers.com is committed to the highest ethical standards and reviews services independently. Advertiser Disclosure
CMC Markets Review
CFDs are complex instruments and come with a high risk of losing money rapidly due to leverage. 79% of retail investor accounts lose money when trading CFDs. You should consider whether you understand how CFDs work and whether you can afford to take the high risk of losing your money. This content is intended for information and educational purposes only and should not be considered investment advice or investment recommendation.
Through its offices regulated in major global financial centers, CMC Markets offers traders a wide range of financial products with excellent pricing and its Next Generation trading platform, which is packed with innovative trading tools and charting.
Top Takeaways for 2020
After spending five months testing 30 of the best forex brokers for our 4th Annual Review, here are our top findings on CMC Markets:
Founded in 1989, CMC Markets is publicly-traded, and regulated in four tier-1 jurisdictions alongside two tier-2 jurisdictions, making it a safe broker (low-risk) for forex and CFDs trading.
CMC Markets is a leader for low-cost trading and Professional Trading, which includes the largest selection of currency pairs in the industry. Our testing also found Customer Service to be excellent.
The CMC Markets Next Generation platform delivers terrific tools, comprehensive market research, an excellent mobile app, and a massive selection of nearly 10,000 tradeable instruments. And, while limited to just 54 available symbols, MetaTrader is also offered for MT4 preferred traders.
Overall Summary
| Feature | CMC Markets |
| --- | --- |
| Overall | |
| Trust Score | 99 |
| Offering of Investments | |
| Commissions & Fees | |
| Platform & Tools | |
| Research | |
| Mobile Trading | |
| Customer Service | |
| Education | |
Offering of Investments
The following table summarizes the different investment products available to CMC Markets clients.
Offering Comparison
| Feature | CMC Markets |
| --- | --- |
| Forex: Spot Trading | Yes |
| Currency Pairs (Total Forex pairs) | 180 |
| CFDs - Total Offered | 9848 |
| Social Trading / Copy-Trading | Yes |
| Cryptocurrency traded as actual | No |
| Cryptocurrency traded as CFD | Yes |
Commissions & Fees
If trading costs matter to you, CMC Markets has you covered. In 2020, CMC Markets finished Best in Class in this category, thanks to its low spread offering, which is available to all its customer segments and account types.
Average spreads: CMC Markets offers highly competitive pricing, with average spreads on the EUR/USD as low as 0.7 pips and typical spreads of 0.81 pips, according to CMC Markets price data for the month of October 2019.
Rebates: CMC Markets offers liquidity rebates to active traders that surpass at least $25 million in notional trading volumes per month. Liquidity rebate levels range from $5 to as much as $10 per million for those that trade even higher amounts.
VIP accounts: CMC Markets Alpha offering is a VIP account launched through its Australia entity for high-net-worth clients who have $3K in commission spend or have more than $2.5m in holdings.
Guaranteed Stop-Loss Order (GSLO): CMC Markets offers GSLOs, which, as its name implies, guarantees the stop-loss order rate clients choose when setting risk thresholds on their positions. There is a premium for using the GSLO – for example, $8 per 100,000 units using the EUR/USD, and the GSLO also affects the prime margin, which is the amount at risk specified in the GLSO based on the rate chosen. Most brokers charge for GSLOs, although if not triggered, CMC Markets refunds this cost automatically.
Gallery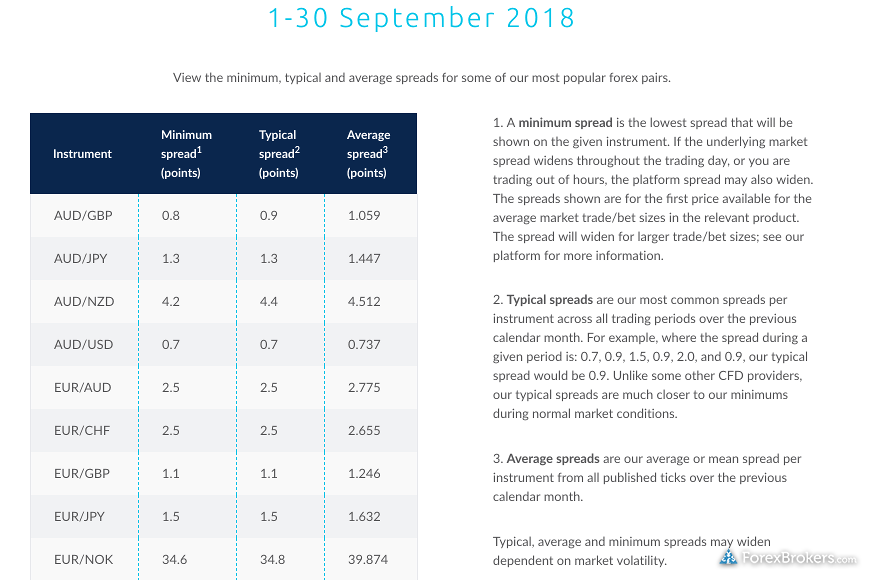 Fees Comparison
| Feature | CMC Markets |
| --- | --- |
| Minimum Initial Deposit | $0.00 |
| Average Spread EUR/USD - Standard | 0.81 (as of Oct 19) |
| All-in Cost EUR/USD - Active | 0.81 (as of Oct 19) |
| Active Trader or VIP Discounts | Yes |
Platforms & Tools
CMC Markets Next Generation trading platform is fast, reliable, and comes packed with several unique tools and numerous features to support traders of all skill levels. No question, it is a market leader and will impress even the pickiest of traders. That's why in 2020 Next Generation won our award as the best Web Based Platform. And, for traders who prefer MetaTrader 4 (MT4), it too is also available as an alternative platform.
Charting: When it comes to charts, the experience is quite convincing as there are plenty of tools and a long list of 79 technical indicators and studies, and 74 chart patterns that are attachable to each chart. Another feature that stands out from the charting experience is the pattern-recognition tool, which offers traders numerous options for trading and analyzing price action. Patterns auto-adjust when the chart time-scale is changed, enabling traders to scan from a one-minute chart to a monthly chart and see any respective patterns identified.
Automated trading: The current version of the Next Generation platform doesn't feature the ability to run automated trading strategies – even though pattern recognition and social-trading tools are available. Trader's looking for automated trading can choose the broker's MT4 platform offering.
Gallery
Research
CMC Markets' research offering is rich with in-house content, including its Insights News, CMC Markets Blog, CMC TV, and even publishes a print magazine called Opto, as well as third-party content from Reuters and Morningstar. Traders can also access additional tools within the platform, including pattern recognition software and client sentiment tools – both of which are available to live account holders.
Gallery
Mobile Trading
The CMC Markets' mobile app is cleanly designed and comes packed with multiple research tools, powerful charts, pre-defined watch lists for scanning, and much more.
Seamless platform experience: The overall look and feel of the CMC Markets mobile app closely resemble the web-based version of the Next Generation platform. No question, ample time was invested in the app's development, especially given the challenge of organizing so much information with limited screen space.
Charting: Like much of the rest of the app, charting was just as impressive as the platform's web version. Although only 29 of the 81 technical indicators are available on the mobile app, it's still a strong offering compared to many of CMC Markets' competitors, which often lack technical indicators altogether. While the charting experience was impressive, one minor drawback is that zooming in and out across different time frames was not always fluid.
Market research: For research purposes, another useful feature in the app is the economic calendar where you can subscribe to an event. Once subscribed to an event, an alert will notify you when the news release time approaches. There is also CMC TV, CMC Insights, the broker's blog, Reuters News, educational content for trading strategies, the Trading Smart series, and webinar schedules.
Other tools: The pre-defined watch lists in the CMC Markets mobile app are great for identifying trade opportunities. Watch lists include popular products, price movers, and currently trending categories.
Gallery
Customer Service
To score Customer Service, ForexBrokers.com partnered with customer experience research group Customerwise to conduct phone tests from locations throughout the UK. For our 2020 Review, 330 customer service tests were conducted over six weeks.
Results
Average Connection Time: <1 minute
Average Net Promoter Score: 7.7 / 10
Average Professionalism Score: 8.5 / 10
Overall Score: 8.22 / 10
Ranking: 6 th (22 brokers)
Final Thoughts
CMC Markets is a great choice for forex and CFD traders. The company's Next Generation platform is powerful and versatile, with plenty of configuration options and tools for traders to customize the platform to meet their needs. CMC Markets finished Best in Class across eleven categories in 2020, continuing its streak near the top of the Industry in all key areas including as one of the most trusted brokers.
With nearly 10,000 instruments to choose from across nearly every asset class and global market, CMC Markets is a great choice for traders looking for a multi-asset solution and broad range CFDs and forex pairs at competitive prices. The broker's expansion into stockbroking in Australia, coupled with its frequent trader program and Alpha service for VIP clients, helps CMC Markets further distinguish itself as a brilliant multi-asset broker.
About CMC Markets
Founded in 1989, CMC Markets (LSE: CMCX) has grown to become one of the leading retail forex, and CFD brokerages globally. The broker offers an extensive range of nearly 10,000 CFD instruments across major asset classes, including forex, commodities, and securities markets.
CMC Markets serves over 50,000 clients worldwide through its 15 offices globally, with a staff count of 687 people across its entities regulated in the UK, Canada, and Australia. CMC Markets holds over £200 million in Tier 1 regulatory capital and £332.4 million in client segregated funds as per its latest annual report. The company has a market capitalization of over £290 million as of September 2019. Read more on Wikipedia about CMC Markets.
CMC Markets Trading Features
| Feature | CMC Markets |
| --- | --- |
| Virtual Trading (Demo) | Yes |
| Proprietary Platform | Yes |
| Desktop Platform (Windows) | Yes |
| Web Platform | Yes |
| Social Trading / Copy-Trading | Yes |
| MetaTrader 4 (MT4) | Yes |
| MetaTrader 5 (MT5) | No |
| cTrader | No |
| Charting - Indicators / Studies (Total) | 79 |
| Charting - Drawing Tools (Total) | 24 |
| Charting - Trade From Chart | Yes |
| Watchlists - Total Fields | 8 |
| Order Type - Trailing Stop | Yes |
CMC Markets Research Features
| Feature | CMC Markets |
| --- | --- |
| Daily Market Commentary | Yes |
| Forex News (Top-Tier Sources) | Yes |
| Weekly Webinars | Yes |
| AutoChartist | No |
| Trading Central (Recognia) | Yes |
| Delkos Research | No |
| Social Sentiment - Currency Pairs | Yes |
| Economic Calendar | Yes |
CMC Markets Mobile App Features
| Feature | CMC Markets |
| --- | --- |
| Android App | Yes |
| Apple iOS App | Yes |
| Trading - Forex | Yes |
| Trading - CFDs | Yes |
| Alerts - Basic Fields | Yes |
| Watch List | Yes |
| Watch List Syncing | Yes |
| Charting - Indicators / Studies | 23 |
| Charting - Draw Trend Lines | Yes |
| Charting - Trend Lines Moveable | Yes |
| Charting - Multiple Time Frames | Yes |
| Charting - Drawings Autosave | Yes |
| Forex Calendar | Yes |
2020 Review Methodology
For our 2020 Forex Broker Review we assessed, rated, and ranked 30 international forex brokers over a five month time period. Each broker was graded on 105 different variables and, in total, over 50,000 words of research were produced.

While encouraged, broker participation was optional. Each broker had the opportunity to complete an in-depth data profile and provide executive time (live in person or over the web) for an annual update meeting.

All data submitted by brokers is hand-checked for accuracy. Ultimately, our rigorous data validation process yields an error rate of less than 1% each year, providing site visitors quality data they can trust. Learn more about how we test.
Forex Risk Disclaimer
"There is a very high degree of risk involved in trading securities. With respect to margin-based foreign exchange trading, off-exchange derivatives, and cryptocurrencies, there is considerable exposure to risk, including but not limited to, leverage, creditworthiness, limited regulatory protection and market volatility that may substantially affect the price, or liquidity of a currency or related instrument. It should not be assumed that the methods, techniques, or indicators presented in these products will be profitable, or that they will not result in losses." Learn more.
---
About the author: Steven Hatzakis Steven Hatzakis is the Global Director of Research for ForexBrokers.com. Steven previously served as an Editor for Finance Magnates, where he authored over 1,000 published articles about the online finance industry. Steven is an active fintech and crypto industry researcher and advises blockchain companies at the board level. Over the past 20 years, Steven has held numerous positions within the international forex markets, from writing to consulting to serving as a registered commodity futures representative.