Known for its powerful options trading platform that also offers stocks and forex trading, thinkorswim was acquired by major US brokerage house TD Ameritrade (NASDAQ: AMTD) in 2009 and has since continued to evolve as an innovative brand under the company.
Under its CFTC-regulated entity, TD Ameritrade Futures and Forex LLC, TD Ameritrade remains one of the few regulated brokerages to still offer retail forex trading in the United States. The brand continues to benefit from the backing of its parent company for both technology innovation and customer support resources.
Commissions & Fees
TD Ameritrade's fees for trading forex on thinkorswim vary depending on whether you choose the commission-free pricing available as a separate FX contract or the commission-based contract from within the platform each time you submit an order for execution.
For example, on the commission-based model, while the EUR/USD spread was 0.30 pips, including a commission of 2.00 pips round-turn (all-in cost 2.3 pips), at the same time, the same spread on the non-commission EUR/USD contract was 0.90 pips, making it a more attractive spread at a 60% discount, using random spread data.
| View All Fees | TD Ameritrade | Interactive Brokers | OANDA | Saxo Bank | Forex.com |
| --- | --- | --- | --- | --- | --- |
| All-in Cost EUR/USD - Active | N/A | N/A | 1.000 | 0.600 | 0.700 |
| All-in Cost GBP/USD - Active | N/A | N/A | 1.500 | 0.900 | 1.300 |
| Average Spread GBP/USD - Standard | N/A | N/A | 1.700 | 1.300 | 1.700 |
| Average Spread EUR/USD - Standard | N/A | N/A | 1.200 | 1.000 | 1.300 |
| Overall | | | | | |
| Commissions & Fees | | | | | |
While we were not able to obtain any average spreads published by TD Ameritrade, we looked at sample real-time price quotes for its major forex pairs to make a general comparison from within the platform. It's also worth noting that thinkorswim uses GAIN Capital, the owner of FOREX.com, as its liquidity provider to handle its forex execution (for both pricing options).
Customer Service
For our 2018 Forex Review, 129 customer service phone tests were conducted over three months. The data collected is institutional grade. On average, three questions were asked for each test. To score each test, the tests were divided into three separate groups and scores were given for the time taken to connect with each support representative and the ability of each representative to professionally (and thoroughly) answer each question. A Net Promoter Score was also given for the overall experience.
Results:
Average Connection Time: <1 minute
Average Net Promoter Score: 9.3 / 10
Average Professionalism Score: 9.1 / 10
Overall Score: 9.2 / 10
Ranking: 1st (43 brokers)
Research
The thinkorswim platform from TD Ameritrade is loaded with powerful research tools, including a set of several detailed screeners, such as the Stock Hacker, and live CNBC news feeds alongside additional 3rd party sources such as Dow Jones, Thomson Reuters, and Morningstar.
There are also a detailed economic calendar and fundamental analysis tools that offer traders a diverse arsenal of means to research the markets, including in video format.
Beyond the basics normally found in an economic calendar, thinkorswim adds smart features such as the ability to filter the calendar based on various news events, and even set alerts on upcoming events relevant to your portfolio.
Numerous social features developed from in-house and third parties are also found on the platform, including the Social Signals service that pulls insights from Twitter, adding to the broad range of research and content that TD Ameritrade delivers.
Platforms & Tools
After installing thinkorswim and navigating the variety of menus, it quickly becomes clear that the platform has numerous tools and features packed within. For my review, I focused primarily on the forex specific functionality.
All in all, the number of positive features in the thinkorswim platform far exceeds any negative attributes.
Instead of grouping all products into the same area, thinkorswim separates them out into individual tabs, which makes trading streamlined and efficient. Under the Forex Trader module, rates are displayed for six currency pairs by default. Users can choose from 77 different forex pairs, and each pair lives in its own module that can be further customized.
Within each forex quote window, there is a sidebar that lets you quickly show or hide different views just for that currency pair. Although this feature was difficult to use the first time because the layout adjusts on the fly, I quickly got the hang of it and found the extra optional layer of customization to be a net benefit. Also, if six pairs isn't enough for you, you can easily adjust the grid to accommodate up to 24 pairs at once in a 4x8 configuration. A nice touch.
Moving to the charting section, I was impressed to find nearly 400 technical indicators – by far the most in the industry. Without question, technical analysis enthusiasts will quickly fall in love with the endless depth available to them, including the ability to use thinkScripts for algorithmic trading, as well the ability to create push notifications and alerts on individual indicators.
If having access to 397 indicators wasn't enough, each one can be customized then grouped and saved into sets. This allows for clean charts themed to whatever analysis you desire. Furthermore, by using the thinkScripts tool, you can modify and create new indicators, which is a similar functionality to custom indicators in the MT4 platform or the JForex3 platform from Dukascopy
Aside from the powerful charts, the heatmap is another highly configurable tool that lets you explore indices and various sectors in incredible detail. It is conveniently located in the watchlist module so you can create custom lists and heatmaps based on items already on your watchlists.
All in all, the number of positive features in the thinkorswim platform far exceeds any negative attributes. The platform takes time to learn; however, the plethora of tools and depth are well worth the patience required. TD Ameritrade finished Best in Class for Platform & Tools in our 2017 Forex Review.
Mobile Trading
The thinkorswim mobile app, available for iOS and Android devices, comes packed with a ton of features, ranging from charting with several hundred indicators to creating advanced Blast orders, all organized neatly in a modern, user-friendly way.
One feature that stands out is how available order types are displayed visually.
I tested the app on my Samsung Galaxy S7 Edge and logged into the paper trading demo where exploring the app was made easy, thanks to a clean side navigation menu. The colors, clean sleek lines and overall design give the mobile experience a premium feel.
One feature that stands out is how available order types are displayed visually. For example, choosing a Blast order will let you create a multitude of orders and place them all at the same time. Alternatively, using a "1st triggers sequence" order will let you create an order that will trigger a sequence of other orders, similar to a One Triggers Other (OTO) order.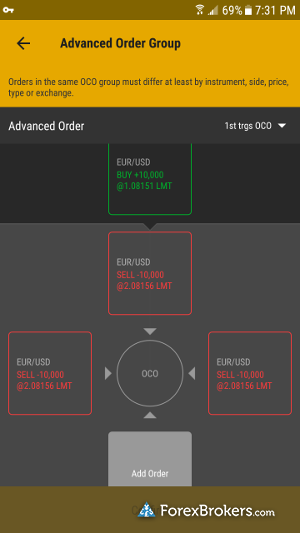 In terms of research in the app, the same calendar experience from the desktop platform is present for filtering news events by symbol, watchlist, or account positions. This filtering makes sense and ensures that traders will always view the news that is most relevant to their portfolios, including global economic indicator events for forex traders.
Charting is also robust, as the thinkorswim app includes over 300 optional indicators and trendlines can be drawn on the chart. When indicators are added to a chart, they become the default template when other charts are opened or when logging back in (i.e .they are automatically saved).
It is worth noting that watch lists in the app are highly customizable, and while there wasn't a default forex themed watch list to choose from, creating one from scratch was easy.
Overall, TD Ameritrade's innovative mobile app competes with industry leaders such as FXCM, FOREX.com, and OANDA. For Mobile Trading, TD Ameritrade finished 3rd.
Other Notes
In addition to trading forex, TD Ameritrade's FX offering also supports additional forex instruments such as options and futures on pairs, as well as the US Dollar Index.
For cryptocurrency trading, clients can trade Bitcoin futures as well as the first exchange-traded Bitcoin product, Greyscale's Bitcoin Investment Trust (Ticker $GBTC).
Final Thoughts
With nearly 80 currency pairs to trade alongside a plethora of trading tools and research, TD Ameritrade's thinkorswim platform provides US-based forex traders a winning solution. The one drawback is that thinkorswim's tools are mostly built for trading other asset classes such as equities and options, but this is merely a minor distraction.
All variables considered, TD Ameritrade delivers. The broker finished 6th overall out of 43 brokers in our 2018 Review.
Methodology
For our 2018 Forex Broker Review we assessed, rated, and ranked 43 international forex brokers. Each FX broker was graded on 148 variables. Learn more.
Forex Risk Disclaimer
"There is a very high degree of risk involved in trading securities. With respect to margin-based foreign exchange trading, off-exchange derivatives, and cryptocurrencies, there is considerable exposure to risk, including but not limited to, leverage, creditworthiness, limited regulatory protection and market volatility that may substantially affect the price, or liquidity of a currency or related instrument. It should not be assumed that the methods, techniques, or indicators presented in these products will be profitable, or that they will not result in losses."Learn more.
View all TD Ameritrade FX Fees & Features
---
Reviewed by Steven Hatzakis Steven Hatzakis is the Global Director of Research for ForexBrokers.com. Steven previously served as an Editor for Finance Magnates, where he authored over 1,000 published articles about the online finance industry. Over the past 18 years, Steven has held numerous positions within the international forex markets, from writing to consulting to serving as a registered commodity futures representative.
TD Ameritrade FX Competitors
Select one or more of these brokers to compare against TD Ameritrade FX.
---
Ratings Overall
Summary
Commissions & Fees
Offering of Investments
Platforms & Tools
Research
Customer Service
Mobile Trading
Education
Best in Class
Overall Ranking
Commissions & Fees
Platform & Tools
Customer Service
Mobile Trading
Platform & Tools
Mobile Trading
Compare TD Ameritrade FX
Find out how TD Ameritrade FX stacks up against other brokers.