Founded in 1999, FOREX.com is part of GAIN Capital Holdings (NYSE:GCAP), which through its trading names and subsidiaries, including the City Index brand, today operates in multiple countries and with licenses in several major regulatory hubs, including the US, UK, Canada, Japan, and Australia.
Through its international offices, the GAIN Capital group caters to over 200,000 retail and institutional clients, and offers 84 currency pairs in foreign exchange markets and over 200 CFDs across major asset classes through its FOREX.com brand. More recently, GAIN Capital launched Bitcoin as a CFD out of its UK entity, and Bitcoin futures through its US-regulated brand, catering to the growing demand for cryptocurrency accessibility.
FOREX.com combines economic news, technical analysis, and automated trading tools within its Advanced Trading platform, and offers the MetaTrader4 (MT4) platform developed by MetaQuotes Software Corporation, as well as GAIN Capital's GTX ECN platform for institutional traders. In 2017, FOREX.com integrated the Trading View web platform, branded as Web Trading, and acquired the US customers of FXCM, marking the tenth acquisition since its IPO in 2010.
Trust Score
Trading with a forex broker traders can trust is crucial to success. Unfortunately, forex fraud and scams are common in the industry.
Here at ForexBrokers.com, we maintain the largest independent regulatory database available on the web. Using 28 different variables, we have created a proprietary 1-100 score (the higher the better) of overall trustworthiness, which we call the Trust Score. Here is our trust summary of FOREX.com.
| | FOREX.com |
| --- | --- |
| Trust Score | 92 |
| Year Founded | 1999 |
| Publicly-Traded Company (Listed) | Yes |
| Regulated in Major Hub | Yes |
| Regulated in Emerging Hub | Yes |
| Authorised in the European Union | Yes |
| CFTC Registered (USA) | Yes |
| FCA Regulated (UK) | Yes |
| IIROC Authorised (Canada) | Yes |
| FINMA Authorised (Switzerland) | No |
| ASIC Authorised (Australia) | Yes |
| SFC Authorised (Hong Kong) | Yes |
| MAS Authorised (Singapore) | Yes |
| FSA Authorised (Japan) | Yes |
| FMA Authorised (New Zealand) | No |
| CySEC Authorised (Cyprus) | No |
Offering of Investments
The following table summarizes the different investment products available to FOREX.com clients.
| | FOREX.com |
| --- | --- |
| Minimum Initial Deposit | $250.00 |
| Currency Pairs (Total Forex pairs) | 84 |
| CFDs - Total Offered | 97 |
| Exchange Traded Securities: US | No |
| Exchange Traded Securities: International | No |
| Cryptocurrency traded as actual | No |
| Cryptocurrency traded as CFD | Yes |
Commissions & Fees
FOREX.com's commission and fees vary per account type and are comparable to its peers, including FXCM, FxPro, Saxo Bank, IG, and other competitors, when calculating the total cost of a trade on major currency pairs such as the EUR/USD and across its various pricing plans for volume traders.
Typical spreads for mini and standard account holders were 1.3 pips on the EUR/USD using November 2017 data from FOREX.com. The table below shows the minimum spread in the left column, typical spreads in the middle column.
For high volume traders, FOREX.com offers an Active Trader program with five tiers of pricing. Level one starts with typical spreads of 1.2 pips on the EUR/USD for traders who have a balance of least $25,000. Spreads are further reduced with each subsequent level as traders surpass specific month-to-date (MTD) trading volume thresholds.
The most aggressive pricing, level five, is for traders who surpass $500 million in MTD volume. Under this pricing, spreads drop to 0.7 pips on the EUR/USD in the Active Trader program (again, referencing November 2017 data). To learn more about the commissions and spreads, see our detailed commission notes at the bottom of the page.
| | FOREX.com |
| --- | --- |
| Average Spread EUR/USD - Standard | 1.30 |
| All-in Cost EUR/USD - Active | 0.70 |
| Active Trader or Premium/VIP | Yes |
Customer Service
For our 2018 Forex Review, 129 customer service phone tests were conducted over three months. The data collected is institutional grade. On average, three questions were asked for each test. To score each test, the tests were divided into three separate groups and scores were given for the time taken to connect with each support representative and the ability of each representative to professionally (and thoroughly) answer each question. A Net Promoter Score was also given for the overall experience.
Results:
Average Connection Time: <1 minute
Average Net Promoter Score: 6.6 / 10
Average Professionalism Score: 7.1 / 10
Overall Score: 7.3 / 10
Ranking: 21th (43 brokers)
Research
FOREX.com does a great job in centralizing its research within the Advanced Trading desktop platform and keeping it well organized for clients to gain easy access from one place.
The majority of research within the platform is available alongside multiple news channels, and integrated next to automated pattern-recognition modules from AutoChartist, which filters emerging and current trade ideas based on technical analysis. The broker also offers Trading Central, which provides automated technical analysis, helping to complement its research offering.
Within the Advanced Trading desktop software, research tools include Volatility Analysis by Autochartist, Faraday TV and Faraday Market Movers, as well as Recognia Technical Insight and Analysis Views. The Insights tab provides blog updates from FOREX.com's global research team.
For traders seeking advanced signals, a premium package with trading signals from Faraday research is made available, which runs £720 per annum.
All in all, FOREX.com offers a wide array of research solutions that are balanced across its trading platforms.
| | FOREX.com |
| --- | --- |
| Daily Market Commentary | Yes |
| Forex News (Top-Tier Sources) | Yes |
| AutoChartist | Yes |
| Trading Central (Recognia) | No |
| Delkos Research | Yes |
| Acuity Trading | No |
| Social Trading / Copy-Trading | Yes |
| Social Sentiment - Currency Pairs | Yes |
| Client Webinars | Yes |
| Client Webinars (Archived) | No |
| Videos - Beginner Trading Videos | Yes |
| Economic Calendar | Yes |
| Calendar Includes Forecasts | Yes |
| Economic News Sentiment | Yes |
| Trade Ideas - Backtesting | Yes |
Platforms & Tools
FOREX.com offers multiple trading platforms including Advanced Trading (previously branded as FOREXTrader PRO) , Web Trading, and the popular MetaTrader4 (MT4) platform developed by MetaQuotes Software Corporation. To learn more about MT4, read our guide to MetaTrader. For this review, I focused on the broker's desktop platform and its recently launched Web Trading platform powered by Trading View. Starting with the desktop platform, Advanced Trading is FOREX.com's flagship platform and comes with a robust charting package loaded with a large selection of technical indicators and drawing tools.
Compared to our review last year, Advanced Trading has more than doubled the number of indicators on offer to 139, broadening its range of technical analysis capabilities.
Advanced Trading is well organized with a variety of features squeezed into a customizable layout that is simple to navigate with multiple tabs per window. Navigation is seamless thanks to a clean top row menu bar with subcategories, allowing users to easily switch between tools and make customizations.
Technical Analysis tools are available for both beginner and advanced traders within the charting module in the desktop version of Advanced Trading, including automated technical analysis from Autochartist, which scans the markets for completed and emerging patterns and trade ideas.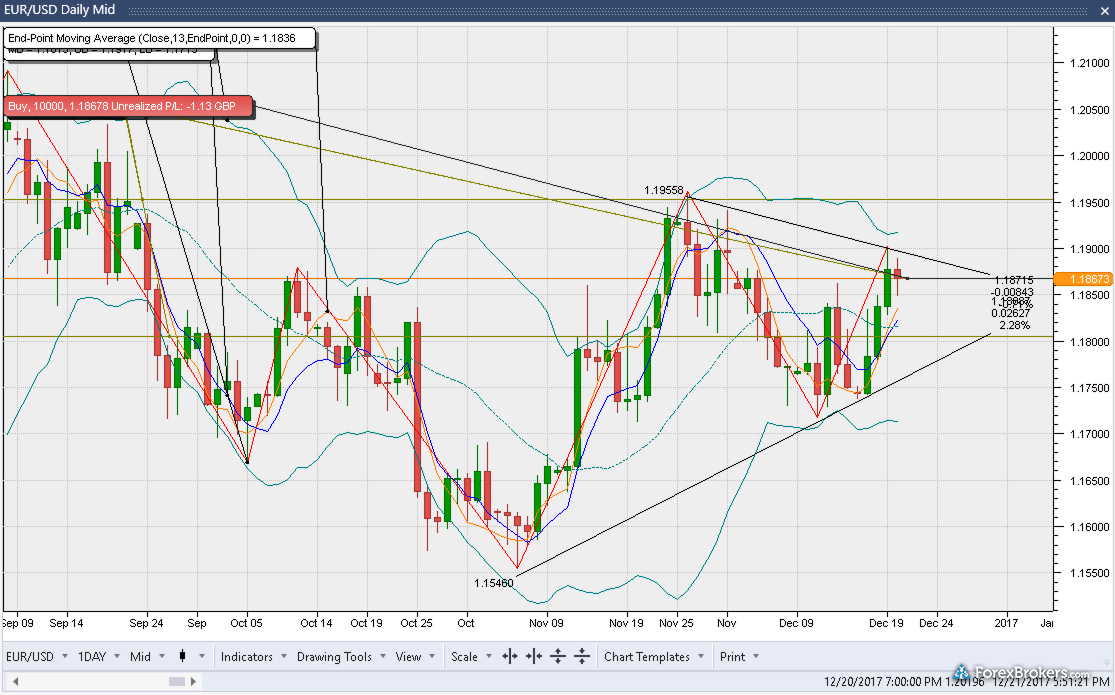 More advanced traders can develop their own automated trading systems from the Automated Trading Center located within the platform and choose from at least 100 strategies that are available by default.
Advanced Trading is also heavy in news and research, with a Market Update function, Forex Insider commentary, and Today's News powered by Reuters, in addition to an economic calendar with upcoming forecasts. FOREX.com also includes research published to its website, embedding the content directly into the platform.
Users can make many customizations to the default layout of the platform and save their settings for future access in case the default platform doesn't match their screen resolution or preferences.
Overall, the platform navigation is easy, and the various windows can be rearranged with a drag-and-drop feature – similar to other platforms, including FXCM's Trading Station. Advanced Trading has a host of other options that make the platform feel very rich, with many available configurations and parameters that can be customized.
The order ticket window on the desktop version of the platform has multiple options for order type and duration, among other parameters for adding stops and limits.
Traders can choose between market execution, which can be subject to slippage, or instant execution, which will only fill within a specified degree of tolerance or deviation from the requested price. The order ticket could be simplified, and may be too complex for beginners; on the other hand, experienced traders will probably find it highly accommodating.
A 'close all' button in the Advanced Trading desktop platform enables all open positions to be liquidated with a single click, similar to OANDA's close all button. This is a feature not all brokers offer; meanwhile, it can be useful for traders who want to exit all positions quickly.
Overall, the Advanced Trading desktop version is well suited to advanced retail traders, yet also provides beginners with user-friendly and intermediate features to help accelerate the learning process.
In 2017, FOREX.com replaced its web-based platform with a new platform called Web Trading, powered by technology from Trading View, which packs highly robust charting in an interactive user interface and design.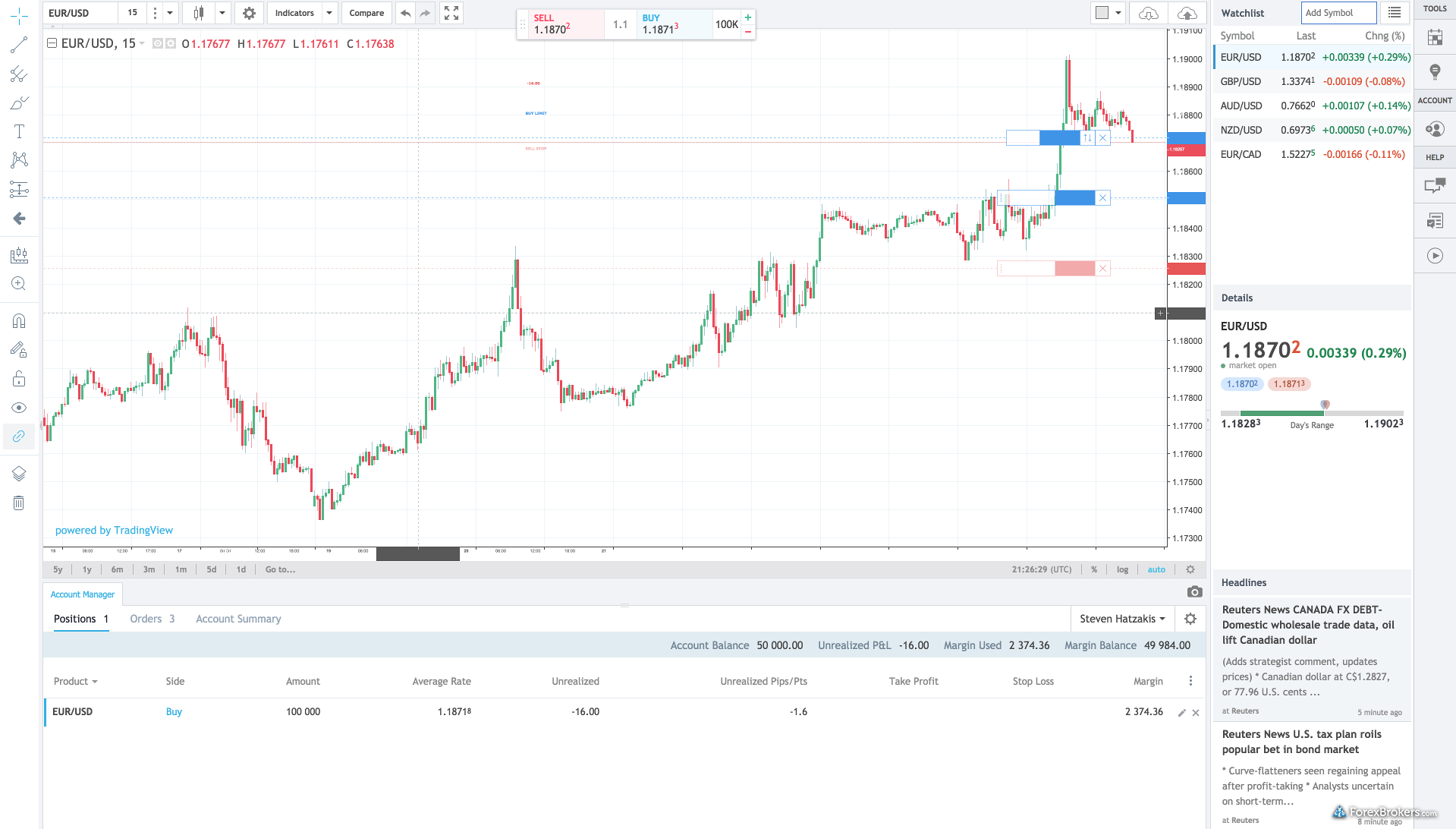 Compared to its predecessor, which required the Silverlight plugin, FOREX.com's new Web Trading platform runs on HTML5 and provides a smooth experience. Web Trading also has a simple yet robust trade ticket window, make it easy to configure order types from one place.
In addition, FOREX.com's DMA (Direct Market Access) Trading Account provides depth of book pricing and the ability for users to trade on prices sourced from interbank liquidity providers with no further spread mark-up.
The GTX Direct platform requires a minimum deposit of $100,000 for ECN access and provides tighter spreads, making it one of the company's most competitive offerings but more for institutional traders than typical retail investors.
| | FOREX.com |
| --- | --- |
| Virtual Trading (Demo) | Yes |
| Desktop Platform (Windows) | Yes |
| Desktop Platform (Mac) | No |
| Web Platform | Yes |
| Social Trading / Copy-Trading | Yes |
| Proprietary | Yes |
| MetaTrader4 (MT4) | Yes |
| MetaTrader5 (MT5) | No |
| cTrader | No |
| Currenex | No |
| ZuluTrade | No |
| MirrorTrader | No |
| Charting - Drawing Tools (Total) | 22 |
| Charting - Indicators / Studies (Total) | 139 |
| Watchlists - Total Fields | 11 |
| Order Type - Trailing Stop | Yes |
Mobile Trading
The AdvantageFX mobile app (previously known as FOREXTrader) comes available for iOS and Android. Running the app on my Samsung Galaxy S8+ was smooth thanks to clean navigation, and the app comes packaged with a host of features. FOREX.com also offers the popular MT4 mobile app. To learn more about MT4, read our guide to MetaTrader . For this review, I focused on the broker's AdvantageFX mobile app. Several of the highlight features include an economic calendar, alerts for live traders, market updates and news, and an easy way to scroll between prices, charts, and open positions.
The side menu provides easy access for you to get support via phone or live chat with FOREX.com; meanwhile, a number of educational videos for beginners are imbedded within the mobile app, and a FAQ section redirects users to the website from within the mobile app.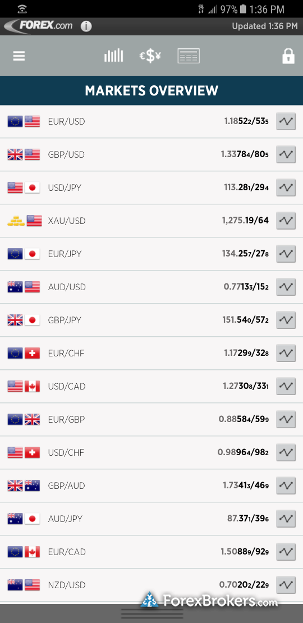 The app has undergone substantial improvements since our last review. Over that time, the app's enhancements include syncing watchlists and easier to user charts, which include nearly two down indicators and drawing tools.It was nice to see that indicators and drawing tools added in landscape mode are now automatically saved upon exiting the app.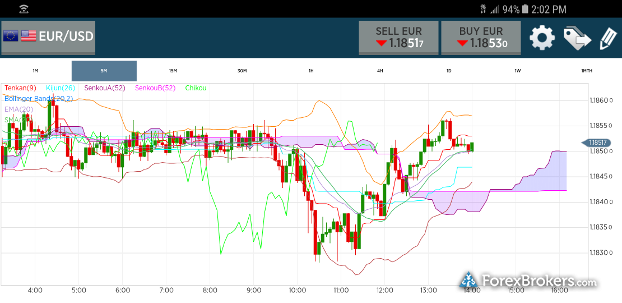 Overall, trading and managing positions within the mobile app were easy, thanks to its fluid user interface and minimalist design. The summary, rates, and news tabs are on the top row, while less important categories are nestled in the easy-to-access side menu. The AdvantageFX mobile app ranks highly with the mobile apps of other industry peers, including FXCM, OANDA, SAXO, and IG.
| | FOREX.com |
| --- | --- |
| Android App | Yes |
| Apple iOS App | Yes |
| Charting - Draw Trend Lines | Yes |
| Charting - Can Turn Horizontally | Yes |
| Charting - Technical Studies/Indicators | 26 |
| Watch List Syncing | No |
| Trading - Forex | Yes |
| Trading - CFDs | Yes |
| Alerts - Basic Fields | Yes |
Other Notes
FOREX.com is a market maker. This can be a positive attribute as its ability to execute a trade will not rely on a third party the way an agency broker does, and thus trading with FOREX.com can result in potentially better execution in challenging market conditions.
The City Index brand was acquired by GAIN Capital in 2015, and operates as a separate entity focusing on different regions of the world - even though certain staff at FOREX.com's UK office cater to clients from both businesses (which share a common office).
In 2017, FOREX.com rolled out cryptocurrency CFDs on Bitcoin in the UK, and Futures on Bitcoin in the US through its FuturesOnline affiliate that is wholly-owned by its parent company. And in 2018 the broker expanded its crypto CFD offering to include Bitcoin Cash, Ethereum, Litecoin, and Ripple, against three base currencies (EUR, GBP, and AUD).
Final Thoughts
GAIN Capital's FOREX.com offering combines numerous important features for beginners and advanced traders, and its product offerings are rich, with multiple channels for technical analysis and economic news content, along with automated trading tools via the Advanced Trading and MT4 platforms.
Considering the size of FOREX.com's parent company, GAIN Capital, its years in operation, and management expertise and regulatory licenses in major jurisdictions, the brand is trusted by over 145,000 clients globally and has nearly $1 billion in assets.
Beginners can test drive a Mini Account with a minimum deposit of $250 at FOREX.com. If you are looking to access a broader range of asset classes and lower Forex spreads on the EUR/USD pair for the same deposit range, close alternatives for mini accounts are IG, FxPro, CMC Markets, and Plus500.
Overall, FOREX.com is an attractive choice and offers competitive pricing across its selection of platforms and products, where experienced traders can access premium account status by depositing $25,000 or by trading at least $25 million in monthly notional volume (roughly 250 standard lots), and with highly competitive pricing available on FOREX.com's Active Trader account offering.
Methodology
For our 2018 Forex Broker Review we assessed, rated, and ranked 43 international forex brokers. Each FX broker was graded on 140 variables. Learn more.
Forex Risk Disclaimer
"There is a very high degree of risk involved in trading securities. With respect to margin-based foreign exchange trading, off-exchange derivatives, and cryptocurrencies, there is considerable exposure to risk, including but not limited to, leverage, creditworthiness, limited regulatory protection and market volatility that may substantially affect the price, or liquidity of a currency or related instrument. It should not be assumed that the methods, techniques, or indicators presented in these products will be profitable, or that they will not result in losses."Learn more.
---
Reviewed by Steven Hatzakis Steven Hatzakis is the Global Director of Research for ForexBrokers.com. Steven previously served as an Editor for Finance Magnates, where he authored over 1,000 published articles about the online finance industry. Steven is an active fintech and crypto industry researcher and advises blockchain companies at the board level. Over the past 19 years, Steven has held numerous positions within the international forex markets, from writing to consulting to serving as a registered commodity futures representative.
FOREX.com (GAIN Capital) Competitors
Select one or more of these brokers to compare against FOREX.com (GAIN Capital).
---
Ratings Overall
Summary
Commissions & Fees
Offering of Investments
Platforms & Tools
Research
Customer Service
Mobile Trading
Education
Best in Class
Overall Ranking
Commissions & Fees
Offering of Investments
Platform & Tools
Research
Mobile Trading
Education
Active Trading
Overall Ranking
Commissions & Fees
Research
Mobile Trading
Education
---
Commissions & Fees
Commission Notes
For the new Active Trader pricing at FOREX.com, level two pricing starts from $25 million to $49 million in month-to-date (MTD) volume, and clients pay as low as 1.3 pips on the EUR/USD on this level. Level three starts from $50 million to $149 million in MTD volume and brings spreads on a pair down to as low as 1.0 pip on the EUR/USD.
Clients with more than a $100,000 balance bypass the first two levels and automatically qualify for the level three pricing described above. Level four pricing starts for clients with an MTD volume of over $150 million up to $499 million, where spreads on the EUR/USD fall to as low as 0.90 pips. Finally, level five brings spreads as low as 0.84 pips on a pair for traders who reach higher than $500 million in MTD volume.
These five new levels will also drive the priority of how client support is handled, with level 5 clients receiving the highest priority service from FOREX.com staff, as explained to us during a call with a senior sales executive.
Compare FOREX.com (GAIN Capital)
Find out how FOREX.com (GAIN Capital) stacks up against other brokers.