As an early pioneer in social copy trading, eToro was founded in Israel in 2006 as a financial trading technology developer. After launching its first product, it has since grown to service over 4.5 million users with an innovative platform that continually evolves to be one of the largest social networks globally, with clients in over 170 countries.
eToro is regulated in the UK and Cyprus, with passports throughout Europe under MiFID. It also maintains a dormant US entity regulated with the National Futures Association (NFA).
Today, eToro is transitioning from its prior generation platforms, including its WebTrader and CopyTrader products, as the new eToro platform was launched for web and mobile. eToro also offers CopyFunds, which are structured portfolios that use baskets of user-driven strategies, and provide a Top Trader module that automatically copies the most successful traders, which we will explore herein.
Commissions & Fees
eToro is a market-maker broker and lists a typical minimum fixed spread of 3 pips on the EUR/USD, which is on the high end of the range when comparing brokers with fixed and floating spreads, making it a more expensive platform.
| View All Fees | eToro | Pepperstone | Admiral Markets | Plus500 | Markets.com |
| --- | --- | --- | --- | --- | --- |
| All-in Cost EUR/USD - Active | N/A | 0.860 | 1.200 | N/A | 2.000 |
| All-in Cost GBP/USD - Active | N/A | 1.190 | 1.500 | N/A | 2.000 |
| Average Spread GBP/USD - Standard | 4.000 | 1.490 | 1.700 | N/A | 2.000 |
| Average Spread EUR/USD - Standard | 3.000 | 1.160 | 1.200 | N/A | 2.000 |
| Commissions & Fees | | | | | |
| Overall | | | | | |
For comparison, other social copy trading platforms charge separate stand-alone fees and/or commissions, such as ZuluTrade or MetaQuote's signals market on MT4/MT5.
On another note, the firm does offer a premium account for those who deposit over $20,000, which provides additional perks such as withdrawal priority and access to an online trading room, among other VIP-style account benefits. It also offers a popular trader program that can further reduce spreads for those who meet strict performance criteria, as explained in the commission notes section further down the page.
Overall, when comparing fees alone, it is clear retail traders don't choose eToro for its spreads, but rather for its platform and social trading capabilities tools (which are discussed further down), as its pricing is otherwise expensive.
Customer Service
eToro offers customer service in a few unique ways. For example, compared to traditional brokers that mainly use live chat and phone support, eToro lets users post general questions on a comment wall that all users can see. This is comparable to a moderated forum or Twitter feed, where replies are seen by all followers.
During our tests, it was difficult to see whether or not the broker had replied to questions we posted on the customer service wall. This was due mainly to difficulty finding the original comment, despite the sorting options available and the privacy settings. In addition, since account-specific questions cannot be answered directly on the customer service wall for privacy reasons, eToro support may offer to handle it privately if a rep does reply, which naturally reduces the effectiveness of the area.
eToro also provides you with a dedicated account manager who will reach out to you after opening an account, adding value to the customer service experience.
Comment wall aside, eToro offers traditional email support. During our tests, staff members replied within less than a business day, on average, and answered all our questions professionally.
eToro also provides you with a dedicated account manager who will reach out to you after opening an account, adding value to the customer service experience.  Live chat is also available 24 hours a day throughout the trading week from within the platform, and during our interactions on live chat, we found eToro staff were professional and helped make the experience positive.  
Despite phone support being limited to local office hours, the staff were friendly and helpful during test calls. Overall, we found eToro's customer service to be a positive experience.
Research
Beyond a standard economic calendar (which can only be viewed on the website) and news headlines (also found only on the website), there is little to no research on eToro in the traditional sense of technical and fundamental analysis.
eToro does, however, incorporate many social elements into its available research tools when it comes to market sentiment. For example, rather than show sentiment based on all users – only the trades of top traders are used to calculate sentiment data (taking it a step above the usual sentiment tools brokers provide). In addition, collective commentary about an instrument will appear as a stream of updates from users to give you an idea of what other traders are posting about in the eToro network, compared to StockTwits, for example.
There are also screeners, and gainers and losers are shown within the platform. Overall, the research offering has a good foundation but can be improved. For example, adding video content and incorporating the economic calendar and headlines would help fill the gap in the research tools on the eToro platform.
Platforms & Tools
After transitioning from its old WebTrader platform, decommissioned in April 2017, the latest generation eToro platform is web based and provides a rich experience. An array of innovative tools wrapped into a modern platform design are provided, yet like any new platform, early versions can be buggy. For example, after deleting my browser cache files, certain platform configuration settings were lost after I logged back into eToro.
Compared to other platforms that store such data on the broker's servers, keeping settings-related data stored locally makes the platform less portable across devices. This is a minor yet noteworthy point and I expect it will be resolved in future versions. That said, it was not a major drawback to my overall experience, which I will explore below.
Starting with watchlists, it was easy to carry out basic operations and do things quickly, such as creating several watchlists and adding instruments by searching available markets, as well as placing a trade from each watchlist directly. Although there were only a few optional columns in the watchlist, they were the most essential for trading.
Another nice feature was the ability to drag and move around watchlist items and change the view. The list is highly dynamic and has been incorporated throughout the platform. It is also the starting place to set an alert or open a chart window. For example, you can even add customer service to your watch list, which is innovation at its best.
Charting was seamless, with nearly 70 indicators, 14 drawing tools, and easy zooming in and out of price data.
The drawing tools could be made more accessible by moving them to the upper toolbar of the chart window. In the current setup, they are bundled together with the technical indicators. Drawback aside, the charts are user-friendly.
Stepping away from charts, one very innovative tool is CopyFunds, where eToro does the work for you. By grouping top traders into a single fund you can copy trade. For clients who have a hard time deciding who to copy trade, CopyFunds can be an alternative solution as each fund consists of a group of pre-selected traders you will automatically copy by investing in that particular CopyFund. 
CopyFunds help bridge the gap for investors who want to use eToro on a passive basis, as they can create a portfolio based entirely on one or more CopyFunds.
CopyFunds help bridge the gap for investors who want to use eToro on a passive basis, as they can create a portfolio based entirely on one or more CopyFunds. On the other hand, self-directed traders can also use CopyFunds to diversify their own trading, making it potentially useful for all eToro clients.
Besides CopyFunds, other features such as the editors' choice and popular traders serve as additional ways eToro attempts to find you the best traders to copy and/or follow. With platform settings, eToro offers the ability to set a default trade size, leverage selection, and even a default stop and limit levels, per instrument traded.
While similar functions exist at other firms, by reducing the number of clicks and mouse movements, eToro has made it seamless to do many of the things on its platform that would otherwise be time intensive, such as searching across thousands of users to copy trade.
All traders on eToro trade manually. Fully automated trading systems are not permitted, which means when you copy another trader, you can be sure they are placing each trade manually. This is useful to know as many other social trading platforms that aggregate the performance of traders usually permit both discretionary (manual) trades as well as automated strategies, while eToro's network consists solely of manual trading.
All in all, the freshly launched eToro platform makes it easy to search for traders that meet specific performance criteria. Or, if you just want to use the platform for self-directed investing, it is balanced for that too, despite the unavoidable social elements woven throughout the experience. eToro has done well merging self-directed trading and copy trading together under a unified trading experience. It's a winning combination.
Mobile Trading
Testing the mobile app on Android, I quickly noticed after logging in that eToro has done very well in maintaining the look and feel of the web version. Functionality such as syncing watchlists helps to further unify the platform experience across devices.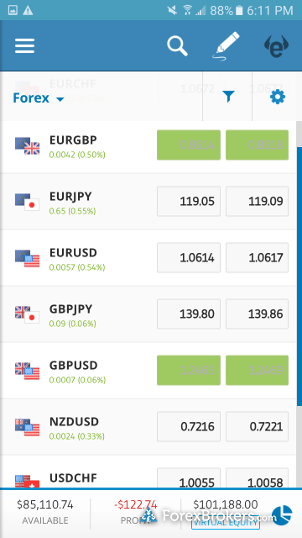 Like the rest of the mobile app, the charts were responsive and closely matched the web platform, even though just a handful of indicators are present compared to 67 on the web. Drawing tools were missing from the app entirely and would be a welcome enhancement. Otherwise, the charts in the mobile app are nicely integrated and function well, despite the lack of drawing tools.
Overall, eToro has done a great job with its mobile experience.
Other Notes
When you place a trade on eToro, there is always a default stop-loss order and limit attached to manage the risk/reward of each trade, which can be adjusted within certain permissible ranges (usually up to an amount equal to the margin used). While this mandatory stop-loss and limit can be a good safety net to protect beginners, it may limit more experienced traders as certain strategies are not supported because of this rule.
Final Thoughts
eToro can be great for retail traders who want to crowd source investment ideas using the power of copy trading, or for highly experienced traders who want to be rewarded for sharing their ideas with other traders.  
Beginners requiring handholding may find the user-friendly platform an added benefit. That said, I do not recommend eToro for active or high-volume traders as high spreads and small maximum trade sizes will be a limiting factor, along with the smaller range of FX pairs and CFDs offered compared to other multi-asset brokers.
Overall, eToro brings years of ongoing innovation to its evolving trading platforms, making it one of the leading social copy trading providers. With regulatory licenses predominantly in Europe, eToro offers users a rich and fun experience – thanks to its gamification of trading.
Methodology
For our 2017 Forex Broker Review we assessed, rated, and ranked 20 international forex brokers. Each FX broker was graded on 255 variables. Learn more.
Forex Risk Disclaimer
There is a very high degree of risk involved in trading securities. With respect to foreign exchange trading, there is considerable exposure to risk, including but not limited to, leverage, creditworthiness, limited regulatory protection and market volatility that may substantially affect the price, or liquidity of a currency or currency pair. It should not be assumed that the methods, techniques, or indicators presented in these products will be profitable, or that they will not result in losses. Learn more.
View all eToro Fees & Features
---
Reviewed by Steven Hatzakis Steven Hatzakis is the Global Director of Research for ForexBrokers.com. Steven previously served as an Editor for Finance Magnates, where he authored over 1,000 published articles about the online finance industry. Over the past 18 years, Steven has held numerous positions within the international forex markets, from writing to consulting to serving as a registered commodity futures representative.
eToro Competitors
Select one or more of these brokers to compare against eToro.
---
Ratings Overall
Summary
Commissions & Fees
Offering of Investments
Platforms & Tools
Research
Customer Service
Mobile Trading
Education
Compare eToro
Find out how eToro stacks up against other brokers.