Established in 1992, the Saxo brand today is one of the leading retail forex and multi-asset brokerages, with multiple regulated entities including Saxo Markets, regulated in the UK, and Saxo Bank, which is licensed and regulated as a Danish bank with its headquarters in Copenhagen. Saxo operates a number of other entities that are regulated across the world in major and emerging regulatory hubs.
Saxo Bank covers nearly every electronically traded asset class, providing spot FX, FX options, non-deliverable forwards (NDFs), Contracts for Difference (CFDs), stocks, stock options, Exchange Traded Funds (ETFs), Exchange Traded Notes (ETNs) including cryptos, futures, contract options, and bonds.
Saxo Bank caters to both retail and institutional clients, and provides wealth management and banking services through its related offerings. According to Saxo Bank Group's 2017 Annual Report, the company had $1.97 billion in assets under management (AUM), and $17.39 billion in clients' collateral deposits as of mid-2018, making it one of the top retail forex and multi-asset brokers globally.
In addition, Saxo Bank is part of the FX Global Code, whose mission centers around enhanced disclosures and execution statistics to promote integrity and transparency across the global foreign exchange market.
Trust Score
Trading with a forex broker traders can trust is crucial to success. Unfortunately, forex fraud and scams are common in the industry.
Here at ForexBrokers.com, we maintain the largest independent regulatory database available on the web. Using 28 different variables, we have created a proprietary 1-100 score (the higher the better) of overall trustworthiness, which we call the Trust Score. Here is our trust summary of Saxo Bank.
| | Saxo Bank |
| --- | --- |
| Trust Score | 94 |
| Year Founded | 1992 |
| Publicly-Traded Company (Listed) | No |
| Regulated in Major Hub | Yes |
| Regulated in Emerging Hub | Yes |
| Authorised in the European Union | Yes |
| CFTC Registered (USA) | No |
| FCA Regulated (UK) | Yes |
| IIROC Authorised (Canada) | No |
| FINMA Authorised (Switzerland) | Yes |
| ASIC Authorised (Australia) | Yes |
| SFC Authorised (Hong Kong) | Yes |
| MAS Authorised (Singapore) | Yes |
| FSA Authorised (Japan) | Yes |
| FMA Authorised (New Zealand) | No |
| CySEC Authorised (Cyprus) | Yes |
Offering of Investments
The following table summarizes the different investment products available to Saxo Bank clients.
| | Saxo Bank |
| --- | --- |
| Minimum Initial Deposit | $2,000.00 |
| Currency Pairs (Total Forex pairs) | 182 |
| CFDs - Total Offered | 32999 |
| Exchange Traded Securities: US | Yes |
| Exchange Traded Securities: International | Yes |
| Cryptocurrency traded as actual | No |
| Cryptocurrency traded as CFD | No |
Commissions & Fees
As of early 2018, Saxo Bank is in the middle of rolling out a new pricing model, recently launched from its Asia-Pacific (APAC) offices, where the commission-free option has been removed. This move will help level the playing field across its pricing options as spreads were inherently wider on the commission-free (all-inclusive pricing).
Also part of the new pricing model, Saxo Bank aims to cater to active traders by implementing higher tiers and removing the minimum monthly commission spend, which will benefit traders who might not otherwise qualify for the full discount offered by a tier if their volumes don't equate to the minimum commission spend.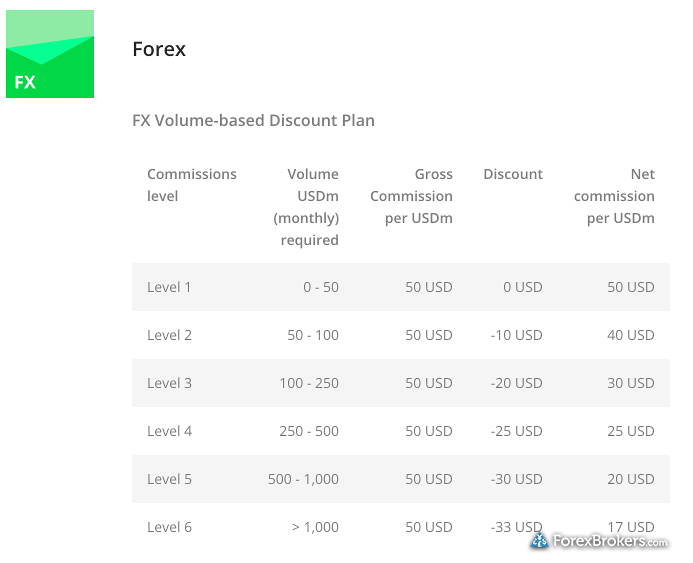 Until the new pricing plan is made available across the broker's other operations, including from the UK and Switzerland, the FX 60, FX30 and FX20 pricing plans will continue to best suit active traders who meet the monthly minimum commission spends.
In terms of spreads, looking at February 2018 data, the average spread on the EUR/USD was 0.4 pips at Saxo Bank. Together with its new volume-based pricing that includes a default commission equivalent of 0.5 pips, Saxo Bank provide an all-in cost of 0.9 pips.
Overall, Saxo Bank provides traders great all-around pricing, especially with the ongoing roll out of its new pricing model. Saxo Bank finished 2nd out of 43 brokers for Commissions & Fees in our 2018 Review alongside Best in Class for Active Traders.
| | Saxo Bank |
| --- | --- |
| Average Spread EUR/USD - Standard | 0.90 |
| All-in Cost EUR/USD - Active | 0.60 |
| Active Trader or Premium/VIP | Yes |
Customer Service
For our 2018 Forex Review, 129 customer service phone tests were conducted over three months. The data collected is institutional grade. On average, three questions were asked for each test. To score each test, the tests were divided into three separate groups and scores were given for the time taken to connect with each support representative and the ability of each representative to professionally (and thoroughly) answer each question. A Net Promoter Score was also given for the overall experience.
Results:
Average Connection Time: 1-2 minute2
Average Net Promoter Score: 7.33 / 10
Average Professionalism Score: 6.4 / 10
Overall Score: 7.4 / 10
Ranking: 22nd (43 brokers)
Research
Saxo has a rich and diverse research offering across its websites and platforms, ranging from in-house analysts who publish daily opinions and conduct webinars on Saxo Bank's research and educational portal – TradingFloor.com, as well as content from numerous third party providers.
Saxo Bank does a great job centralizing its research within the SaxoTraderGo web platform. In 2017, Saxo Bank further extended its research scope by integrating Auto Chartist directly into the platform.
Saxo Bank does a great job centralizing its research within the SaxoTraderGo web platform.
Saxo publishes a quarterly Essential Trades report as well, and provides Equity research reports from Factset from within the trading platform, and the platform features economic news streamed from NewsEdge.
The desktop version of the SaxoTrader platform has even more research tools, including screeners, detailed options chains, factset reports, and other features beyond what the web version offers.
| | Saxo Bank |
| --- | --- |
| Daily Market Commentary | Yes |
| Forex News (Top-Tier Sources) | Yes |
| AutoChartist | Yes |
| Trading Central (Recognia) | No |
| Delkos Research | No |
| Acuity Trading | No |
| Social Trading / Copy-Trading | Yes |
| Social Sentiment - Currency Pairs | Yes |
| Client Webinars | Yes |
| Client Webinars (Archived) | Yes |
| Videos - Beginner Trading Videos | Yes |
| Economic Calendar | Yes |
| Calendar Includes Forecasts | Yes |
| Economic News Sentiment | Yes |
| Trade Ideas - Backtesting | No |
Platforms & Tools
Saxo Bank's main trading platform under the 'SaxoTrader' suite runs on desktop, web, and mobile. The web and mobile versions are referred to as SaxoTrader GO, and bring a consistent look and feel compared to the SaxoTrader desktop-version.
The web-based version SaxoTrader GO runs very smoothly in the browser, aided by its HTML5 design, and the way the layout was designed keeps the number of tabs and sections to a minimum, with only Trading, News & Research, and Account, as the three main categories on the top row of the platform interface.
The default trading section on SaxoTrader GO has three main windows: one for watch lists and alerts, one for your account overview with charts, and one for positions and orders. On the bottom row of the screen is a high-level overview of account balance information, such as account value, available cash, and margin details.
The windows within the platform can be resized but remain fixed otherwise. This can help keep things organized compared to other platforms that let windows float, which can overlap other panels. The only exception is the charting module, which can float freely or be viewed full screen.
Overall, Saxo Bank's trading platforms come packed with a wide range of tools and research capabilities that will satisfy the majority of traders.
Speaking of charts, charting is robust on SaxoTrader GO, with nearly 50 indicators and 17 drawing tools, although this number trails behind other multi-asset brokers such as CMC Markets and Interactive Brokers. Another small drawback is that panning isn't always a smooth experience, which in Saxo's defense, can be impacted by computer graphics and internet connection quality.
Saxo Bank has done very well keeping the look and feel consistent across platforms, even bringing functionality such as syncing charts and watch lists that save automatically and sync with the mobile app, among other similar design qualities, where great attention to detail is given.
The desktop version of the platform, SaxoTrader, ran smoothly on Windows 10, and shares a similar layout – yet packs more under the hood than its web-based counterpart, as do most desktop trading platforms compared to their web-based versions.
The stock screener and equity research tools are notable differences in the desktop version, as well as additional reporting capabilities within the Accounts section, and further views and methods for order-entry under the Trading tabs.
Similar to the web version of the platform is the ability to chat with a live dealer directly from within the platform, under the Chat & Squawk section, without the need for additional windows to open or to be redirected to a web page (this feature is only available for live customers with more than £100,000).
The ability to resize, pin, and rearrange windows wasn't as intuitive as resizing windows in the web-based version, yet the desktop version gives more options for customizations to be made.
The charting, however, was not as fluid, requiring several steps to be taken before the instrument data would populate the chart history, although once that step is overcome, users will find 55 indicators available, which is slightly more than the web version of the platform.
I discovered that open positions are visible on the chart as a small arrow and can be closed directly from the chart, just as trading from the charts is permitted, although both of these items were not as apparent to me (as this arrow was very subtle – as can be seen in the above image) compared to other platforms' charting modules.
Despite lacking any automated trading capabilities (besides the social copy-trade feature available on Trading Floor), SaxoTrader covers the most crucial trading aspects well, including charting, news, research, and order management. Between the two platforms, SaxoTrader has a slightly steeper learning curve.
Overall, Saxo Bank's trading platforms come packed with a wide range of tools and research capabilities that will satisfy the majority of traders. Saxo Bank finished second overall in our 2018 Review for Platforms & Tools out of 43 brokers, trailing only Dukascopy.
| | Saxo Bank |
| --- | --- |
| Virtual Trading (Demo) | Yes |
| Desktop Platform (Windows) | Yes |
| Desktop Platform (Mac) | No |
| Web Platform | Yes |
| Social Trading / Copy-Trading | Yes |
| Proprietary | Yes |
| MetaTrader4 (MT4) | No |
| MetaTrader5 (MT5) | No |
| cTrader | No |
| Currenex | No |
| ZuluTrade | No |
| MirrorTrader | No |
| Charting - Drawing Tools (Total) | 17 |
| Charting - Indicators / Studies (Total) | 47 |
| Watchlists - Total Fields | 12 |
| Order Type - Trailing Stop | Yes |
Mobile Trading
The SaxoTrader GO mobile app was very consistent in its look and feel compared to the web-based version of the platform. We tested the app on Android, and it is also available for iOS devices.
One drawback users encounter when they login is the default Account Summary screen, which is mostly empty in the middle of the screen, and the trade, orders, and positions tabs are at the bottom.
This precious space available on the first screen users encounter upon login – which defaults to the Account Summary page – could be utilized better (by adding other fields to the empty section or defaulting to another category).
Once users navigate beyond the Account Summary screen, they will find themselves right at home., The calendar, news, and other research content, including pattern recognition analysis from Auto Chartist, all match the web-version of the platform.
The charting capabilities of the SaxoTrader GO mobile app were rich with drawing tools, indicators, and customizations, and were nearly identical with the web-based version of the platform.
The charting capabilities of the SaxoTrader GO mobile app were rich with drawing tools, indicators, and customizations, and were nearly identical with the web-based version of the platform.
In addition to syncing watch lists, mobile charts in SaxoTraderGO sync with the web-based version of the platform, which means that if you draw trend-lines and add indicators in the web-version, they appear in the mobile app (and vice-versa), unifies the SaxoTraderGO experience across devices.
Overall, Saxo Bank does a great job tying in high quality trading tools and research into its mobile app. The entire experience also aligns seamlessly with the web-based version of its trading platform. Needless to say, Saxo Bank left us impressed; the broker finished second for Mobile Trading.
| | Saxo Bank |
| --- | --- |
| Android App | Yes |
| Apple iOS App | Yes |
| Charting - Draw Trend Lines | Yes |
| Charting - Can Turn Horizontally | Yes |
| Charting - Technical Studies/Indicators | 41 |
| Watch List Syncing | Yes |
| Trading - Forex | Yes |
| Trading - CFDs | Yes |
| Alerts - Basic Fields | Yes |
Other Notes
To protect traders, rather than trigger orders on its own pricing, Saxo Bank uses the underlying interbank price, which doesn't include the markup or commission seen on in its platform. This means that stop-loss orders and limits have extra price cushion.
Furthermore, for sell stop orders, rather than trigger the order on the bid price, the ask price is used (and vice versa, buy stop orders trigger at the bid, not at the ask). This is important, especially during volatile market conditions when spreads widen, where traders would have otherwise been taken out of the trade pre-maturely.
Orders aside, under the default account settings, rather than having a credit or debit added to the balance directly as a line item, these amounts are adjusted from the original entry price of the trade each time a trade is rolled forward (this structure can also help facilitate the needs of Islamic customers where Sharia law applies with regards to earning interest).
Another difference at Saxo Bank is how margin is calculated, which follows a tiered approach that depends on the net exposure in each pair. Different margin calculations can apply to different portions of a single trade - if it is above a certain size, or are based on the net exposure across all trades in each pair/instrument.
All in all, the broker sets its higher margin tiers in line with volatility in the market, whereas the lower tiers are in line with margin call trends. Thus, traders with smaller positions may get a margin call sooner if using higher leverage. In 2017, three additional margin tiers were added to cater to more active traders.
Therefore, traders taking larger positions should plan in advance in order to know how the margin calculations Saxo Bank applies would affect their position – depending on the tier levels reached – so they can adjust their margin or positions as needed.
For investors seeking wealth-management solutions, the SaxoSelect range of products includes a MacroFX Strategy for Forex, and a Balanced Portfolio series that is structured using ETFs and based on clients' objectives with a conservative, moderate, and aggressive portfolio available for as little as $10,000.
Additional investment products for investors include the Equity series, which combines 30 quality stocks selected by Morningstar, and is available as the Saxo Morningstar MOAT ® which requires a minimum of at least €30,000. For a minimum of $20,000, Saxo Bank offers a Trading Strategy series, which has higher potential risk/reward – and includes systematic and discretionary trading systems to manage investors' funds.
Finally, Saxo Bank offers a social trading feature via its TradingFloor offering, whereby clients can copy the live trades of other users (i.e., copy trading) and have those trades reflected in their own trading account automatically.
Final Thoughts
Saxo Bank does a great job unifying its desktop, web, and mobile platforms. Not only is the client experience seamless, but it is also rich with depth of tools and research throughout.
With an appeal to the wealth management needs of investors, Saxo also caters to more than just retail traders and speculators and is, therefore, an ideal choice for those who have accumulated assets and who need assistance using Saxo Bank's advisory services.
For those who can't afford to deposit $10,000 to start a live account at Saxo Bank, industry peers such as IG, Plus500, and CMC Markets are the closest options to access a diverse range of products with a lower minimum deposit.
Overall, for traders that can afford its minimum deposit, Saxo Bank is our undisputed champion for 2018.
Methodology
For our 2018 Forex Broker Review we assessed, rated, and ranked 43 international forex brokers. Each FX broker was graded on 140 variables. Learn more.
Forex Risk Disclaimer
"There is a very high degree of risk involved in trading securities. With respect to margin-based foreign exchange trading, off-exchange derivatives, and cryptocurrencies, there is considerable exposure to risk, including but not limited to, leverage, creditworthiness, limited regulatory protection and market volatility that may substantially affect the price, or liquidity of a currency or related instrument. It should not be assumed that the methods, techniques, or indicators presented in these products will be profitable, or that they will not result in losses."Learn more.
---
Reviewed by Steven Hatzakis Steven Hatzakis is the Global Director of Research for ForexBrokers.com. Steven previously served as an Editor for Finance Magnates, where he authored over 1,000 published articles about the online finance industry. Steven is an active fintech and crypto industry researcher and advises blockchain companies at the board level. Over the past 19 years, Steven has held numerous positions within the international forex markets, from writing to consulting to serving as a registered commodity futures representative.
Saxo Bank Competitors
Select one or more of these brokers to compare against Saxo Bank.
---
Ratings Overall
Summary
Commissions & Fees
Offering of Investments
Platforms & Tools
Research
Customer Service
Mobile Trading
Education
Best in Class
Overall Ranking
Commissions & Fees
Offering of Investments
Platform & Tools
Research
Mobile Trading
Education
Active Trading
---
Commissions & Fees
Commission Notes
Most traders on the commission-based pricing will fall into the default lowest-tier pricing plan, FX Active 60, which has no minimum fee and uses a $60 per million commission rate. This initial tier brings the overall cost as low as 0.8 pips on the spreads we sampled on the EUR/USD – which is still competitive compared to Saxo Bank's peers.
With the minimum monthly charge of $2,000 on the FX Active 20 plan, users must do at least 100 million in volume, or 1000 standard lots to avoid being charged extra commission and keep their effective rate at $20 per million.
However, as Saxo rolls out its new pricing plans with no minimum monthly commission spend requirements and the all-inclusive pricing is discontinued, and higher tiers for higher volume trader are offered, the broker will be better positioned to cater to both low and high volume traders.
Overall, Saxo Bank ranks near the top with the tightest spreads being on the EUR/USD and GBP/USD pairs, compared to IG, Dukascopy, FOREX.com, and CMC Markets, when factoring the all-in cost for the best available pricing plan in the above example.
Compare Saxo Bank
Find out how Saxo Bank stacks up against other brokers.