Advertiser Disclosure
×
ForexBrokers.com helps investors like you across the globe by spending hundreds of hours each year testing and researching forex brokers. You support us through our independently chosen links, which may earn us a commission. This does not impact our completely unbiased research, which is respected by broker executives as among the most thorough on the web. Thank you for your support.
The ForexBrokers.com annual review is among the most cited in the industry. With over 83,000 words of research across the site, we spend hundreds of hours testing forex brokers each year. Industry leaders trust us because our rigorous testing is totally independent and 100% unbiased.
Trading with the right forex broker is critical to success in the international currency markets. As a currency investor, you may have specific platform, tool, or research needs that should be met. Understanding your investment style can help determine which FX broker may serve as the best forex broker for you.
Our team here at ForexBrokers.com has assembled a quick guide to some of the top online forex brokers. In each individual FX broker summary, we highlight where each broker stands overall and against its competitors.
This review will surface the most important features and/or benefits of selecting one forex broker over another, including discounted commissions, differences in trading account requirements, available research tools and trading platforms, as well as the quality of customer support.
Best FX Brokers for Forex Trading
Here's a breakdown of some of the best foreign exchange brokers available for online fx trading.
CFDs are complex instruments and come with a high risk of losing money rapidly due to leverage. Between 74-89% of retail investor accounts lose money when trading CFDs. You should consider whether you understand how CFDs work and whether you can afford to take the high risk of losing your money.
Choosing the Best Forex Brokerage
Here are some of the most important factors to keep in mind when choosing the best online forex brokerage for currency trading.
Regulation: Not all regulatory jurisdictions and licenses are created equal for international forex and CFD Brokers. Investors should know which country their broker is based in and which country's laws apply to their account. To avoid fraud, it is critical to use a broker that is well-known and well-regulated. To quickly identify brokers you can trust, reference the Trust Score we provide on each broker's review page.
Company Policies and History: As part of every investors due diligence process, steps to help ensure account security should include verifying a firm's regulatory licenses and its legal obligations in safeguarding client monies. It's also important to review the customer agreements, read up on the company's history, and make sure their primary offices are located in a well-respected country, if not your own.
Range of Markets Offered: It's always important to determine which markets or individual trading products (currency pair or stock symbol) you want to trade, then check to make sure they are offered. Also check to make sure the products you want to trade are available in your region. See section, "Best offering of Currency Pairs, CFDs" below.
FX Trading Tools & Platforms:  Which platforms and trading tools are available for the products you are considering? Are compatible with your web browser, computer operating system, or mobile smartphone, or any other devices you are planning to use for trading? See section, "Best Forex Trading Platform" below.
FX Analysis and Global Market Research: Available research tools for scanning, analyzing, and overall conducting technical and fundamental analysis will vary from broker to broker. See section, "FX Research" below.
Forex spreads, commissions, and overall trading costs: For forex trading, spreads and any round-turn commissions will make up the all-in cost to complete (open/close) each trade. The same generally applies to CFDs, in terms of bid/ask spreads plus any per trade commission. See section, "Lowest Trading Costs" below.
Order Execution: Available execution methods can depend on whether the broker is a principal dealer acting as a market-maker, and/or if they are an agency-only broker relying on third-party dealers (liquidity providers). Other execution methods, policies, conditions, or available order types can vary (including premium or free trade protection tools such as guaranteed stop-loss orders, fill-or-kill or fill with within a maximum deviation range) can vary from broker to broker.
Order Type and Execution: Some execution methods or order-types may incur negative or positive slippage. This means orders will fill but the fill price could be better or worse than requested. Since each broker is different, some firms may re-quote an order with a new price for you to accept (or reject) in the case the price has changed.
Customer Service: Customer service is important. The scope and quality of support can be a major differentiator across online FX brokerages, ranging from the speed and overall quality of assistance to the availability across global trading hours and international markets. See section, "Customer Service" below.
Education: Currency trading can be complex. Even seasoned investors are constantly learning to expand their breadth of currency markets. The disparity between currency brokers that provide thorough, high quality education, and those who do not is vast.  See section, "Education" below.
Lowest Trading Costs
Forex trading costs are not easy to break down. Reasons why trading costs can be impacted: bid/ask spreads can vary across venues (because forex is decentralized), forex spreads may be either fixed or variable (floating), and variable spreads may widen or narrow (vary) at different rates across brokers.
Furthermore, execution policies vary across firms in terms of how orders are handled (slippage/rejections), even when all else is equal. Brokers may be acting as market makers (dealers) to execute your trades and/or may be acting as agents for execution (relying on other dealers to execute). Forex spreads may include a round-turn commission.
While the all-in cost to trade can be critical for many traders, it is important to look at the whole picture in terms of how a broker's overall offering could best suit your needs.
To assess brokers, we took into consideration how much beginners, average traders, and even more seasoned traders would pay, looking at average spreads for standard forex contracts (100,000 units) as well as mini accounts (10,000 units) and micro accounts (1,000 units), where applicable. We then calculated the all-in cost by including any round-turn commission that was added to prevailing spreads.
When it comes to competitive all around pricing, CMC Markets took first place as the best broker in the commissions and fees category. With an average spread of just 0.772 pips on its EUR/USD using November 2017 data, CMC Markets offered the most competitive all-in cost to trade. Also, the broker lowered the barrier for entry into its active trader rebate program, helping to boost its ranking.
In second place was Saxo Bank. The broker revamped its commission structure with the roll-out of additional tiers for both entry-level and active traders from its Asia offices. Previously, entry level traders only had the commission-free options where spreads were wider, yet with Saxo Bank's new volume-based structure, even entry-level traders with low volumes now enjoy competitive commissions. A 0.5 pip equivalent added to low average spreads of 0.4 pips (using spread data from February 2018), results in an all-in cost of 0.9 pips on the EUR/USD. More significant discounts are available for higher-volume traders.
Rounding out the top three on the podium in 2018 was IG. The broker averaged spreads of 0.74 pips on the EUR/USD for the 12 weeks ending February 24th 2017, and offers Forex Direct as part of its commission-based active trader offering.
Dukascopy Bank maintained its fourth-place position, with a default commission tier of $7 per round-turn ($3.5 per side) and low underlying average spreads of 0.24 pips on the EUR/USD using spread data provided by the broker for the US Session during December 2017. Dukascopy Bank's all-in cost on the EUR/USD of 0.94 pips (0.24+ 0.7 commission) for its entry-level offering, combined with higher discounts for active traders, helped the broker again finish Best in Class.
Following closely in fifth place was GAIN Capital, with its Forex.com brand rolling out its Active Trader offering in 2017. Forex.com's new pricing favors active traders and even entry-level traders. Those who maintain an average monthly balance of $20,000 see an all-in cost of 1.3 pips on the EUR/USD (using typical spread data for November 2017).
Behind Forex.com, TD Ameritrade and City Index rounded out the top seven for 2018.
While the all-in cost to trade can be critical for many traders, it is essential to look at the whole picture in terms of how a broker's overall offering could best suit your needs. Questions to ask include: What are average spreads for the account types offered? How will differences in margin requirements or execution affect my forex trading volumes and related trading costs? These are just some of the questions that can help traders consider key differences between offerings.
Best Forex Trading Platform
Forex trading platforms are the modern gateway to investing in international currency markets. Regardless of your trading style, or preferred multi-asset instrument, the platform technology you use can affect nearly all aspects of your trading experience.  From accessing research to analyzing news events or performing technical analysis on charts, forex trading platforms share the common goal of making it easy to help you trade and discover trading opportunities, while managing your personal investments.
Over the past decade, forex trading platform technology has continued to evolve steadily across devices, with a shift from desktop to web and then to mobile. With ongoing enhancements to the user experience throughout the year, forex brokers compete for market share amid shifting regulations and the evolving needs of traders.
After more than doubling the number of international forex brokers we tested this year to 43, it was clear that the best forex platforms managed to pack a slew of features and tools into a simplified user experience, while keeping the technology up to date with the latest supported standards.
After more than doubling the number of international forex brokers we tested this year to 43, it was clear that the best forex platforms managed to pack a slew of features and tools into a simplified user experience, while keeping the technology up to date with the latest supported standards. All in all, these platforms provide customers a rich and pleasurable experience in all critical areas of forex trading. 
For the Best Forex Trading Platform category, Dukascopy Bank took the top podium spot this year for its highly innovative JForex 3 platform, which comes available for desktop, web, and mobile, and is compatible with Windows, Mac, and Linux operating systems. Charting in JForex 3 comes packed with 313 technical indicators and the platform supports automated trading strategies, helping it compete with popular third-party software, such as the MetaTrader4 (MT4) platform and cTrader platform.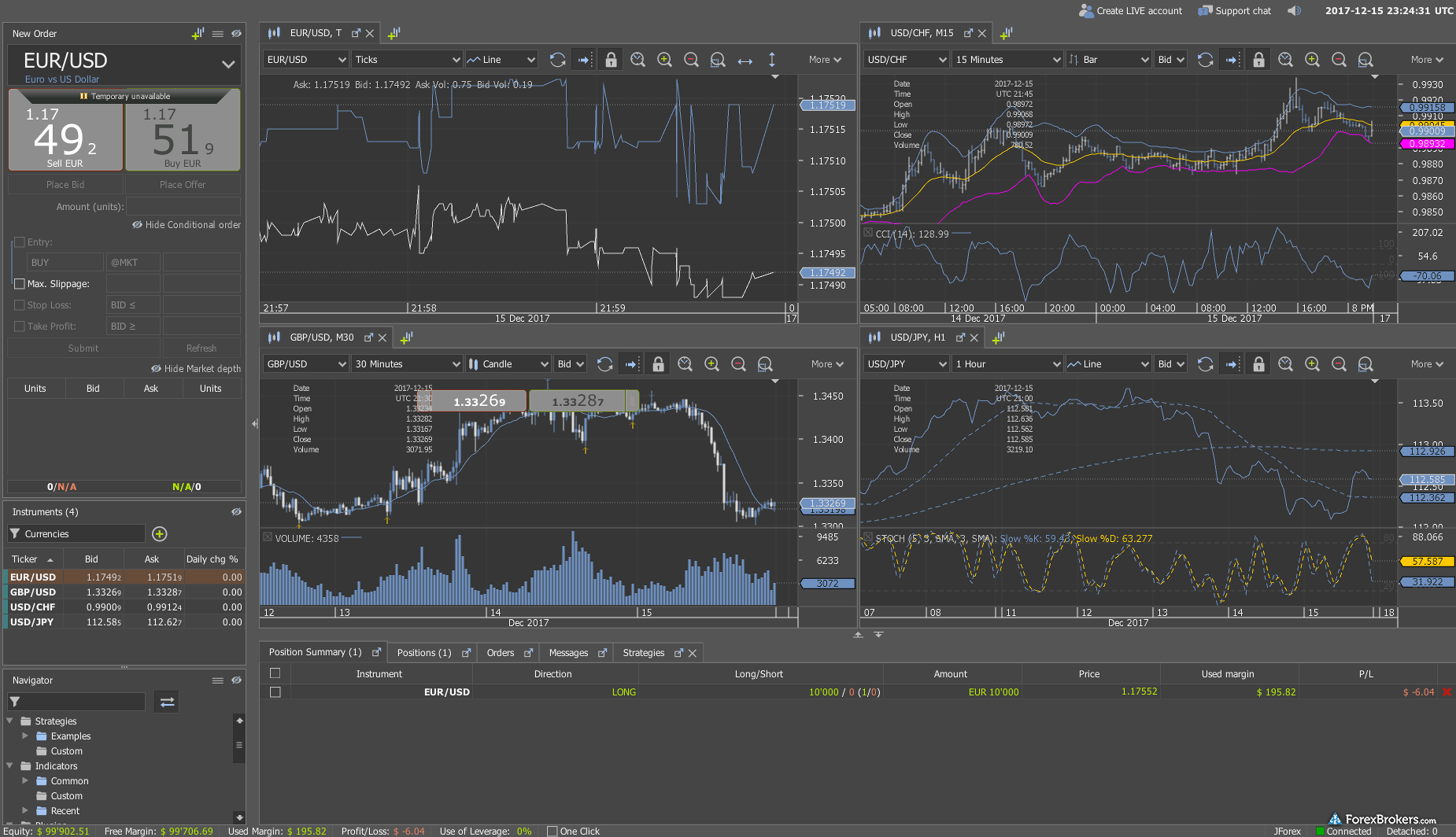 Saxo Bank followed closely in second after the broker added additional tools into its highly innovative and responsive web-based platform, SaxoTrader GO. For example, Saxo Bank fully integrated AutoChartist, giving it a native feel within the platform. Also, Saxo Bank provides a seamless experience on mobile, including watch lists and charts that sync across desktop, web, and mobile.
Third place goes to IG for its innovative web platform, which comes packed with versatile charting, automated pattern recognition tools, and its premium ProRealTime charts. For more advanced traders, IG's L2 Dealer desktop-based platform provides an array of advanced features for experienced forex traders who need the extra tools usually found on desktop platforms.
GAIN Capital's Forex.com platform followed in fourth place, as the broker launched its responsive Web Trading platform powered by Trading View, helping to complement its innovative desktop-based FOREXTrader Pro platform. In addition to launching its web-based platform that runs on HTML5, the broker more than doubled the number of indicators to 139 in its desktop platform.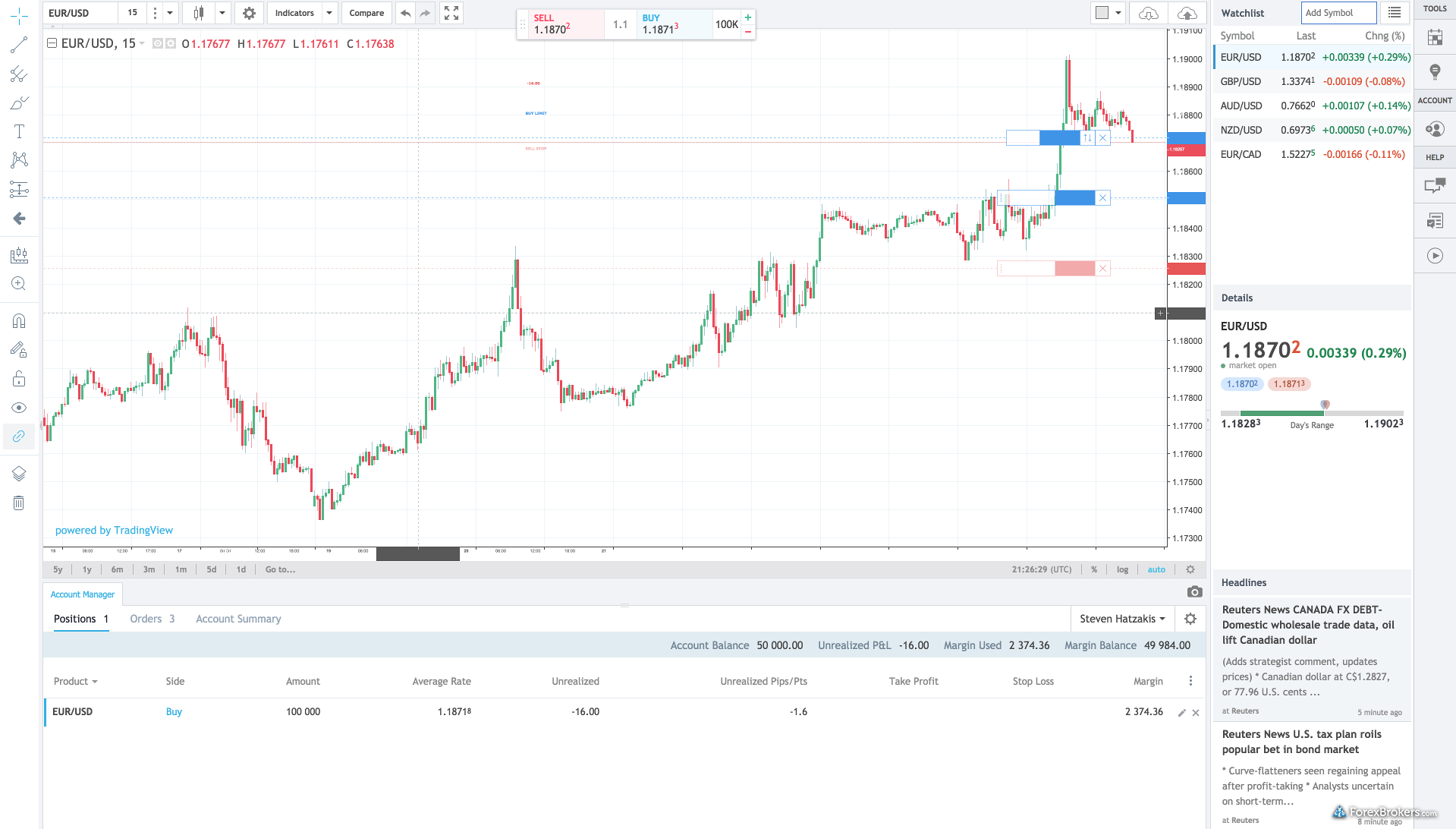 TD Ameritrade's thinkorswim platform features thinkScripts for algorithmic trading, as well as the ability to create push notifications and alerts on indicators, and even the capability of building custom ones from scratch. In total, thinkorswim offers 397 indicators, which is more than any other broker we have reviewed.
Rounding out our top seven are Interactive Brokers and FXCM.
Overall, the best forex platform for you will depend on a myriad of factors. First, do you prefer a web-based environment or desktop download? Next, consider how important tools such as charting or automated trading are to you. Available order types and other unique tools and features are also items to keep in mind.
Fortunately, nearly every forex broker supports opening a demo account and testing out the experience in a simulated trading environment. Read our full-length reviews to learn more about these industry-leading brokers, compare them side by side, then open test accounts to finalize your selection.
Best Offering of Currency Pairs, CFDs
Foreign exchange markets are open 24 hours a day, five days a week, which means investors can constantly scan international markets for opportunities to invest. Having access to multiple asset classes from within a single platform is important to many investors, as financial markets, including forex and even cryptocurrencies, are highly interconnected. The ability to react quickly to geopolitical and economic news events in real time is key.
In the early 2000s, a fine line used to exist: brokers were most often concentrated on offering just one asset, for example forex, to their customers. However, today trading platforms are no longer just for trading forex, stocks, or futures; instead, multi-asset offerings are now industry standards among all the largest online brokers. That said, the range of products and markets you can trade still varies considerably across firms.
IG placed first with 15,000 tradeable instruments available including 95 forex pairs and boasts the most regulatory licenses among all brokers, including from top-tier jurisdictions such as the US, UK, and Switzerland, among others. IG placed first with 15,000 tradeable instruments available including 95 forex pairs and boasts the most regulatory licenses, including from top-tier jurisdictions such as the US, UK, and Switzerland, among others. IG also significantly expanded its range of cryptocurrency CFDs on a year-over-year basis and provides access to global stock exchanges through its share-dealing account offering (for more information about IG's share-dealing offering, read our IG Group UK share dealing review on our sister site, StockBrokers.com).
Saxo Bank held second with 9,000 CFDs available and 139 currency pairs, including off-exchange forex options trading supported on key major pairs and crosses. Saxo Bank's offering of wealth advisory solutions to investors further complements its position, including its offering of Bitcoin-related exchange-traded funds.
Interactive Brokers took third place with a wide range of top-tier regulatory licenses. Interactive Brokers provides traders access to 6,200 CFDs (up from 4,217), 85 forex pairs, global exchange-traded products, US-traded Bitcoin futures, and much more.
FOREX.com took fourth place with a wide array of top-tier regulatory licenses, as well as 84 forex pairs.
CMC Markets placed fifth with 9,959 instruments, including 330 forex pairs (including two-way quotes, such as EUR/USD and USD/EUR), which is the most number of forex pairs of all the broker's we've tested in 2018. CMC Markets also has regulatory licenses in major jurisdictions such as Australia, Singapore, and Canada.
Swissquote bank followed with top-tier licenses, and although the broker only lists 38 CFDs alongside 78 forex pairs, in a separate trading platform, which requires a different account, it offers nearly two million tradeable products. The broker also was the first bank to offer bitcoin as an underlying (non-CFD), in addition to creating an exchange-traded note tied to Bitcoin's price on the SIX Swiss stock exchange.
Lastly, eToro finished seventh for its wide range of products and respectable list of licenses.
Best FX Research
Almost every forex broker aims to provide its clients with research content and tools to find and analyze investment opportunities. At the same time, we are living in the digital information age where traders can get lost in the sea of forex news headlines, making it hard to get the information they need unless brokers provide the right structure for forex research.
Beyond news headlines and an economic calendar, leading forex brokers usually integrate in-house research for fundamental news and technical analysis, then couple it with outsourced research content. Firms that take it a step further may even create their own TV channel, for example, to stream video updates instead of providing basic daily or weekly video updates.
Furthermore, daily or weekly market recaps, live trading rooms, and integrated pattern- recognition tools for news events and charts, as well as screeners, heat maps, and sentiment indicators are increasingly integrated as research tools available within trading platforms.
Saxo Bank deserves its top spot for research in 2018, as it delivers on all fronts for forex research from both its website and within its trading platforms.
For conducting forex research in 2018, Saxo Bank held its first place position as the best broker in this category. While many brokers struggle to organize research for their customers, Saxo Bank does a fantastic job centralizing the research it provides across its platform suite, within its recently redesigned website, and on its Trading Floor offering. Saxo Bank incorporates a social network where traders share commentary about markets on Trading Floor and provides access to in-house and outsourced research reports, including pattern-recognition tools.
IG took second place for research, with a broad range of tools available through its web platform. The broker offers its own streaming video, IG TV, along with a vast array of daily blog updates and detailed posts from a team of global analysts. Lastly, the broker's integration of DailyFx continues to evolve as the site remains a leader for retail traders seeking educational and research content.
In third place is Dukascopy Bank which also held its position year-over-year. No broker puts out more content than Dukascopy thanks to its in-house, out-sourced, and community-sourced research and news content. The Swiss bank and brokerage incorporates an extensive amount of research-related content within its website and trading platforms, along with a fully staffed professional TV studio that powers Dukascopy TV. To round out its offering, Dukascopy provides many social elements within its community to engage traders with important market content and related analysis tools, as well as even competition incentives (beyond the typical deposit bonus).
CMC Markets took fourth place, followed by City Index and Forex.com, both GAIN Capital brands, and FXCM.
Mobile Trading
While nearly all forex brokers have offered mobile apps for years, the competition continues to increase as clients demand many of the same features in mobile that are normally found on desktop and web platforms. 
The global use of mobile devices to access online services, ranging from email to social network sites such as Facebook, Twitter, and LinkedIn, has continued to grow exponentially in recent years.
To determine the best forex brokers for mobile trading in 2018 we focused on identifying mobile experiences that were bug-free, cleanly designed, and provided a wide range of features.
To determine the best forex brokers for mobile trading in 2018 we focused on identifying mobile experiences that were bug-free, cleanly designed, and provided a wide range of features. Additionally, we looked for brokers who have been able to create a seamless experience between their mobile apps and their desktop and/or web-based platforms.
First place goes to Dukascopy Bank, whose SWFX Trader app comes with more research and pattern recognition tools than any other broker we reviewed. The app also includes an impressive array of charting capabilities, complex order types, and other advanced features such as depth of book, all packed into a clean user design.
Saxo Bank took second place with its SaxoTrader GO mobile app. SaxoTrader GO is highly responsive and provides traders a unified experience with its web-based platform, offering unique features such as syncing trend lines, indicators, and watch lists. In addition, the broker's native integration of trading signals and pattern recognition, powered by Auto Chartist, are also automatically synced with its web-platform.
Like Saxo Bank, TD Ameritrade also provides a feature-rich, unified platform experience. Advanced order visualizations, syncing watch lists, and charts that support over 300 indicators are just a sampling of the functionality available to clients.
Meanwhile, IG took fourth place for its mobile app which integrates pattern recognition and comes with robust charting that stays neatly organized even when loaded with numerous concurrent indicators.
CMC Markets followed in fifth place as its mobile app offers unique features such as the ability to subscribe to future news events. Charting in the app comes packed with technical indicators and drawing tools available in landscape mode.
Interactive Brokers and FOREX.com finished sixth and seventh, respectively. Both brokers boast robust mobile offerings that will impress the vast majority of fx traders.
Customer Service
When using a forex broker, a single customer service experience is not enough to assess the all-round quality and scope of service. Instead, multiple phone calls, emails, and live chat interactions should be conducted to determine an overall rating of customer service.  
Here at ForexBrokers.com, we follow the rigorous testing approach used by our sister site, StockBrokers.com, the most respected in the industry when it comes to trusted US stockbroker reviews.
For our assessment of 43 international forex brokers, 120 phone calls were made to offices across the globe. Brokers who did not offer any phone support were penalized, with email and live chat being used as an alternative testing method.
TD Ameritrade really stood out among the 43 brokers reviewed, as the firms staff were resourceful and always highly eager to make the customer interaction positive.
Among the top five, TD Ameritrade took first place. TD Ameritrade stood out among the 43 brokers reviewed as the firm's staff were resourceful and always highly eager to make the customer interaction positive.
London Capital Group proved its ability to provide world-class customer service as representatives were attentive and provided detailed and informative responses. Connection times averaged less than one minute per call, a quality that we ended up experiencing for most of the top finishers.
Rounding out the top five were FXCM, ADS Securities, and XTB. FXCM's support had the longest average wait time of our top seven; however, reps were always professional and never had trouble answering our questions. XTB also consistently delivered on its around-the-clock service, and ADS Securities provided tailored support for us as a dedicated customer service representative is assigned to each customer for calls made during regular market hours.
ETX Capital and Hantec Markets finished sixth and seventh, respectively.
It's important to note that among the top seven in the customer service category, the results ranked so close that even one additional excellent customer service experience could have changed the overall ranking for that broker. This shows just how tight the competition is among top-rated forex brokers in providing quality customer service.
Education
Providing forex traders with effective educational resources is important. Put simply, educated investors make more intelligent investment decisions. Most forex brokers consistently strive to educate their existing and prospective clients. That said, the delivery and quality of educational content varies.
First place once again went to IG this year as the broker provides one of the most comprehensive offerings of educational materials for forex.
For our assessment of forex broker education, we analyzed ten different variables for each firm. Our focus covered the basics of forex trading to advanced strategy. Components assessed included blogs, articles, video content, seminars, webinars, and content organization, among others educational resources. Forex broker platform tutorials and FAQs were not considered educational materials.
First place once again went to IG this year as the broker provides one of the most comprehensive offerings of educational materials for forex. For example, a video accompanies nearly every article and the broker even offers its own educational mobile app. Furthermore, IG holds in-person seminars to cover areas such as advanced technical analysis, and for its online webinars, archived recordings are readily available.
CMC Markets followed in second place thanks to its comprehensive education portal that neatly organizes content by type, including articles and videos, along with daily webinars and events.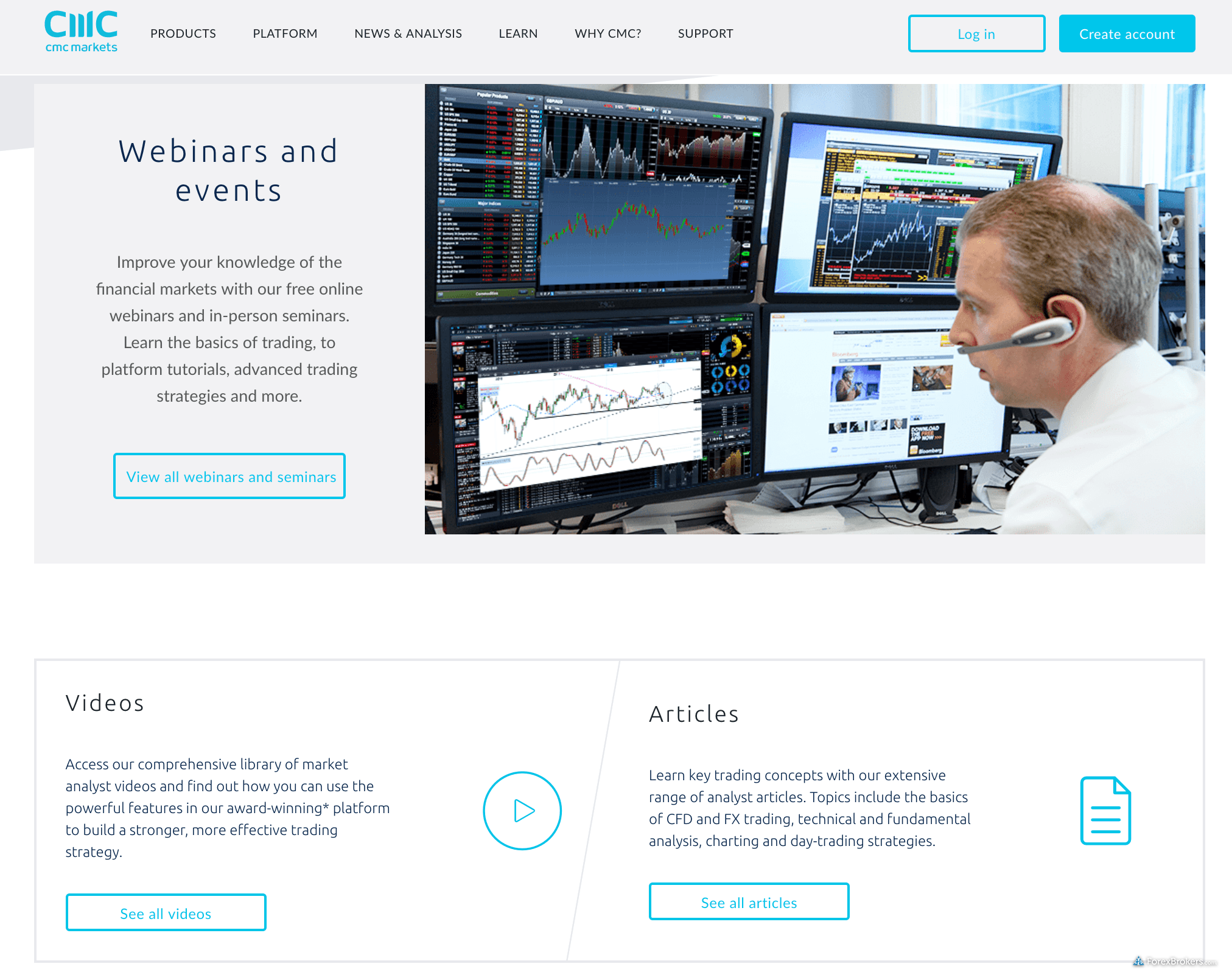 FOREX.com finished third thanks to its newly enhanced education center which launched in the US and extended into its UK branch, where educational content is grouped by experience level as well as by educational themes such as trading concepts, risk management, trading strategies, and technical and fundamental analysis.
FXCM followed in fourth place, offering a wide array of educational resources, including advanced topics in its monthly "Afterwork" seminars, in addition to its Live Classroom which provides recorded and archived webinars. The firm also offers eBook-style trading guides that are organized by experience level.
Saxo Bank took fifth place with its broad range of education-related materials, which are grouped by experience level and cover multiple asset classes including spot forex and forex options under the company's Saxo Academy offering. Saxo also over a dozen videos on its YouTube channel under its TradeMentor series, in addition to materials on its TradingFloor portal.
Admiral Markets and, City Index finished sixth and seventh, respectively.
Best Forex Brokers Summary
| Broker | Best For | Total Forex Pairs | Total CFDs | Overall Rating |
| --- | --- | --- | --- | --- |
| Saxo Bank | Overall | 139 | 9000 | 5 Stars |
| IG | Trust, CFDs | 95 | 15000 | 5 Stars |
| eToro | Social, Copy Trading | 47 | 1096 | 4 Stars |
| Swissquote | Crypto, Banking | 78 | 50 | 4 Stars |
| CMC Markets | Best Currency Offering | 330 | 9959 | 4.5 Stars |
| FxPro | MetaTrader | 70 | 215 | 4 Stars |
| Forex.com | Balanced Offering | 84 | 97 | 4.5 Stars |
| Dukascopy Bank | Desktop Trading, Mobile | 64 | 357 | 4.5 Stars |
| Interactive Brokers | Professionals | 85 | 6100 | 4.5 Stars |
| TD Ameritrade | US Residents | 77 | 0 | 4.5 Stars |
Related Articles
Explore our other online trading guides:
References
Forex Risk Disclaimer
"There is a very high degree of risk involved in trading securities. With respect to margin-based foreign exchange trading, off-exchange derivatives, and cryptocurrencies, there is considerable exposure to risk, including but not limited to, leverage, creditworthiness, limited regulatory protection and market volatility that may substantially affect the price, or liquidity of a currency or related instrument. It should not be assumed that the methods, techniques, or indicators presented in these products will be profitable, or that they will not result in losses."Learn more.