ForexBrokers.com is committed to the highest ethical standards and reviews services independently. Advertiser Disclosure
ThinkMarkets Review
CFDs are complex instruments and come with a high risk of losing money rapidly due to leverage. Between 74-89% of retail investor accounts lose money when trading CFDs. You should consider whether you understand how CFDs work and whether you can afford to take the high risk of losing your money. This content is intended for information and educational purposes only and should not be considered investment advice or investment recommendation.
Please Note: ThinkMarkets was not included in the 2020 annual review. As a result, this broker's ratings may be outdated. Read our Best Forex Brokers 2020 guide for a look at the top rated forex and CFDs brokers.
The ForexBrokers.com annual forex broker review (four years running) is the most cited in the industry. With over 50,000 words of research across the site, we spend hundreds of hours testing forex brokers each year. How we test.
ThinkMarkets (formerly ThinkForex) was established in 2010. Today, ThinkMarkets is regulated in Australia (TF Global Markets Pty), the UK (TF Global Markets Limited), and Bermuda (Think Capital Limited).
Known for its efforts in the cryptocurrency space (see "Other Notes"), ThinkMarkets offers forex and CFDs traders access to 38 forex pairs and nearly 200 CFDs, which includes nine cryptocurrency CFDs.
Review Summary
ThinkMarkets provides regulated forex and CFDs on multiple asset classes, including cryptocurrencies. Despite offering a proprietary trading platform as well as MT4, ThinkMarkets fails to compete with industry leaders.
Benefits
Trade Interceptor desktop and mobile platform is a compelling alternative to MetaTrader 4.
Regulated in Australia and the UK (with EU passports).
Unique cryptocurrency offering.
Considerations
Standard Account holders don't have access to AutoChartist or an account manager.
Poor customer service.
Trade Interceptor platform offers no web-based version.
Is ThinkMarkets Safe?
ThinkMarkets is considered average-risk, with an overall Trust Score of 80 out of 99. ThinkMarkets is not publicly traded and does not operate a bank. ThinkMarkets is authorised by two tier-1 regulators (high trust), zero tier-2 regulators (average trust), and zero tier-3 regulators (low trust). ThinkMarkets is authorised by the following tier-1 regulators: Australian Securities & Investment Commission (ASIC) and the Financial Conduct Authority (FCA). Learn more about Trust Score.
Regulations Comparison
| Feature | ThinkMarkets |
| --- | --- |
| Year Founded | 2010 |
| Publicly Traded (Listed) | No |
| Bank | No |
| Tier-1 Licenses | 2 |
| Tier-2 Licenses | 0 |
| Tier-3 Licenses | 0 |
| Trust Score | 79 |
Commissions & Fees
Commissions and fees will vary depending on the type of ThinkMarkets account you choose. Based on our research, ThinkMarkets is more expensive than the industry average.
Benefits
ThinkMarkets offers three account types and a separate account type for its Trade Interceptor platform offering.
Standard account: $250 minimum deposit, commission free, with wider spreads (in lieu of per trade commission) and can be used on MT4.
PRO account: Lower spreads compared to the Standard account and three units per side commission (six units per RT) or the equivalent of $6 RT per standard lot (100K units); minimum account balance of $2,000 required. The PRO account can be used only with the MT4 platform.
VIP account: Comparable to the PRO account, commission rate is negotiable on a client-by-client basis, making it an option for active traders, although it is not available for Trade Interceptor accounts (MT4 only).
Bankruptcy insurance for eligible clients who deposit over $50,000 in the UK.
Considerations
ThinkMarkets advertises its lowest spreads, but because it did not provide an average or typical spread value, we couldn't make an even comparison with other brokers.
We would like to see ThinkMarkets publish its own average spread data, ideally monthly, to help provide a clearer picture on how its forex spreads average out over the entire calendar month, as its FX pricing otherwise appears competitive.
ThinkMarkets does, however, publish average spreads for specific instruments, such as CFD indices. For example, we observed a 1.3 pip average spread on the DAX in MT4, whereas, spreads on Trade Interceptor are fixed at 1 pip.
ThinkMarkets provides market execution as its main attraction as an agency broker. Because of this, positive/negative slippage can occur, as trades are not re-quoted. In the UK, ThinkMarkets has a dealer license which is limited as a match-principal (agency-only execution), and in Australia and Bermuda the brand follows a similar method, although it may take risks as a dealer/market maker when needed (as a contingency).
Gallery
Further Reading
Fees Comparison
| Feature | ThinkMarkets |
| --- | --- |
| Minimum Initial Deposit | $250.00 |
| Average Spread EUR/USD - Standard | N/A |
| All-in Cost EUR/USD - Active | N/A |
| Active Trader or VIP Discounts | Yes |
Platforms & Tools
Thanks to Trade Interceptor, ThinkMarkets provides a trading experience that exceeds the traditional MetaTrader-only offering. That said, it is available as a desktop download only and has no browser-based version.
Benefits
ThinkMarkets offers two platforms: its own Trade Interceptor platform (desktop only) and MetaTrader 4.
While Trade Interceptor's desktop software may be light compared to other competitors, the platform has a good balance of features, making it neither overly complex, nor too simple. All in all, I found it to be a positive user experience.
Charting is a clean experience, and comes packed with 102 indicators, 54 drawing tools and icons, and 12 chart types. One feature I enjoyed is that once indicators are added to a chart, those indicators are added by default to every new instrument opened in a new chart window. Chart layouts can also be saved as templates, comparable to the MetaTrader platforms.
Considerations
Oddly, there is no web version of the Trade Interceptor platform, leaving the mobile option the only alternative to the Trade Interceptor desktop.
While backtesting is available on Trade Interceptor via the Traders Gym feature, automated trading algorithms are not supported.
Gallery
Further Reading
Tools Comparison
| Feature | ThinkMarkets |
| --- | --- |
| Virtual Trading (Demo) | Yes |
| Proprietary Platform | Yes |
| Desktop Platform (Windows) | Yes |
| Web Platform | Yes |
| Social Trading / Copy-Trading | Yes |
| MetaTrader 4 (MT4) | Yes |
| MetaTrader 5 (MT5) | No |
| cTrader | No |
| Charting - Indicators / Studies (Total) | 51 |
| Charting - Drawing Tools (Total) | 31 |
| Charting - Trade From Chart | Yes |
| Watchlists - Total Fields | 7 |
| Order Type - Trailing Stop | Yes |
Customer Service
To score Customer Service, ForexBrokers.com partnered with customer experience research group Customerwise to conduct phone tests from locations throughout the UK. For our 2019 Review, 229 customer service tests were conducted over six weeks.
Results
Average Connection Time: <3 minutes
Average Net Promoter Score: 4.4 / 10
Average Professionalism Score: 2.6 / 10
Overall Score: 4.0 / 10
Ranking: 20th (23 brokers)
Research
Overall, ThinkMarkets provides a fairly diverse selection of forex and CFDs research but lacks the depth and variety of tools required to compete with industry leaders.
Benefits
The ThinkMarkets team of analysts produces multiple daily blog articles covering technical and fundamental news analysis across forex and CFD markets. Its economic calendar is powered by FXStreet.
News headlines provided by FX Wire Pro stream within the Trade Interceptor platform for clients. In addition, ThinkMarkets integrates AutoChartist, which is a popular pattern-recognition software for researching trading opportunities, although the tool is available only to clients who have at least $2,000 in their account balance.
Further research tools include an add-on for MT4 known as MT4 Super, developed by FX Blue LLP, which provides a suite of indicators and trading tools traders can use to enhance the default MT4 platform setup.
Considerations
Adding a heatmap and stock screeners would help boost ThinkMarkets' research offering.
Overall quality of produced research is just, "ok".
Gallery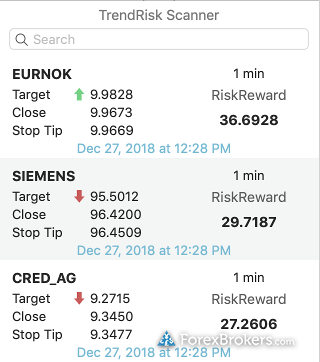 Further Reading
Research Comparison
| Feature | ThinkMarkets |
| --- | --- |
| Daily Market Commentary | Yes |
| Forex News (Top-Tier Sources) | Yes |
| Weekly Webinars | Yes |
| AutoChartist | Yes |
| Trading Central (Recognia) | No |
| Delkos Research | No |
| Social Sentiment - Currency Pairs | No |
| Economic Calendar | Yes |
Mobile Trading
After spending some time in the Trade Interceptor app, I was left impressed. Coupled with MT4, ThinkMarkets provides a competitive mobile offering for forex and CFDs traders.
Benefits
The Trade Interceptor app includes a good range of features, even though some of them are nestled away in the "more" section, including the economic calendar and trend risk scanner.
Looking at the charting package, there are 11 chart types to choose from with 102 indicators and 57 drawing tools. The experience matches that of the desktop version of the platform, which is uncommon and a benefit for traders.
The Trade Interceptor app may appear simple on the surface; however, it provides advanced features and settings that can be fined tuned. For example, charts can be adjusted to view four at once, which is certainly not usually available in a mobile experience.
Considerations
Gallery
Further Reading
Mobile Apps Comparison
| Feature | ThinkMarkets |
| --- | --- |
| Android App | Yes |
| Apple iOS App | Yes |
| Trading - Forex | Yes |
| Trading - CFDs | Yes |
| Alerts - Basic Fields | Yes |
| Watch List | Yes |
| Watch List Syncing | No |
| Charting - Indicators / Studies | 30 |
| Charting - Draw Trend Lines | Yes |
| Charting - Trend Lines Moveable | Yes |
| Charting - Multiple Time Frames | Yes |
| Charting - Drawings Autosave | No |
| Forex Calendar | No |
Offering of Investments
The following table summarizes the different investment products available to ThinkMarkets clients.
Offering Comparison
| Feature | ThinkMarkets |
| --- | --- |
| Forex: Spot Trading | Yes |
| Currency Pairs (Total Forex pairs) | 40 |
| CFDs - Total Offered | 192 |
| Social Trading / Copy-Trading | Yes |
| Cryptocurrency traded as actual | No |
| Cryptocurrency traded as CFD | Yes |
Other Notes
Liquidation calls (margin call /stop out) trigger when the account value is equal to half of the used margin, which means the free margin is permitted to go negative up to a value equal to half of the used margin amount – before all trades are closed. This is more flexible than brokers that may trigger a margin call sooner, such as when the available margin reaches zero (i.e., when the account value equals 100% of the used margin).
In 2017, ThinkMarkets followed the industry trend and began offering cryptocurrency CFDs, launching nine pairs against the US Dollar including Bitcoin, Bitcoin Cash, Bitcoin Gold, NEO, Dash, Ethereum, and Ripple.
It's worth noting that ThinkMarket's cryptocurrency CFD contracts expire each week, limiting their appeal to long-term investors.
ThinkMarkets also publishes a blockchain mobile app called TradeConnect, following the Initial Coin Offering (ICO) of the ThinkCoin cryptocurrency project, which is aimed at building a smart contract-based exchange, and is a member of the ThinkMarkets Group.
Final Thoughts
Looking at the ThinkMarkets offering, the Standard account would not be my choice as there is no free VPS, no AutoChartist, and no account manager provided. For traders who want MT4 and can deposit at least $2,000, the Pro account has more competitive pricing and access to the above features Standard Account holders miss.
Pricing aside, ThinkMarkets primary highlights include its cryptocurrency offering and its Trade Interceptor mobile app. Beyond this, our testing found ThinkMarkets provides poor quality customer service, and overall the broker struggles to provide enough value to compete with the best firms in the industry.
2020 Review Methodology
For our 2020 Forex Broker Review we assessed, rated, and ranked 30 international forex brokers over a five month time period. Each broker was graded on 105 different variables and, in total, over 50,000 words of research were produced.

While encouraged, broker participation was optional. Each broker had the opportunity to complete an in-depth data profile and provide executive time (live in person or over the web) for an annual update meeting.

All data submitted by brokers is hand-checked for accuracy. Ultimately, our rigorous data validation process yields an error rate of less than 1% each year, providing site visitors quality data they can trust. Learn more about how we test.
Forex Risk Disclaimer
"There is a very high degree of risk involved in trading securities. With respect to margin-based foreign exchange trading, off-exchange derivatives, and cryptocurrencies, there is considerable exposure to risk, including but not limited to, leverage, creditworthiness, limited regulatory protection and market volatility that may substantially affect the price, or liquidity of a currency or related instrument. It should not be assumed that the methods, techniques, or indicators presented in these products will be profitable, or that they will not result in losses." Learn more.
---
About the author: Steven Hatzakis Steven Hatzakis is the Global Director of Research for ForexBrokers.com. Steven previously served as an Editor for Finance Magnates, where he authored over 1,000 published articles about the online finance industry. Steven is an active fintech and crypto industry researcher and advises blockchain companies at the board level. Over the past 20 years, Steven has held numerous positions within the international forex markets, from writing to consulting to serving as a registered commodity futures representative.