The ForexBrokers.com Annual Review (3 years running) is among the most cited in the industry. Our Head of Research, Steven Hatzakis, is frequently referenced as a leading analyst covering forex brokers and cryptocurrency. Learn more.
ThinkMarkets (formerly ThinkForex) was established in New Zealand in 2010, and in 2012 relocated its headquarters to Australia as it obtained regulation from the Australia Securities and Investment Commission (ASIC) under TF Global Markets Pty.
In 2015, ThinkMarkets set up an office in London and became regulated by the Financial Conduct Authority (FCA) in the United Kingdom (UK) under TF Global Markets Limited.
The company also has a Bermuda-domiciled entity, Think Capital Limited, available to clients in eligible locations, as part of its global offering.
In May 2017, ThinkMarkets acquired Trade Interceptor, – a popular third-party mobile trading application, that is now fully integrated into Think Markets platform offering as replacing its the predecessor, the ThinkTrader platform, which was decommissioned.
ThinkMarkets continued to expand its range of tradeable symbols over the past year, with 164 single-share CFDs, 13 indices, two metals, and nine cryptocurrency CFDs, bringing the total offered to 232, including nine cryptocurrency CFDs. ThinkMarkets also publishes a blockchain mobile app called TradeConnect, following the Initial Coin Offering (ICO) of the ThinkCoin cryptocurrency project, which is aimed at building a smart contract-based exchange, and is a member of the ThinkMarkets Group.
Trust Score
Trading with a forex broker traders can trust is crucial to success. Unfortunately, forex fraud and scams are common in the industry.
Here at ForexBrokers.com, we maintain the largest independent regulatory database available on the web. Using 28 different variables, we have created a proprietary 1-100 score (the higher the better) of overall trustworthiness, which we call the Trust Score. Here is our trust summary of ThinkMarkets.
| | ThinkMarkets |
| --- | --- |
| Year Founded | 2010 |
| Publicly-Traded Company (Listed) | No |
| Regulated in Major Hub | Yes |
| Regulated in Emerging Hub | No |
| Authorised in the European Union | Yes |
Offering of Investments
The following table summarizes the different investment products available to ThinkMarkets clients.
| | ThinkMarkets |
| --- | --- |
| Currency Pairs (Total Forex pairs) | 40 |
| CFDs - Total Offered | 192 |
| Cryptocurrency traded as actual | No |
| Cryptocurrency traded as CFD | Yes |
Commissions & Fees
ThinkMarkets offers three account types and a separate account type for its Trade Interceptor offering. The Standard account is commission free (spreads only) and requires a minimum deposit of $250, while the commission-based Pro account requires a minimum funding of $2,000 and has a commission of 2.5 units per side or 5 units per round turn (RT), which is the equivalent of 0.5 pips RT per standard.
Lastly, ThinkMarkets' VIP account requires $25,000 to trade, and the commission rate is negotiable on a client-by-client basis, making it an option for active traders or those with cost-sensitive strategies, although it is not available for Trade Interceptor accounts (only for MT4 users).
ThinkMarkets advertises its lowest spreads, but because it did not provide an average or typical spread value, we couldn't make an even comparison with other brokers. Using data from a third-party website, MyfxBook, spreads on the EUR/USD averaged 1.0 pips over a 48-hour period from June 6 to June 8, 2017 for the Pro account. With a 1 pip spread, the all-in cost would equate to 1.6 pips after factoring in the 0.6 pip RT commission, which is added to prevailing spreads.
We would like to see ThinkMarkets publish its own average spread data, ideally monthly, to help provide a clearer picture on how its forex spreads average out over the entire calendar month, as its FX pricing otherwise appears competitive.
ThinkMarkets does, however, publish average spreads for specific instruments, such as CFD indices. For example, we observed a 1.3 pip average spread on the DAX in MT4, whereas, spreads on Trade Interceptor are fixed at 1 pip.
| | ThinkMarkets |
| --- | --- |
| Minimum Initial Deposit | $250.00 |
| Average Spread EUR/USD - Standard | N/A |
| All-in Cost EUR/USD - Active | N/A |
| Active Trader or Premium/VIP | Yes |
Customer Service
To score Customer Service, ForexBrokers.com partnered with customer experience research group Customerwise to conduct phone tests from locations throughout the UK. For our 2019 Review, 229 customer service tests were conducted over six weeks.
Results:
Average Connection Time: <3 minutes
Average Net Promoter Score: 4.4 / 10
Average Professionalism Score: 2.6 / 10
Overall Score: 4.0 / 10
Ranking: 20th (23 brokers)
Research
ThinkMarkets combines various research content and tools from both in-house and external sources on its website as well as within its trading platforms. The company's team of analysts produces multiple daily blog articles covering technical and fundamental news analysis across forex and CFD markets. Its economic calendar is powered by FXStreet.
News headlines provided by FX Wire Pro stream within the Trade Interceptor platform for clients at no cost to them. In addition, ThinkMarkets integrates AutoChartist, which is a popular pattern-recognition software for researching trading opportunities, and is available to clients who have at least $2,000 in their account balance.
Further research tools include an add-on for MT4 known as MT4 Super, developed by FX Blue LLP, which provides a suite of indicators and trading tools traders can use to enhance the default MT4 platform setup.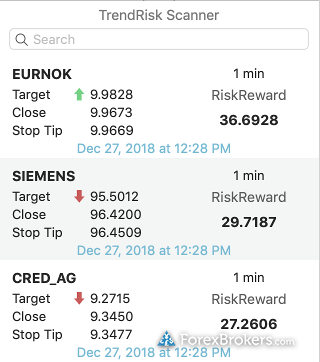 Trade Interceptor desktop Trend Scanner
Pros aside, adding a heatmap and stock screeners would further boost ThinkMarkets' research offering as the company broadens its product range.
Overall, ThinkMarkets provides a diverse research offering, but needs to further expand this offering to compete with industry leaders in the category. ThinkMarkets finished 15th out of 28 forex brokers in our 2019 Review.
| | ThinkMarkets |
| --- | --- |
| Daily Market Commentary | Yes |
| Forex News (Top-Tier Sources) | Yes |
| Weekly Webinars | Yes |
| AutoChartist | Yes |
| Trading Central (Recognia) | No |
| Delkos Research | No |
| Acuity Trading | No |
| Social Trading / Copy-Trading | Yes |
| Social Sentiment - Currency Pairs | No |
| Economic Calendar | Yes |
Platforms & Tools
ThinkMarkets offers two platforms: its own recently launched Trade Interceptor platform, and MT4, the popular third-party platform developed by MetaQuotes Software Corp. To learn more about MT4, read our MetaTrader guide.
For this review, I focused on using the Trade Interceptor platform, ThinkMarket's recently acquired technology, which comes available for Windows and MacOS as desktop software.
Running Trade Interceptor on MAC OS, the platform has a simple layout with a fair number of components packed under the hood. The platform resembles a typical setup where the three main modules are the charting, open positions, and instrument list panel.

TradeInterceptor desktop dashboard signals
From within the instrument list panel, traders can toggle between multiple modules, from news headlines to trade signals to the platform's economic calendar, which includes event reminders specific events traders can subscribe to.

TradeInterceptor desktop layout
The usability of the platform is evident, as placing and managing trades is straightforward. Charting is also a clean experience, and comes packed with 102 indicators, 54 drawing tools and icons, and 12 chart types. One feature I enjoyed is that once indicators are added to a chart, those indicators are added by default to every new instrument opened in a new chart window.

TradeInterceptor desktop charts
Chart layouts can also be saved as templates, comparable to the MetaTrader platforms, and while backtesting is available via the Traders Gym feature, automated trading algorithms are not supported.
While Trade Interceptor's desktop software may be light compared to other competitors, the platform has a good balance of features, making it neither overly complex, nor too simple. All in all, I found it to be a positive user experience. Oddly, there is no web version of the Trade Interceptor platform, leaving the mobile option the only alternative to the Trade Interceptor desktop.
Thanks to Trade Interceptor, ThinkMarkets provides a trading experience that exceeds the traditional MetaTrader-only offering.
| | ThinkMarkets |
| --- | --- |
| Virtual Trading (Demo) | Yes |
| Proprietary Platform | Yes |
| Desktop Platform (Windows) | Yes |
| Web Platform | Yes |
| Social Trading / Copy-Trading | Yes |
| MetaTrader4 (MT4) | Yes |
| MetaTrader5 (MT5) | No |
| cTrader | No |
| Charting - Indicators / Studies (Total) | 51 |
| Charting - Drawing Tools (Total) | 31 |
| Charting - Trade From Chart | Yes |
| Watchlists - Total Fields | 7 |
| Order Type - Trailing Stop | Yes |
Mobile Trading
For mobile trading, ThinkMarkets offers Trade Interceptor and MetaTrader4 (MT4). For this review, I focused on the Trade Interceptor mobile app, which comes available for Android and iOS devices.
Running the app on a Samsung Galaxy S8+ Android device, I found the app packs a good range of features, even though some of them are nestled away in the "more" section, including the economic calendar and trend risk scanner.
Looking at the charting package, there are 11 chart types to choose from with 102 indicators and 57 drawing tools.
Looking at the charting package, there are 11 chart types to choose from with 102 indicators and 57 drawing tools. The experience matches that of the desktop version of the platform, which is uncommon and a benefit for traders.

TradeInterceptor mobile charting
The Trade Interceptor app may appear simple on the surface; however, it provides advanced features and settings that can be fined tuned. For example, charts can be adjusted to view four at once, which is certainly not usually available in a mobile experience.
Drawbacks in the experience include the lack of a modern feel and the inability for watch lists to sync with the desktop version of the platform, preventing a seamless transition from mobile to desktop (and vice-versa).

TradeInterceptor mobile rates
Overall, after spending some time in the Trade Interceptor app, I was left impressed. Coupled with its MT4 and Trade Interceptor offering, ThinkMarkets finished 9th for Mobile Trading out of 28 brokers.
| | ThinkMarkets |
| --- | --- |
| Android App | Yes |
| Apple iOS App | Yes |
| Trading - Forex | Yes |
| Trading - CFDs | Yes |
| Alerts - Basic Fields | Yes |
| Watch List | Yes |
| Watch List Syncing | No |
| Charting - Indicators / Studies | 30 |
| Charting - Draw Trend Lines | Yes |
| Charting - Trend Lines Moveable | Yes |
| Charting - Multiple Time Frames | Yes |
| Charting - Drawings Autosave | No |
| Forex Calendar | No |
Other Notes
ThinkMarkets provides market execution as its main attraction as an agency broker. Because of this, positive/negative slippage can occur, as trades are not re-quoted. In the UK, ThinkMarkets has a dealer license which is limited as a match-principal (agency-only execution), and in Australia and Bermuda the brand follows a similar method, although it may take risks as a dealer/market maker when needed (as a contingency).
Liquidation calls (margin call /stop out) trigger when the account value is equal to half of the used margin, which means the free margin is permitted to go negative up to a value equal to half of the used margin amount – before all trades are closed. This is more flexible than brokers that may trigger a margin call sooner, such as when the available margin reaches zero (i.e., when the account value equals 100% of the used margin).
ThinkMarkets uses a tiered structure for capping leverage based on account balance. In 2017, ThinkMarkets followed the industry trend and began offering cryptocurrency CFDs, launching nine pairs against the US Dollar including Bitcoin, Bitcoin Cash, Bitcoin Gold, NEO, Dash, Ethereum, and Ripple.

Trade Interceptor desktop range of markets
It's worth noting that ThinkMarket's cryptocurrency CFD contracts expire each week, limiting their appeal to long-term investors.
Also, initially its crypto offering was more aggressive, including up to 32:1 leverage on some pairs, but thanks to the extreme market volatility at the end of 2017, the broker revised its offering. New regulations in 2018 also require reduced leverage with a maximum of 2:1 for crypto assets in Europe.
Final Thoughts
Compared to last year, ThinkMarkets made a major pivot by acquiring Trade Interceptor and making it the successor of its now decommissioned Think Trader platform. The broker also brought back a large number of CFDs to its platform, including launching cryptocurrency CFDs, which helps it cater to a broader segment of traders. In 2018, ThinkMarkets pushed further into blockchain as the TradeConnect platform was crowdfunded through the ThinkCoin ICO, and its official mobile app was published at the end of the year. As a result, ThinkMarkets finished in fifth place in the Crypto category, from among 28 brokers in our 2019 review.
The Standard account would not be my choice as there is no free VPS, no AutoChartist, and no account manager provided. For traders who want MT4 and can deposit at least $2,000, the Pro account has more competitive pricing and access to the above features Standard Account holders miss. Meanwhile, active traders or those with more cost-sensitive strategies can opt for the VIP account – which requires $25,000 – where trading costs can drop even further.
Overall, ThinkMarkets provides several account options alongside reputable regulatory jurisdictions through Australia and the UK, providing traders a variety of choices.
Methodology
For our 2019 Forex Broker Review we assessed, rated, and ranked 28 international forex brokers. Each FX broker was graded on 81 variables. How we test.
Forex Risk Disclaimer
"There is a very high degree of risk involved in trading securities. With respect to margin-based foreign exchange trading, off-exchange derivatives, and cryptocurrencies, there is considerable exposure to risk, including but not limited to, leverage, creditworthiness, limited regulatory protection and market volatility that may substantially affect the price, or liquidity of a currency or related instrument. It should not be assumed that the methods, techniques, or indicators presented in these products will be profitable, or that they will not result in losses." Learn more.
---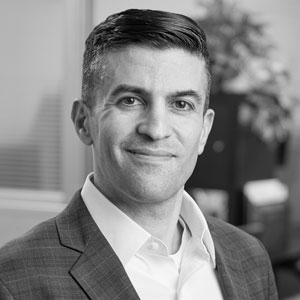 Reviewed by Steven Hatzakis Steven Hatzakis is the Global Director of Research for ForexBrokers.com. Steven previously served as an Editor for Finance Magnates, where he authored over 1,000 published articles about the online finance industry. Steven is an active fintech and crypto industry researcher and advises blockchain companies at the board level. Over the past 20 years, Steven has held numerous positions within the international forex markets, from writing to consulting to serving as a registered commodity futures representative.
ThinkMarkets Competitors
Select one or more of these brokers to compare against ThinkMarkets.
---
Ratings Overall
Summary
Commissions & Fees
Offering of Investments
Platforms & Tools
Research
Customer Service
Mobile Trading
Education
---
Commissions & Fees
Commission Notes
Commissions and fees will vary depending on the type of ThinkMarkets account you choose – a commission-free Standard account, and the Pro and VIP accounts – both of which are commission-based accounts with lower spreads.
Traders can open an account either with the firm's UK, Australian, or Bermuda-based entity (depending on their location), where the main differences will be any applicable laws and regulations that govern the customer agreement. Commissions and spreads (trading costs) and available markets are otherwise the same.
Further information regarding ThinkMarkets' commissions and fees (applicable to the firm's UK, Australia, and Bermuda-based entity) across the Standard, PRO, and VIP accounts can be seen below:
Standard account: Commission free, with wider spreads (in lieu of per trade commission)and can be used on MT4.
Pro account: Lower spreads compared to the Standard account and three units per side commission (six units per RT) or the equivalent of $6 RT per standard lot (100K units); minimum account balance of $2,000 required. The PRO account can be used only with the MT4 platform.
VIP account: Comparable to the PRO account, but negotiable per side commission. Minimum account balance of $25,000 required. This account is like an active trader offering. The VIP account can be used only with the MT4 platform.
Compare ThinkMarkets
Find out how ThinkMarkets stacks up against other brokers.