Founded in 2012, Darwinex established its office in London and obtained authorization in 2013 via its FCA-regulated entity, Tradeslide Trading Tech Limited, which is pass-ported throughout the EU under MiFID. Darwinex evolved from an asset manager into also offering brokerage services and execution as a dealer with a limited license as a matched principal, which permits it to offer agency execution (non-dealing desk) by using third-party dealers.
Fast-forward to 2018 and Darwin Exchange (Darwinex) today provides a unique approach to social copy trading where strategies are traded as financial assets based on their net asset value (NAV) indexed to 100. Darwinex currently manages nearly 36 million in assets.
When a trader creates a trading strategy – known as a Darwin – within the Darwinex community, investors can buy and sell these strategies by selecting the respective Darwin symbol. Each month, the top performing Darwins are eligible to receive allocations from a pool of four million of the firm's own capital.
Investors can also build portfolios consisting of Darwin strategies (there are more than 1,000) created by a trading system developer. Strategy creators who share their strategies in the Darwin community do so via the MetaTrader 4 (MT4) platform, which is also used by self-directed traders to access 40 forex pairs, 10 indices, and six metals contracts.
Trust Score
Trading with a forex broker that traders can trust is crucial to success. Forex fraud and scams are,
Trading with a forex broker traders can trust is crucial to success. Unfortunately, forex fraud and scams are common in the industry.
Here at ForexBrokers.com, we maintain the largest independent regulatory database available on the web. Using 28 different variables, we have created a proprietary 1-100 score (the higher the better) of overall trustworthiness, which we call the Trust Score. Here is our trust summary of Darwinex.
| | Darwinex |
| --- | --- |
| Trust Score | 81 |
| Year Founded | 2012 |
| Publicly-Traded Company (Listed) | No |
| Regulated in Major Hub | Yes |
| Regulated in Emerging Hub | No |
| Authorised in the European Union | Yes |
| CFTC Registered (USA) | No |
| FCA Regulated (UK) | Yes |
| IIROC Authorised (Canada) | No |
| FINMA Authorised (Switzerland) | No |
| ASIC Authorised (Australia) | No |
| SFC Authorised (Hong Kong) | No |
| MAS Authorised (Singapore) | No |
| FSA Authorised (Japan) | No |
| FMA Authorised (New Zealand) | No |
| CySEC Authorised (Cyprus) | No |
Offering of Investments
The following table summarizes the different investment products available to Darwinex clients.
| | Darwinex |
| --- | --- |
| Minimum Initial Deposit | $500 |
| Currency Pairs (Total Forex pairs) | 39 |
| CFDs - Total Offered | 51 |
| Exchange Traded Securities: US | No |
| Exchange Traded Securities: International | No |
| Cryptocurrency traded as actual | No |
| Cryptocurrency traded as CFD | Yes |
Commissions & Fees
When it comes to commissions and fees at Darwinex, trading costs vary depending on whether users are investing via the Darwinex platform or carrying out self-directed trading on MT4.
All users, including investors and self-directed traders, incur the spreads on each trade – plus commission, as Darwinex is an agency-broker (non-dealing desk). Spreads are variable, and the round-turn commission added to each trade varies depending on the currency pair traded.
For example, on the EUR/USD pair, the commission is €2.5 per side for every 100,000 units (one standard lot) which equates to €5 per standard lot round turn (RT), whereas, on USD/JPY the RT commission is $5 per standard lot. Using live spread data from the broker's website, which is not meant to be indicative of average spreads, the EUR/USD was generally 0.2 to 0.3 pips.
Investors on Darwinex pay a 20% quarterly performance fee to the trading systems developers per Darwinex strategy, only if the performance of the said strategy achieves a new high watermark (net new profits above a prior high when the investor started), which is comparable to a hedge fund incentive fee structure. For more about Darwinex spreads see our full commissions notes at the bottom of the page.
| | Darwinex |
| --- | --- |
| Average Spread EUR/USD - Standard | N/A |
| All-in Cost EUR/USD - Active | N/A |
| Active Trader or Premium/VIP | Yes |
Customer Service
For our 2018 Forex Review, 129 customer service phone tests were conducted over three months. The data collected is institutional grade. On average, three questions were asked for each test. To score each test, the tests were divided into three separate groups and scores were given for the time taken to connect with each support representative and the ability of each representative to professionally (and thoroughly) answer each question. A Net Promoter Score was also given for the overall experience.
Results:
Average Connection Time: <1 minute
Average Net Promoter Score: 7 / 10
Average Professionalism Score: 6.2 / 10
Overall Score: 7.2 / 10
Ranking: 14th (43 brokers)
Research
One of the key research tools the broker provides is the Darwinex platform itself as traders get access to a broad range of configurable parameters for sorting through the nearly 1,200 Darwin strategies (including closed strategies), where performance rankings can be broken down by various predefined and custom filters. The Darwinex score, for example, uses the firm's proprietary ranking to gauge a strategy's overall potential – where the higher the score is, the better.
To analyze Darwins, custom filters, such as overall return, can be saved so users can screen for Darwins that only meet specific criteria.
Aside from these investor research tools and occasional articles and news on the company's blog, Darwinex does not provide traditional research, which limits its overall ranking as a broker for self-directed traders.
| | Darwinex |
| --- | --- |
| Daily Market Commentary | No |
| Forex News (Top-Tier Sources) | No |
| AutoChartist | No |
| Trading Central (Recognia) | No |
| Delkos Research | No |
| Acuity Trading | No |
| Social Trading / Copy-Trading | Yes |
| Social Sentiment - Currency Pairs | No |
| Client Webinars | Yes |
| Client Webinars (Archived) | Yes |
| Videos - Beginner Trading Videos | Yes |
| Economic Calendar | Yes |
| Calendar Includes Forecasts | No |
| Economic News Sentiment | No |
| Trade Ideas - Backtesting | Yes |
Platforms & Tools
Darwinex offers two trading platforms, its own proprietary software and the popular MetaTrader 4 (MT4) platform. To learn more about MT4, read our guide to MetaTrader. For this review, I focused on using the Darwinex platform, which comes as a web-based and mobile app.
The Darwinex web-based platform is built using HTML5 helping support the latest web standards and offers users a nice layout and clean design. It is easy to analyze the historical performance of a particular Darwin strategy and there are multiple tabs for further analysis.
The DarwinIA section shows the most recent Darwins to receive funding allocations from the company's monthly allocation of four million Euros. This information is made transparent for all investors so anyone can participate by investing alongside these featured money managers.
The portfolio section shows the combined performance of all Darwin holdings, and further reporting is found across additional tabs, ranging from rebates to historical positions.
It is easy to analyze the historical performance of a particular Darwin strategy and there are multiple tabs for further analysis.
As a social trading platform, Darwinex offers several innovative features, ranging from custom filters to risk-management settings. However, self-directed traders may be challenged as there are no charting facilities, streaming forex prices, or trading functionality outside of buying and selling Darwin strategies.
That said, Darwinex recently implemented conditional orders, which means that beyond just investing in Darwins, users can now start to trade them using tools usually found on self-directed trading platforms.
Conditional orders is one example of Darwinex starting to bridge the gap between investing and actively trading Darwins on its platform.
Adding additional self-directed trading tools to the platform such as forex rates and charting would level the platform for traders and investors on Darwinex, comparable to how eToro caters to investors and self-directed traders on one platform.
Overall, investors get access to numerous tools on Darwinex when it comes to harnessing the power of crowdsourcing and social copy trading. However, since Darwinex does not yet support self-directed trading beyond its own strategies, traders must use MT4 to choose from the range of forex and CFD options the broker offers.
| | Darwinex |
| --- | --- |
| Virtual Trading (Demo) | Yes |
| Desktop Platform (Windows) | Yes |
| Desktop Platform (Mac) | No |
| Web Platform | Yes |
| Social Trading / Copy-Trading | Yes |
| Proprietary | Yes |
| MetaTrader4 (MT4) | Yes |
| MetaTrader5 (MT5) | Yes |
| cTrader | No |
| Currenex | No |
| ZuluTrade | No |
| MirrorTrader | No |
| Charting - Drawing Tools (Total) | 31 |
| Charting - Indicators / Studies (Total) | 51 |
| Watchlists - Total Fields | 7 |
| Order Type - Trailing Stop | Yes |
Mobile Trading
Darwinex offers its own proprietary Darwinex mobile app for investors, as well as the popular MetaTrader4 (MT4) mobile app developed by MetaQuotes Software Corp. To read more about MT4, see our guide to MetaTrader. For this review, I focused on the Darwinex mobile app that is available for both iOS and Android.
The Darwinex mobile app has a modern look and feel, and offers user-friendly navigation options.
While there is not a lot happening on the Darwinex mobile app, many of the key features from the web version are available, such as the ability to explore Darwin strategies and view a summary of open Darwin positions. You can also view historical performance data and rankings, including chart visuals for each strategy. These features are nestled away in the depths of the app, but are easily accessible.
The Darwinex mobile app offers investors access to analysis tools for screening and managing open investments, including buying and selling Darwin strategies. However, it could provide a more comprehensive set of features usually found on mobile apps from forex brokers.
For example, adding the functionality of self-directing trading would help boost the app's usability, as MT4 remains the only option for those wanting to trade from the list of forex pairs and CFDs available at Darwinex.
| | Darwinex |
| --- | --- |
| Android App | Yes |
| Apple iOS App | Yes |
| Charting - Draw Trend Lines | Yes |
| Charting - Can Turn Horizontally | Yes |
| Charting - Technical Studies/Indicators | 30 |
| Watch List Syncing | No |
| Trading - Forex | Yes |
| Trading - CFDs | Yes |
| Alerts - Basic Fields | Yes |
Other Notes
Each month the trading system's developers with the most consistent results become eligible for allocations from a pool of €4 million in notional funding, as a further incentive for users to create successful Darwins and help them earn performance fees in return for positive results.
The Darwinex platform permits users to upload back test files in .csv or HTML format from MT4, specifically to analyze simulated historical performance. However, only live account holders can submit their actual trading results to create a Darwin strategy. Closed strategies also appear in the database as useful points of reference, but are not investable.
Darwinex uses a Value-at-Risk (VaR) approach to calculate the maximum risk investors are willing to take, which serves as a guide when investors customize their investment preferences in their portfolios. A threshold percentage value is chosen (based on the client's balance), and this takes into consideration the historical volatility of each strategy in the overall portfolio.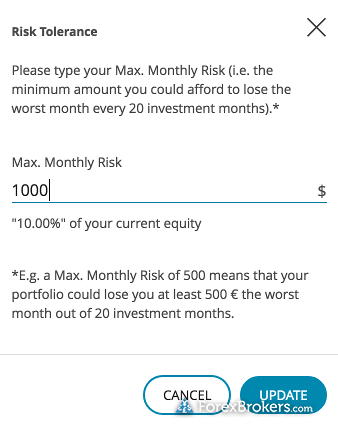 While slippage can occur and the resulting performance can vary between an investor's account and the underlying strategy, Darwinex lists this tracking error as a divergence value within the platform, helping to make the process transparent.
In addition, Darwinex started publishing its execution statistics in an effort to provide greater transparency to its users.
Final Thoughts
Investors and traders are provided a range of tools to analyze and exchange more than 1,200 Darwins, while self-directed forex and CFD traders have access to MT4.
With its competitive commission-based pricing and hedge fund style performance fees, Darwinex helps align successful traders with investors via its web-based platform. While it is a positive step for Darwinex to implement conditional orders for traders to trade Darwins, full self-directed forex and CFD trading remains segmented away in MT4.
Thanks to its competitive pricing and execution offered through the firm's FCA-regulated entity, Darwinex is a viable option for investors and experienced traders to commercialize their strategies.
Methodology
For our 2018 Forex Broker Review we assessed, rated, and ranked 43 international forex brokers. Each FX broker was graded on 140 variables. Learn more.
Forex Risk Disclaimer
"There is a very high degree of risk involved in trading securities. With respect to margin-based foreign exchange trading, off-exchange derivatives, and cryptocurrencies, there is considerable exposure to risk, including but not limited to, leverage, creditworthiness, limited regulatory protection and market volatility that may substantially affect the price, or liquidity of a currency or related instrument. It should not be assumed that the methods, techniques, or indicators presented in these products will be profitable, or that they will not result in losses."Learn more.
---
Reviewed by Steven Hatzakis Steven Hatzakis is the Global Director of Research for ForexBrokers.com. Steven previously served as an Editor for Finance Magnates, where he authored over 1,000 published articles about the online finance industry. Steven is an active fintech and crypto industry researcher and advises blockchain companies at the board level. Over the past 19 years, Steven has held numerous positions within the international forex markets, from writing to consulting to serving as a registered commodity futures representative.
Darwinex Competitors
Select one or more of these brokers to compare against Darwinex.
---
Ratings Overall
Summary
Commissions & Fees
Offering of Investments
Platforms & Tools
Research
Customer Service
Mobile Trading
Education
---
Commissions & Fees
Commission Notes
Darwinex also offers liquidity rebates for investors, comparable to an active trader offering when the monthly commissions paid by users surpass certain thresholds (commission tied to volume).
The tiered levels at which users are eligible for rebates of a portion of the monthly commissions they pay are shown in the excerpt from Darwinex below.
Compare Darwinex
Find out how Darwinex stacks up against other brokers.