Founded in 2012, Coinbase is a San Francisco-based digital currency platform and wallet used by over 9.8 million clients for trading popular cryptocurrencies, including bitcoin (BTC), ethereum (ETH) and litecoin (LTC), and in August 2018 starting accepting ethereum classic (ETC).
Coinbase is widely considered one of the largest venues in the US for trading digital assets such as the top popular crypto currencies. The broker is backed by over $100 million, raised from some of the world's leading investors, ranging from tech-driven venture capital firms such as Andreessen Horowitz to stock exchanges such as the NYSE, among 16 other prominent investment firms and individuals, including Barry Silbert. Since our last review, Coinbase acquired earn.com and the crypto exchange platform Paradex, in addition to launching the Coinbase Index Fund open to US accredited Investors.
Coinbase holds licenses across 38 states in America, although the scope of each license may vary, and digital assets held at Coinbase are not FDIC insured. However, the broker maintains insurance to cover against full loss in the event of its own breach, although this insurance does not cover losses resulting from user accounts that may be compromised. This remains a prominent risk.
For US residents, any USD held in their USD Wallet at Coinbase is FDIC insured up to a maximum of $250,000. In addition, Coinbase holds 98% of its customers' digital assets in offline storage to mitigate the risk of cyber theft, in addition to its 2 Factor Authentication (2FA) verification requirement for account holder login. Clients' funds held in segregated accounts are protected from Coinbase going insolvent (counterparty risk).
Trust Score
Trading with a crypto broker that traders can trust is crucial to success. Unfortunately, crypto fraud and scams are common in the industry.
To help investors select a trustworthy exchange, we have created a proprietary 1-100 score (the higher the better) of overall trustworthiness, which we call the Trust Score. Here is our trust summary for Coinbase.
| Feature | Coinbase |
| --- | --- |
| Trust Score | 93 |
| Licensed or Regulated | Yes |
| Regulated in Emerging Hub | No |
| Regulated in Major Hub | Yes |
| Year Founded | 2012 |
Offering of Investments
The following table summarizes the different investment products available to Coinbase clients.
| Feature | Coinbase |
| --- | --- |
| Active Trader or Premium/VIP | Yes |
| BTC/USD (or USD/BTC) | Yes |
| BTC/USDT (or USDT/BTC) | No |
| Offers Additional Crypto-to-Crypto pairs | No |
| Offers Additional Crypto-to-Fiat pairs | Yes |
Commissions & Fees
The trading costs at Coinbase for cryptocurrencies such as BTC, ETH, and LTC, consist of two main components – the exchange rate and conversion fees. Trading costs from the exchange rate consist of the bid/ask spreads when buying or selling, whereas the conversion cost is the greater of either a minimum fee or percentage fee (depending on the amount transacted).
For example, transactions under $200 worth of digital assets incur a flat minimum fee, which is disclosed at the time of the trade, whereas amounts greater than $200 may incur a percentage fee that varies by region and ranges from 1.49% – 3.99% of the transaction value.
For the exchange rate calculation, the bid/ask spreads are taken from Coinbase's Institutional platform (formerly known as GDAX) and then marked up by up to 50 basis points or more in the event the price derived is from an external liquidity provider (LP). The trade fee shown is at the time of placing the trade, as can be seen in the trade ticket window from the Coinbase web dashboard (below):
While Coinbase does not charge users a fee to use its hosted digital wallet service, transfers to external addresses outside of Coinbase incur network transaction fees that are paid to miners directly. (Coinbase does not pay the network mining fee on behalf of customers for outgoing digital currency transactions.)
Miners earn the network fees for their work in validating each transaction to help secure the network, and the network fee on Coinbase for external transfers is calculated dynamically at the time of the transaction.
Trading digital assets can incur significant costs as spreads are still generally high compared to traditional asset classes that are electronically traded. That said, trading costs are expected to go down globally across brokers as the crypto markets become more efficient and liquidity increases.
Coinbase's web dashboard is expensive for trading cryptocurrencies compared to its Coinbase Pro platform, while Coinbase Pro has improved its pricing costs compared to some of its competitors. Commissions and fees are not the broker's strong point.
| Feature | Coinbase |
| --- | --- |
| Transaction Fee % per trade | 1.49% -3.99% (in US) |
| Minimum Initial Deposit | $1.00 |
| Transaction Fee/Commission per trade | Yes |
| Commission fee per trade | -1 |
Security
For added security, Coinbase had previously offered clients the option of requesting a text message code to be sent to their mobile phones to verify each login attempt to their account via a process known as Two-Step Verification (2SV). However, there were reports that some hackers obtained customers' identity information then hijacked their cell phone numbers to log into their Coinbase accounts and siphoned their digital assets away.
Coinbase responded by requiring clients to use Two Factor Authentication (2FA), such as the Google Authenticator app or Authly app, to help deter hackers. This shows how critical it is to safeguard personal information and the clever ways hackers try to target cryptocurrencies and digital assets, as once stolen, they are often unrecoverable.
| Feature | Coinbase |
| --- | --- |
| Offers Two Factor Authentication (2FA) | Yes |
| Holds Clients Funds in Cold Storage | Yes |
| Offers Insurance on USD wallet | Yes |
Platforms & Tools
Coinbase provides two trading venues, its Coinbase web portal dashboard for investors and Coinbase Pro its more advanced web-based platform for traders. The main portal can be used by passive and active traders who can create basic market orders to trade digital assets across their cryptocurrency wallets, alongside a dollar-based wallet.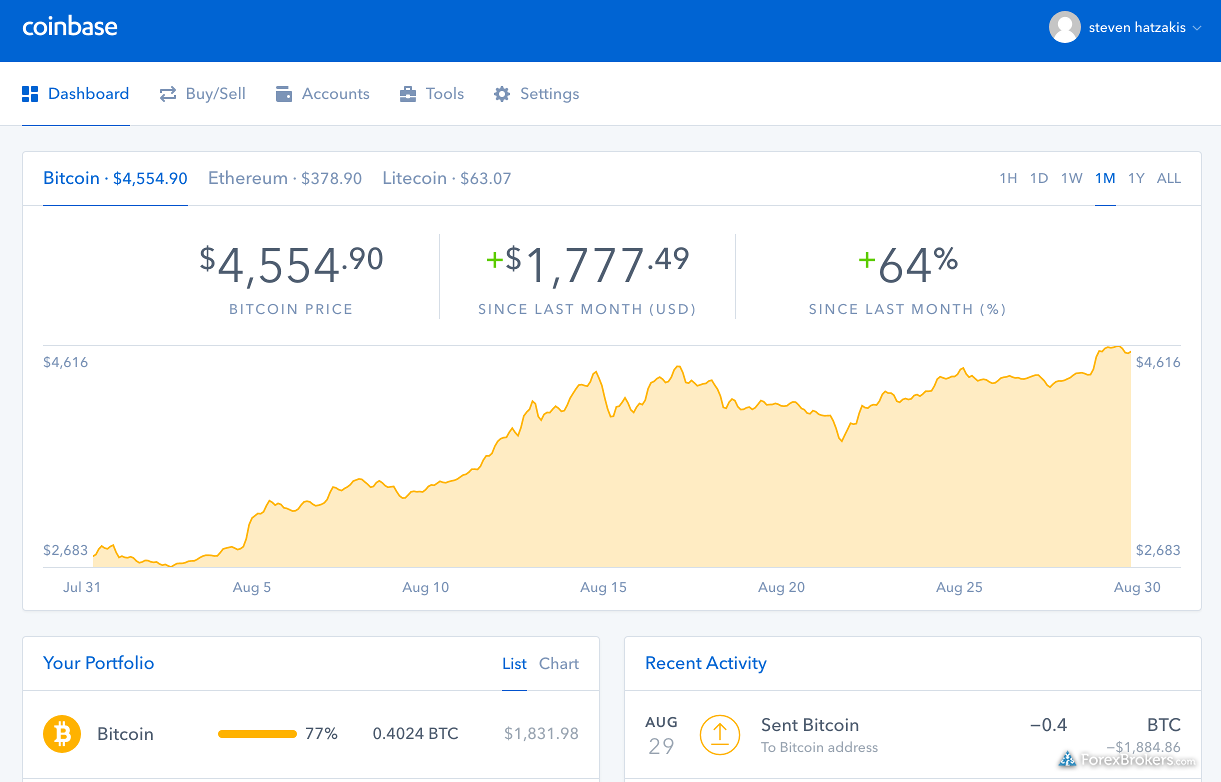 More advanced users who want to place pending orders, including entry stop and entry limits, among other order types, can choose Coinbase Pro, where level 2 pricing and depth of book allow traders to explore prices and available liquidity more closely. For this review, I used both platforms.
The Coinbase Pro platform is provided via a separate login using the same Coinbase login credentials to authorize the platform, which features streaming prices, with the depth of book shown visually. Pending orders in the order book are aggregated alongside the current spot rate.
The Depth Chart is a reference tool for advanced traders who wish to analyze the order book visually and assess market sentiment, as it plots all current outstanding buy and sell orders from the order book section into an interactive chart.
This information in the depth chart can be used to gauge sentiment and provides a visualization of the Coinbase Pro order book as well as trade executions (history) comparable to how forex ECNs or Level-2 pricing are displayed in platforms used across global stock markets.
Aside from the pricing feature in the depth chart, when it comes to technical analysis, the charts on Coinbase Pro are not much better than the Coinbase dashboard. Coinbase Pro provides two other indicators and one additional chart type (candlestick) across the same six time frames.
Moving to creating orders in Coinbase Pro, the available order types range from simple limit and stop orders to Fill-or-Kill (FOK) and Good-til-Cancelled (GTC) orders, among other types.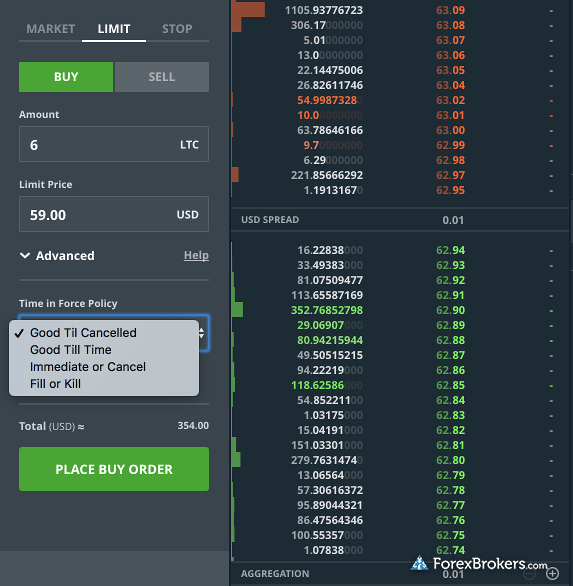 As far as open orders management goes, the open orders section is basic. The most pertinent information, including trade size, fill status, price, fee, time, and status, is available and clearly detailed. That said, users can only cancel pending orders using the cancel button as there is no feature to modify (edit) pending orders.
Coinbase Pro still has room for improvement when it comes to adding features and tools to contribute to a richer trading experience, on top of its already solid foundation of basic minimum features.
For example, showing the aggregate portfolio account value (equity) from all assets held on Coinbase Pro (i.e., the sum of all wallet-held assets converted into a $ value) would be a useful feature as only the value of each wallet is shown within each wallet.
Bottom line: Coinbase Pro has lower trading costs and a wider range of order types, making it the clear winner compared to the Coinbase dashboard.
| Feature | Coinbase |
| --- | --- |
| Charting - Candlestick or Line Charts | Yes |
| Charting - Multiple Time Frames | Yes |
| Charting - Drawing Tools | No |
| Charting - Indicators/Studies | 2 |
| Platform - web-based | Yes |
| Platform - Desktop | No |
| Order Type - Limit | Yes |
Mobile Trading
The Coinbase mobile app, which comes available for Android and iOS, provides users access to their account information and the ability to place market orders to buy and sell cryptocurrencies. The mobile app can also be used as a wallet to send and receive the supported digital assets available at Coinbase.
I tested the app on a Samsung Galaxy S8+ running Android and found the offering cleanly designed and easy to navigate. You are greeted by your account dashboard overview, which is minimalistic and serves its primary purpose well. Users can quickly assess the current market and view a summary of their holdings.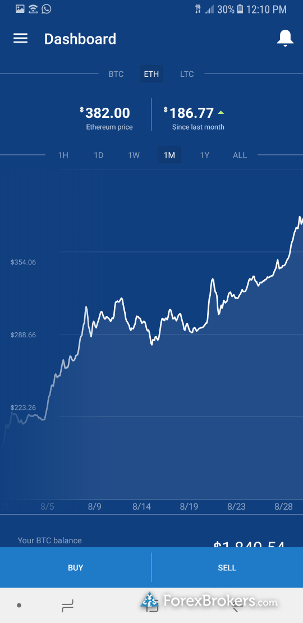 Users have access to the app's inherent wallet feature to deposit and/or send digital assets to or from other addresses, including a handy QR code scanner for outgoing transactions and a QR code generator that produces an address for depositing cryptocurrency.
Placing trades using the mobile app is straightforward and clean. Similar to the website interface, Coinbase does an excellent job of breaking each trade down (quantity, price, funding method, etc.) and, most importantly, relaying the fee charged.
Switching to the charting section in the mobile app, I was disappointed to find the charts very dull. Charting in the Coinbase mobile app had just six time frames and a crosshair and no ability to zoom in or add any analysis or drawing tools. This shortfall in the app is one area in which boosting the charting capabilities would make a big difference to the app's usefulness.
Noteworthy features of the app are its ability to set alerts, as well as additional payment methods from within the app, and an extensive list of native currencies to compare your balance equivalent.
Users of the mobile app can choose from among 160 native currencies to see an equivalent of their balance, although we found that many of the pairs listed do not yet provide the price data needed to calculate the conversion.
Nonetheless, once this feature is fully working and users can select any native currency, it should be useful for clients in other countries who convert their local currency to have a USD-denominated account, but wish to see an equivalent in their local currency or a list of other currencies.
With no mobile version of the Coinbase Pro platform launched yet, Coinbase clients are limited to the Coinbase mobile app, which provides a good foundation despite its lack of advanced order types and charting tools. Other useful features of the Coinbase app – which are becoming the industry standard – are its wallet functions, which let users send and receive cryptocurrencies by scanning a QR code address or by entering an address stored as a contact in your smartphone.
| Feature | Coinbase |
| --- | --- |
| Charting - Indicators/Studies | 0 |
| Android App | Yes |
| iPhone App | Yes |
| Charting - Drawing Tools | No |
Other Notes
It is also worth noting that there are deposit restrictions as well as withdrawal limitations, depending on the method used for funding, and, in some cases, the weekly deposit limit can be extended (once reached) by waiting 60 days.
Depositing via VISA or Mastercard is usually the fastest way, yet deposit limits are the lowest for this method. When linking a bank account to Coinbase for funding a trade, transactions can take several days to become available, as funds sent via ACH from US banks are not delivered immediately (i.e., bitcoin bought today at Coinbase might not arrive in the account for a week with this funding method).
If funding a Coinbase account via bank wire, the deposit becomes fully available once received by Coinbase (which may also take 24-48 hours or more), yet trades settle instantly when using cash deposited to Coinbase in your USD wallet (compared to trades linked from a checking account). Also, the broker lets traders automate recurring purchases to buy a specific amount of cryptocurrency on a weekly basis, for example.
Lastly, since our last review Coinbase added Bitcoin Cash (BCH), bringing the total number of pairs it offers to 12 including fiat-to-crypto with USD, GBP and EUR-related pairs available. The broker also starting accepting deposits of ethereum classic (ETC) for Coinbase Pro users.
Final Thoughts
For US-based investors looking to trade some of their fiat currency for cryptocurrencies, Coinbase offers three of the most popular digital assets to trade, but its offering is limited to just those three: bitcoin, ethereum, and litecoin. Adding additional cryptocurrencies would be a welcome feature for traders eager to diversify across a wider range of digital assets, and on par with what other cryptocurrency exchanges are offering, as the market for emerging digital assets remains highly dynamic.
The features of the Coinbase dashboard are suitable for easy investing; the more advanced trading features on the Coinbase Pro platform are segmented away. Adding additional charting tools to Coinbase Pro charts would be something technical traders would appreciate, and providing balance information for the total portfolio value of all holdings within Coinbase Pro's main screen would give users an idea of the condition of their holdings at any given time without having to check each wallet individually.
Bottom line: Traders choose Coinbase for the reputation of its management, its approach to storing clients' digital assets mostly in cold storage, and its other security measures to mitigate its own risk in handling clients' funds, including FDIC insurance applicable to USD balances held by US residents at Coinbase in case of its insolvency. Fees and the range of products are not the broker's strong points.
To learn more about digital assets such as bitcoin and ethereum, see our guide on how to trade cryptocurrency.
Crypto Risk Disclaimer
"There is a very high degree of risk involved in trading securities. With respect to margin-based foreign exchange trading, off-exchange derivatives, and cryptocurrencies, there is considerable exposure to risk, including but not limited to, leverage, creditworthiness, limited regulatory protection and market volatility that may substantially affect the price, or liquidity of a currency or related instrument. It should not be assumed that the methods, techniques, or indicators presented in these products will be profitable, or that they will not result in losses." Learn more.
---
About the author: Steven Hatzakis Steven Hatzakis is the Global Director of Research for ForexBrokers.com. Steven previously served as an Editor for Finance Magnates, where he authored over 1,000 published articles about the online finance industry. Steven is an active fintech and crypto industry researcher and advises blockchain companies at the board level. Over the past 20 years, Steven has held numerous positions within the international forex markets, from writing to consulting to serving as a registered commodity futures representative.
Coinbase Competitors
Select one or more of these brokers to compare against Coinbase.
---
Ratings Overall
Summary
Commissions & Fees
Offering of Investments
Platforms & Tools
Research
Customer Service
Mobile Trading
Education
---
Compare Coinbase
Find out how Coinbase stacks up against other brokers.