The ForexBrokers.com Annual Review (3 years running) is among the most cited in the industry. Our Head of Research, Steven Hatzakis, is frequently referenced as a leading analyst covering forex brokers and cryptocurrency. Learn more.
In 1998, mathematician Dr. Andre Duka founded Dukascopy Trading Technologies Corp, which led to the development of the Dukascopy trading platform in 1999. Together with his partner, Veronika Makarova, Dr. Duka founded Dukascopy in 2004 as a Swiss brokerage house in Geneva.
After the development of the Swiss FX Marketplace in 2006, which is an eco-system supporting traders with the firm's apps and platform infrastructure, Dukascopy acquired a Swiss banking license in 2010 and launched Dukascopy Bank. In 2011, the brand acquired an EU brokerage license in Latvia, giving it passports throughout Europe under MiFID from its Dukascopy Europe entity, in addition to its Swiss Bank offering. In Asia, Dukascopy K. K. is a Type-1 licensed broker in Japan where it caters to the local marketplace regulated by the Japanese Financial Services Authority (JFSA) and is a member of the Financial Futures Association of Japan (FFAJ).
The Dukascopy group today offers forex and CFD traders competitive pricing and access to 64 forex pairs and 357 CFD markets on its proprietary JForex platform suite, which supports algorithmic trading and is compatible across nearly all operating systems and devices.
Trust Score
Trading with a forex broker that traders can trust is crucial to success. Forex fraud and scams are,
Trading with a forex broker traders can trust is crucial to success. Unfortunately, forex fraud and scams are common in the industry.
Here at ForexBrokers.com, we maintain the largest independent regulatory database available on the web. Using 28 different variables, we have created a proprietary 1-100 score (the higher the better) of overall trustworthiness, which we call the Trust Score. Here is our trust summary of Dukascopy.
| | Dukascopy |
| --- | --- |
| Trust Score | 86 |
| Year Founded | 2004 |
| Publicly-Traded Company (Listed) | No |
| Regulated in Major Hub | Yes |
| Regulated in Emerging Hub | Yes |
| Authorised in the European Union | Yes |
| CFTC Registered (USA) | No |
| FCA Regulated (UK) | Yes |
| IIROC Authorised (Canada) | No |
| FINMA Authorised (Switzerland) | Yes |
| ASIC Authorised (Australia) | No |
| SFC Authorised (Hong Kong) | No |
| MAS Authorised (Singapore) | No |
| FSA Authorised (Japan) | Yes |
| FMA Authorised (New Zealand) | No |
| CySEC Authorised (Cyprus) | No |
Offering of Investments
The following table summarizes the different investment products available to Dukascopy clients.
| | Dukascopy |
| --- | --- |
| Minimum Initial Deposit | $100.00 |
| Currency Pairs (Total Forex pairs) | 64 |
| CFDs - Total Offered | 357 |
| Exchange Traded Securities: US | No |
| Exchange Traded Securities: International | No |
| Cryptocurrency traded as actual | No |
| Cryptocurrency traded as CFD | No |
Commissions & Fees
Dukascopy offers one account type for FX trading under its Forex ECN account, where the execution method can vary between agency and dealing desk. While the spreads are the same for all clients in the ECN account, the added commission rates you pay will vary depending on your trading volume, balance, and net deposits.
Using average spreads of 0.32 pips on the EUR/USD for the US trading session during Q4 2018, combined with the default commission rate of 0.70 pips round turn, the all-in cost equates to 1.02 pips and is comparable to other brokers with commission-based pricing, such as Saxo Bank.

Dukascopy average spreads, Q3 2018.
Dukascopy's competitive spreads, alongside its active trader pricing program, helped it finish Best in Class, Active Trading, in our 2019 Review.
Traders can open the ECN account either with Dukascopy Europe or Dukascopy Bank in Switzerland. The main difference between these two entities, besides regulatory jurisdictions, is that the former can be done with as little as $100, while the latter requires $5,000 – unless you are a Swiss resident, in which case, the minimum drops to $1,000.
In terms of all-in cost of trading, Dukascopy competes near the top among forex brokers that support automated trading and active trading programs such as FXCM, Forex.com, and Pepperstone.
| | Dukascopy |
| --- | --- |
| Average Spread EUR/USD - Standard | 0.92 |
| All-in Cost EUR/USD - Active | 0.42 |
| Active Trader or Premium/VIP | Yes |
Customer Service
To score Customer Service, ForexBrokers.com partnered with customer experience research group Customerwise to conduct phone tests from locations throughout the UK. For our 2019 Review, 229 customer service tests were conducted over six weeks.
Results:
Average Connection Time: <2 minutes
Average Net Promoter Score: 4.9 / 10
Average Professionalism Score: 4.9 / 10
Overall Score: 3.3 / 10
Ranking: 18th (23 brokers)
Research
Dukascopy offers a diverse range of research tools in its JForex3 platform for desktop, web, and mobile, including streaming market news from Reuters and MarketPulse, a live economic calendar with consensus forecasts, market sentiment indicators, and other research tools that help investors make educated trade decisions.
Dukascopy TV, the broker's focal point for research content generation, is a fully staffed professional TV studio in Geneva that broadcasts news from in-house reporters who conduct interviews and market analysis. Not only is the content relevant and insightful; it is also professionally created and educational, making it beneficial for all clients, regardless of skill set.
Other research tools include pattern analysis and automated trading systems within the charting experience. In 2017, Dukascopy further boosted its research offering by integrating a variety of additional market content into its web and mobile trading platforms.
| | Dukascopy |
| --- | --- |
| Daily Market Commentary | Yes |
| Forex News (Top-Tier Sources) | Yes |
| AutoChartist | No |
| Trading Central (Recognia) | No |
| Delkos Research | No |
| Acuity Trading | No |
| Social Trading / Copy-Trading | Yes |
| Social Sentiment - Currency Pairs | Yes |
| Client Webinars | Yes |
| Client Webinars (Archived) | Yes |
| Videos - Beginner Trading Videos | Yes |
| Economic Calendar | Yes |
| Calendar Includes Forecasts | No |
| Economic News Sentiment | Yes |
| Trade Ideas - Backtesting | Yes |
Platforms & Tools
Dukascopy's flagship platform is JForex3, a desktop and web-based platform that supports both Windows and Mac. While the broker did support a third-party bridge for clients to access the widely popular MetaTrader4 (MT4) platform, in December 2018, Dukascopy launched MT4 directly. However, the broker's flagship platform remains the JForex suite. To learn more about MT4, read our MetaTrader guide. For this review, I focused on JForex3.

Dukascopy JForex3 desktop platform.
It's also fantastic for technical traders, offering 313 indicators with the ability to also import custom indicators.
Starting with the desktop version running on Mac OS High Sierra, the JForex 3 platform is rich with trading tools and easy to use. It's also fantastic for technical traders, offering 313 indicators with the ability to also import custom indicators.

Dukascopy bank JForex 3 Desktop Charts.
It's worth noting first that Dukascopy's JForex3 platform competes well with the MetaTrader, as it supports algorithmic trading, custom indicators, and also provides cloud storage for clients who require a VPN to run their trading systems on a 24-hour basis.
One subtle feature I appreciate is Dukascopy outlines an extensive list of notes whenever the platform is updated, showing what changes and improvements were made from the prior version. Since our last review, Dukascopy has added several enhancements to the desktop version, including an exposure widget and historical lines tools that show the open and close of past trades plotted on the chart.
For charting, Dukascopy added over 30 new indicators to the JForex3 desktop platform in 2017, bringing the total available from 277 last year to just over 300. This is more than nearly all other brokers we have reviewed, with the exception being the more than 400 indicators found on the thinkorswim platform by TD Ameritrade.
Another nice design feature is seen when hovering over an indicator, which will reveal a preview of how it looks on the chart. This feature is especially useful when scanning through all 300+ indicators and deciding which ones to use.
Whether using any of the 24 different drawing tools or adding and customizing indicators, I found charting to be a seamless and enjoyable experience.
Yet another example of how the JForex3 platform shines can be seen each time an additional trend line is drawn. Every new trend line added automatically has a new color applied to keep viewability crisp and clean. This is in comparison to most other platforms where the color must be changed manually afterwards. If that isn't enough, Dukascopy even introduced the ability to add an indicator on another indicator (i.e. overlay a moving average on top of volume).
All in all, traders passionate about technical analysis will appreciate the rich user experience provided by JForex3. In addition to the close all button, which is common in the industry, Dukascopy takes it a step further than most brokers with the 'cancel all button,' a useful feature to quickly cancel all orders, a feature normally used by high-frequency traders and available only via API.
All in all, traders passionate about technical analysis will appreciate the rich user experience provided by JForex3.
Oh, and Dukascopy also offers a signals market for social copy trading.
Moving to the web-based version of JForex3, the platform is not as robust as the desktop version, although Dukascopy has made significant improvements since our review last year. In 2018, the platform looks more modern and provides a more seamless experience.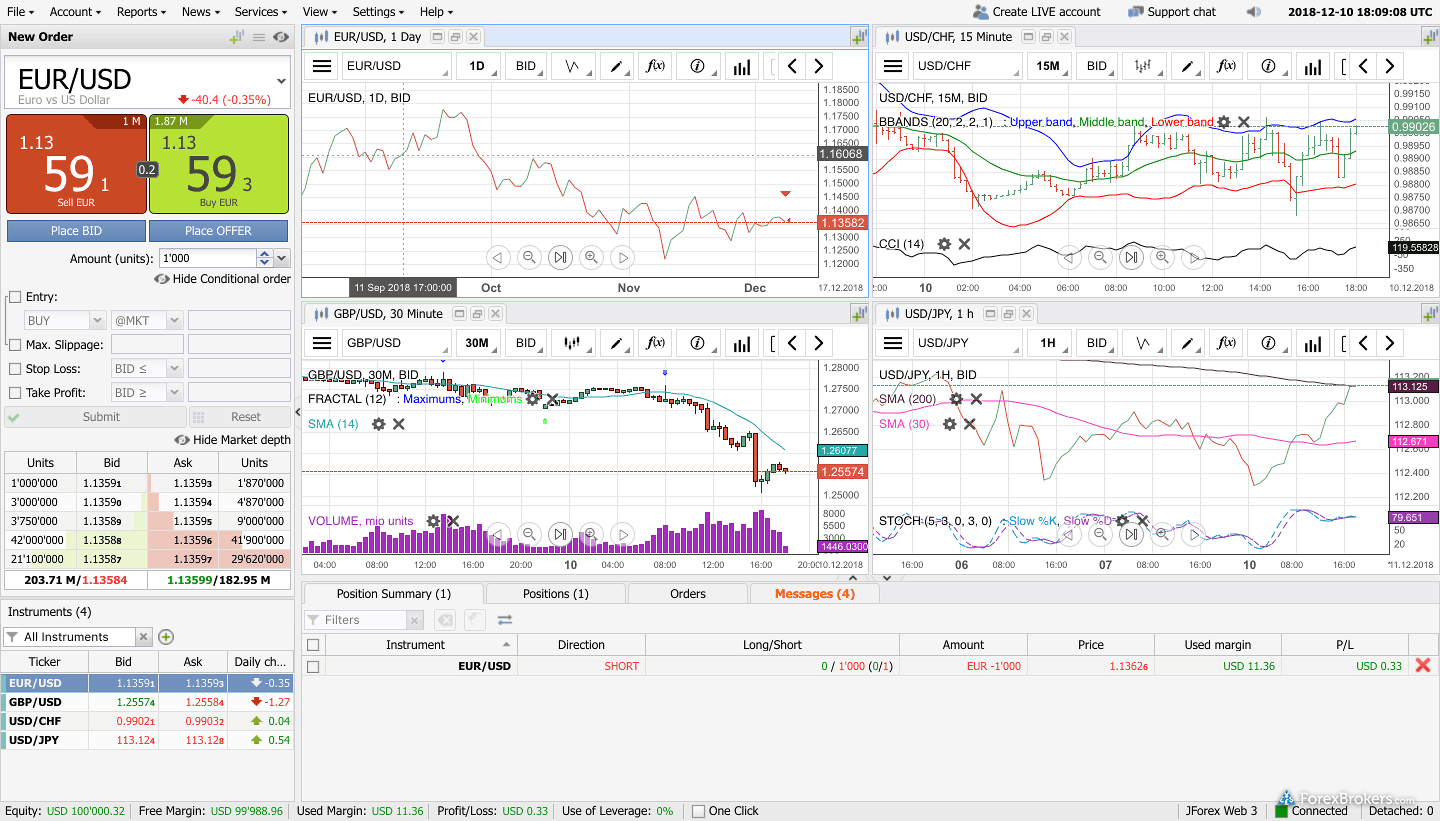 Dukascopy web platform.
Moving completely to HTML5 has enhanced Dukascopy's web platform. That said, the charts run smoothly and come with 62 indicators. The web version has continued to make progress over the past year. One feature I like is that open trades don't just show as a line on the chart but a pulsating circle that radiates, which makes it easy to decipher as it indicates your trade relative to the market and is easy to see even when you have lots of trend lines and indicators added.

Dukascopy web charts.
Lastly, Dukascopy also provides an app store with hundreds of apps that traders can use with the JForex3 platform suite.
Overall, it's clear that Dukascopy understands trading technology and provides traders the tools they need to succeed. While most forex traders prefer MetaTrader 4 to a proprietary platform built in house, JForex3 stands on its own and competes with the best on the market. It's no surprise that Dukascopy again finished Best in Class for Platforms & Tools in 2019.
| | Dukascopy |
| --- | --- |
| Virtual Trading (Demo) | Yes |
| Desktop Platform (Windows) | Yes |
| Desktop Platform (Mac) | Yes |
| Web Platform | Yes |
| Social Trading / Copy-Trading | Yes |
| Proprietary | Yes |
| MetaTrader4 (MT4) | Yes |
| MetaTrader5 (MT5) | No |
| cTrader | No |
| Currenex | No |
| ZuluTrade | No |
| MirrorTrader | No |
| Charting - Drawing Tools (Total) | 31 |
| Charting - Indicators / Studies (Total) | 51 |
| Watchlists - Total Fields | 7 |
| Order Type - Trailing Stop | Yes |
Mobile Trading
Among several mobile apps developed by Dukascopy, I focused my testing on its main JForex Trader (previously known as SWFX Trader) mobile trading app available for Android and iOS devices.
During tests on my Samsung Galaxy S8+ Edge – there were several premium features that immediately stood out in the app, including integrated market signals and patterns alongside a pivot point tool. JForex Trader also has robust charting with several customizable parameters and alerts that can easily be added from the same screen.

Dukascopy Bank JForex3 Mobile watchlist.
Charting operated seamlessly and was rich with options such as a list of 46 technical indicators – which is above the industry average for mobile trading.

Dukascopy Bank JForex3 Mobile charts.
Additional strongpoints in the app include the level-two quotes and several related order types, including conditional and bid offer orders, which can be used when placing a trade. Strategies can also be selected from a repository within the mobile app that includes strategies created by Dukascopy community members.

JForex Trader algo trading
In the research domain, the JForex Trader Trader mobile app has an impressive range of useful tools, including several different pre-defined screens and a clean, customizable view of marker movers, which can be refined across four time frames ranging from hourly to monthly. There is also a pattern-recognition tool for trading ideas, organized neatly next to the other research categories. Overall, Dukascopy Bank finished took first place in the mobile trading category for our 2019 review, from among 28 forex brokers

JForex Trader Mobile App Android pattern recognition research.
| | Dukascopy |
| --- | --- |
| Android App | Yes |
| Apple iOS App | Yes |
| Charting - Draw Trend Lines | Yes |
| Charting - Can Turn Horizontally | Yes |
| Charting - Technical Studies/Indicators | 30 |
| Watch List Syncing | No |
| Trading - Forex | Yes |
| Trading - CFDs | Yes |
| Alerts - Basic Fields | Yes |
Other Notes
After launching cryptocurrency trading as a CFD on bitcoin and ethereum, Dukascopy further embraced blockchain technology by announcing the launch of its own cryptocurrency, Dukascoin, and stablecoin called Dukasnotes, pending regulatory approval in Switzerland.
Final Thoughts
Dukascopy Bank is a great choice for highly experienced traders, as the broker has competitive rates for active traders and provides a Swiss Bank that can be established with only a $5,000 deposit. Meanwhile, investors can also become a client through Dukascopy Europe with only a $100 minimum deposit.
Dukascopy does an excellent job of providing fx traders with a wide array of resources for research, for example Dukascopy TV, alongside a diverse range of services within the JForex online community. That said, customer service is one area where the broker could improve to further boost its premium range of services.
For trading tools, Dukascopy has done a phenomenal job with its JForex3 desktop platform in terms of charting, ease of use, and tools depth, with a huge array of indicators available. The biggest downside for Dukascopy is its range of markets as a multi-asset broker, which is much narrower than its peers. Launching its own crypto token and stablecoin will put Dukascopy on the forefront of forex brokers embracing blockchain technology with their native tokens.
All variables considered, Dukascopy finished in 8th place Overall in our 2019 Review, earning its spot among the highest rated forex brokers in the industry.
Methodology
For our 2019 Forex Broker Review we assessed, rated, and ranked 28 international forex brokers. Each FX broker was graded on 81 variables. How we test.
Forex Risk Disclaimer
"There is a very high degree of risk involved in trading securities. With respect to margin-based foreign exchange trading, off-exchange derivatives, and cryptocurrencies, there is considerable exposure to risk, including but not limited to, leverage, creditworthiness, limited regulatory protection and market volatility that may substantially affect the price, or liquidity of a currency or related instrument. It should not be assumed that the methods, techniques, or indicators presented in these products will be profitable, or that they will not result in losses." Learn more.
---
Reviewed by Steven Hatzakis Steven Hatzakis is the Global Director of Research for ForexBrokers.com. Steven previously served as an Editor for Finance Magnates, where he authored over 1,000 published articles about the online finance industry. Steven is an active fintech and crypto industry researcher and advises blockchain companies at the board level. Over the past 19 years, Steven has held numerous positions within the international forex markets, from writing to consulting to serving as a registered commodity futures representative.
Dukascopy Competitors
Select one or more of these brokers to compare against Dukascopy.
---
Ratings Overall
Summary
Commissions & Fees
Offering of Investments
Platforms & Tools
Research
Customer Service
Mobile Trading
Education
---
Commissions & Fees
Commission Notes
Dukascopy Bank SA, and Dukascopy Europe:
The applicable commission rate you will pay at Dukascopy – whether your account is opened with Dukascopy Europe or Dukascopy Bank SA – is based on your net deposit, overall account equity, and trailing 30-day volume traded, where the lowest rate is applied based on a tiered pricing ladder.
For example, traders may deposit an amount that corresponds with a commission of $10 per million traded, but if their overall equity qualifies them for an even better rate, say $8 per million, and their trailing 30-day volume qualifies them for a rate of $12 per million, then the lowest of these – in this case $8 – would apply.
p>Lastly, Dukascopy's discount program refunds 20% of commissions paid, but only if you trade 30,000 times your equity (in terms of volume) within one year, and comes with strict trading conditions.
Compare Dukascopy
Find out how Dukascopy stacks up against other brokers.